By Heather Taylor, Advertising Week Icon Editor
Who are the Sour Patch Kids?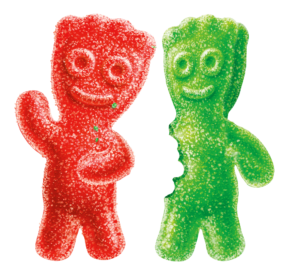 Longtime fans of the famously sour then sweet candy may recall there used to be kids' faces on packaging — and even older fans might remember when they were known as "Mars Men." Then and now, follow along our timeline for a look back at the Sour Patch Kids and their evolution over the decades.
1970s: Introduction and the "Mars Men"
Frank Galatolie is credited as the creator of the Sour Patch Kids in the 1970s while Galatolie was working as a confectioner at Jaret International in Ontario, California. The original candy flavors included lime, lemon, orange and raspberry.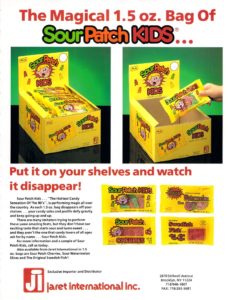 Before they were the Sour Patch Kids, the candy was referred to as Mars Men. It's a little difficult to track down any packaging with the Mars Men logo or branding and just as tough to figure out where the original brand name came from. There is speculation that the 1970s space craze may be the origin behind the Mars Men.
1980s: Rebranding as the Sour Patch Kids
By 1985, the Mars Men underwent a rebranding to become the Sour Patch Kids and was introduced into the U.S. market by M & A Candy Company.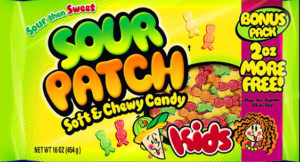 The new name and shape of the kids were inspired by another popular group of kids in pop culture: the Cabbage Patch Kids and their dolls!
2010s: The Red Sour Patch Kid Arrives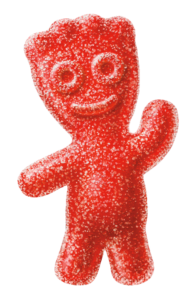 Some of the most beloved Sour Patch Kids' flavors made their debut more recently than you might realize. In 2012, the Red Sour Patch Kid character was introduced on the brand's packaging.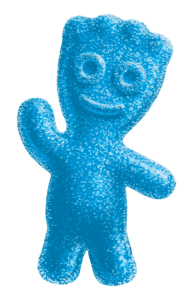 2013 marked the debut of Blue Raspberry to the candy's base mix. Meanwhile, Tropical and Tricksters flavors joined the Sour Patch Kids family in 2017.
2020s: The Sour Patch Kids Embrace TikTok Stardom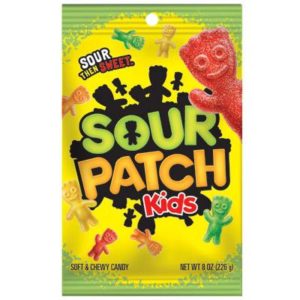 Today, the Sour Patch Kids are owned by Mondelēz and viewed as a colony of characters. The "sour then sweet" icons are a TikTok sensation with 1.4 million followers.
What do the Kids do on TikTok? Whatever they feel like! Two of the most active Kids include Red and Blue Raspberry. In a recent TikTok, vintage Red wonders what the character might look like when it's older and cuts away to the Red mascot circa 2022.
In case anyone was wondering 1.7 quintillion Sour Patch Kids can fit on the surface of the earth. Blue Raspberry thinks there's an easier solution to all this math — watch the TikTok to see what it is.
The Kids highly encourage fans to pick them as their next snack. The characters are 37 years old, which means they have a lot of experience in the snack field. The icons also have a rep of being sour and then sweet.
"But if you don't pick me, you will face my wrath," Red deadpans at the end of the TikTok. Noted — these Kids are a sour then sweet menace indeed!