By Ken Klein
Despite Covid — perhaps BECAUSE of Covid — robust ad campaigns pitch relocation and tourism.
CTvisit (Connecticut) is spending nearly triple the typical amount on its fall regional campaign. That means the multi-media pitch will reach more of the target audience in Connecticut, New York, Massachusetts, and Rhode Island and also expand to other markets including Philadelphia.
In Illinois, the eight-county Peoria area (Central Illinois) advertises this message to Chicagoland:  it's better here, so relocate.
Out of home ads near Chicago's O'Hare Airport tout Central Illinois as desirable due to less stress and lower costs.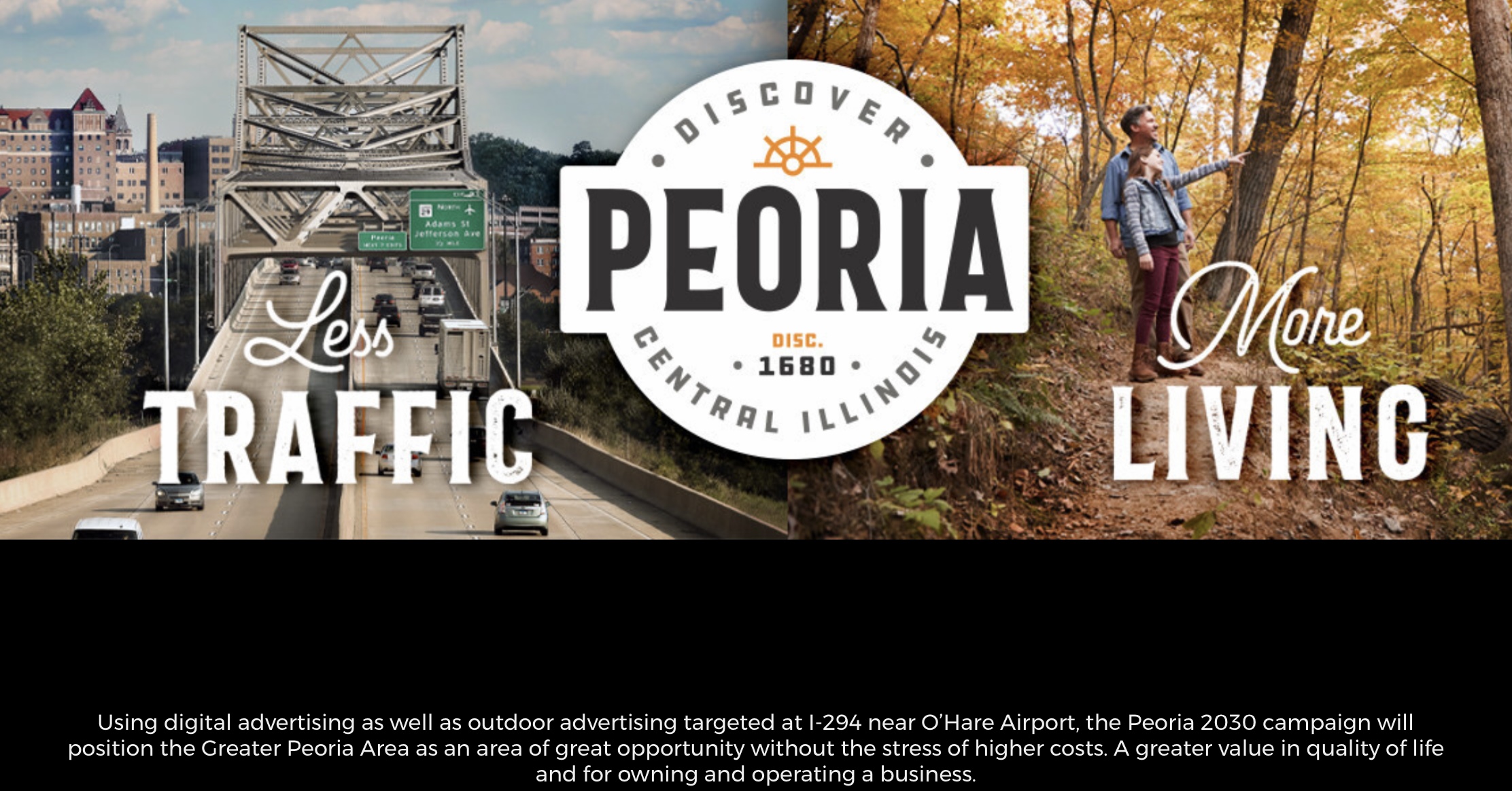 As Covid concerns persist, these ad campaigns illustrate larger points:
Workers are willing to relocate
Slashing advertising is not a solution
Tourism is key component of recovery
Relocation
Peoria is arch-typical Americana. The saying "Will it play in Peoria?" has ties to vaudeville. The slogan surfaced in 1969 when a close aide to President Nixon told a newsman, "Don't worry, it'll play in Peoria."
In 1980, more than 200,000 people lived in Peoria County, IL. The 2020 census counted 181,830.
Business groups in the region recently banded together to launch a decade-long campaign ("Greater Peoria 2030") to tout lower cost of living, amenities, and business opportunities. The campaign was planned and executed by destination marketing company McDaniels Marketing of Pekin, IL.
The near-term goal is to convince people to move from the Chicago area. "We can't afford to allow people to fill the vacuum with false information," says Peoria Area Chamber CEO Joshua Gunn. "We must define and tell our own story."
Metrics to measure progress include population growth, rise in property values, tax revenue, new housing starts, homeownership, and regional GDP.
The mood-to-move makes relocation seem plausible. Nearly three of five workers (59 percent) said they're more willing to relocate for work than before the pandemic, according to a global 2021 survey by Wakefield Research for Graebel Companies (corporate relocation) on Business Wire.
Cutting to the bone versus advertising to grow
The 2008-2009 recession prompted Connecticut's Legislature to allocate $1 a year for statewide promotions by the Commission on Culture and Tourism, followed by $1 the next fiscal year.
Jeffrey Nichols, then-executive director of the Mark Twain House in Hartford told The New York Times that if Connecticut stopped promoting itself as a destination, "we won't be a destination."
At that, the time, the president of the Long Island Convention and Visitors Bureau said of Connecticut: "You guys are falling off the map, and it makes our job easier."
In September, Connecticut Governor Ned Lamont kicked off a $1.4 million marketing campaign to help push economic recovery from the pandemic. The "Full Color Connecticut" campaign (agency: Adams & Knight) Includes out of home, in-state TV, streaming, social media, and new content at CTvisit.com.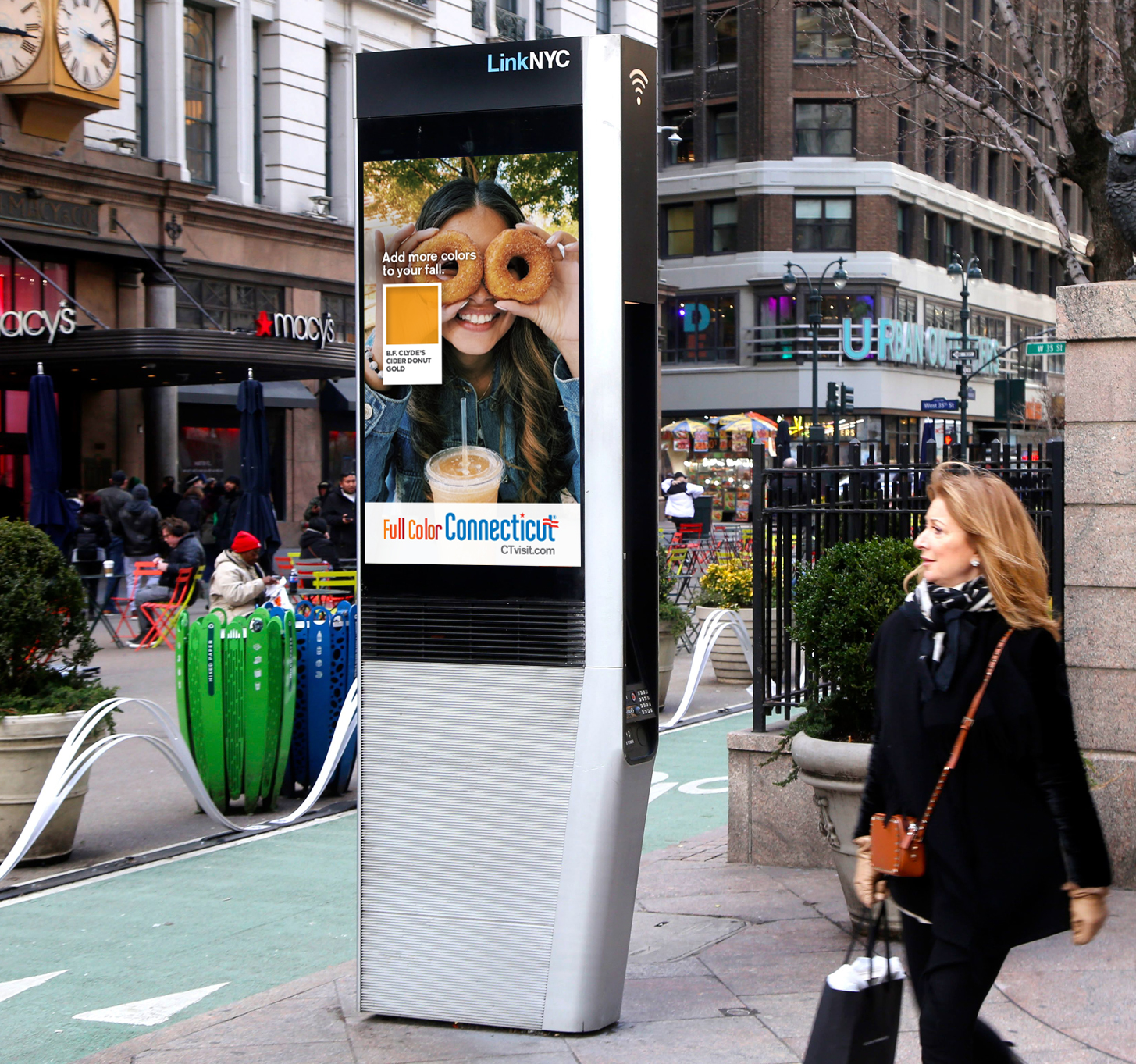 LinkNYC kiosk promotes fall color in Connecticut
Like in most States, tourism is a major employer in Connecticut (more tourism jobs than education or construction), and generates billions in business sales.
The Federal Reserve said U.S. tourism saw recovery in the crucial summer months, with New York City hotel occupancy rates above 60 percent in June (a post-pandemic high).  Government stimulus money funded a record tourism recovery campaign for New York City featuring TV, digital, out of home media, and partnerships.
(Ken Klein is executive Vice President of the Out of Home Advertising Association of America)