Doors open at 8.00pm (BST) for the first EU screening, followed by a second screening at 1.00 am (BST) for a US audience
Regular users of VR will join the festival screenings using headsets, but anyone can join by following the steps in the following link. https://discover.film/virtual-reality-festival/
On Friday 14th August 2020 a selection of the best short films available on the streaming platform, discover.film, will be screened at a virtual film festival in VR Chat: a popular VR platform.
The screenings will take place in a glamorous, custom-built, discover.film virtual cinema and will showcase the best of the shortlisted films in the running for this years discover.film Best Content Award. The two Craghoppers Student Prize-winning films will also screen in the curated sessions, which includes: ground-breaking French animation, The Garden Party; hard-hitting American school-shooting drama, Dekalb Elementary; Mexican fantasy thriller, Ulysses; and British comedy-drama, The Lost Scot. All films in the programme are available on the global short-form entertainment platform, discover.film.
The festival is curated by the head of content for discover.film Jaine Green.
"I've always believed VR offers limitless opportunities for both sponsors and advertisers.  Given VR and AR's massive growth over recent years we started planning this event and creating the cinema well before lock-down, as an exciting addition to our existing short film festival, The discover.film Awards.  Now, of course, we're delighted to be in the position of having a wonderful and completely safe screening space to welcome a global audience to celebrate the hard work of talented filmmakers from around the world." 
Director Joe Hunting, one of the organisers of the unique festival, became involved after his virtual reality film, A Wider Screen, won Best Documentary at a previous discover.film Festival.
Hunting has said of the festival:
"I'm thrilled for the opportunity to introduce VR to a wider audience.  It's great when various media can successfully merge, so I was delighted when discover.film approached me to be involved with the festival."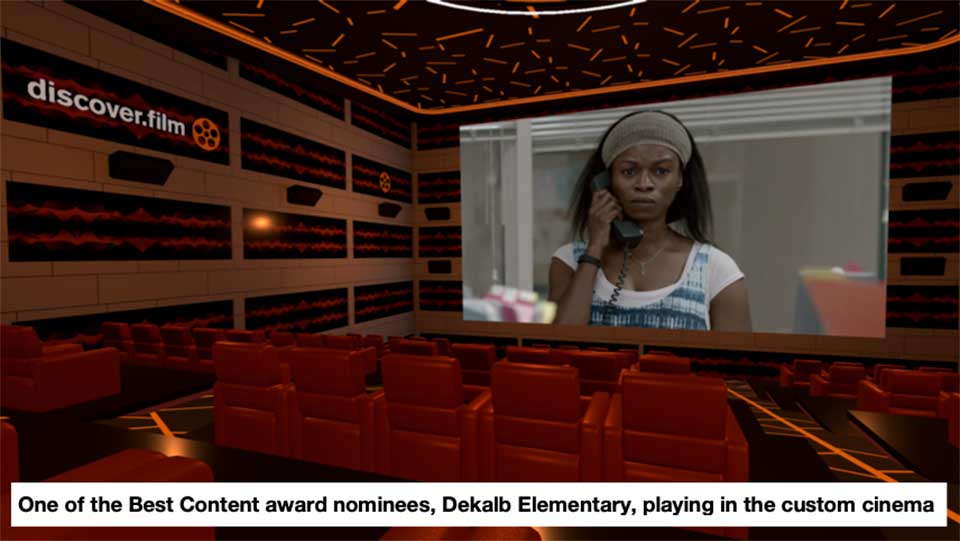 The bespoke cinema designed especially for the festival has been created by, VRChat user, Rey Skywalker and has everything you'd expect to find in a conventional cinema, but with a few fun extras, such as a built-in voting system, which allows audiences to select their favourite films.
Doors open at 8.00pm (BST) for the first EU screening, followed by a second screening at 1.00 am (BST) for a US audience. 
Regular users of VR will join the festival screenings using headsets, but anyone can join by following the steps in the following link. https://discover.film/virtual-reality-festival/
ABOUT DISCOVER.FILM
discover.film is changing the world of entertainment by making the exciting genre of quality short film mainstream.
discover.film, the global leading freemium platform for quality, short movies and entertainment has amassed hundreds of thousands of subscribers from more than 190 countries.  Subscribers can watch thousands of short movies featuring Hollywood stars and emerging talent across all genres and languages from feel-good comedies to drama, sci-fi, documentaries and action.
discover.film sources the best short-form content from around the world providing a platform through video on demand, a proprietary mobile app, multi-channel distribution and one of the biggest short film festivals in the world, The Discover Film Awards.
Cinema-quality short films are available to stream, Chromecast or download straight to mobile or any internet-connected device.
TO DOWNLOAD THE DISCOVER.FILM APP CLICK HERE
FOR MORE INFORMATION PLEASE CONTACT:
Jaine Green
+ 44 7905 320855
Katie Tilleke Irvin
+44 7956 33 7472
Interviews and comment available from Jaine Green, Head of Content at discover.film
FESTIVAL SPONSORS:
Digitally immersive security, safety and first aid training for the modern world https://silkroadtraining.international
British outdoor clothing manufacturer and supplier. Producing outdoor clothing for over 60 years. https://www.craghoppers.com/community/