The IBM U.S. Retail Index estimates that the COVID-19 pandemic accelerated the growth of digital commerce by perhaps five years. This has contributed to a surge in omnichannel shopping post-pandemic and the increasing popularity of full-funnel marketing. However, a Gartner marketing survey found that only 14% of organizations have achieved a 360-degree view of their customers.[1] Brands are working hard to solve the ultimate advertising quandary: How can they reach relevant customers across multiple devices throughout the day? This challenge has sparked a resurgence in a marketing technique that has been around for decades: marketing mix modeling (MMM).
Navigating complexity to build with insights
MMM solutions help brands understand the sales reach and impact across marketing channels and publishers, in order to identify the most effective media mix and determine the optimal allocation for each. MMM is currently experiencing a renaissance as the deprecation of third-party cookies draws near, because it provides a privacy-safe way to navigate fragmentation and leverage insights.
Many brands combine a range of products, channels, and publishers. However, accurately analyzing the impact often proves difficult. MMM is the preferred method to isolate channel effect, as it harmonizes a wealth of data to perform a like-for-like analysis of all marketing channels. Leveraging knowledge from incremental sales analysis helps identify the individual contributions of each channel that brands use, taking into account category dynamics and external market factors. This allows marketers to build future campaigns with these insights in mind.
Tackling old obstacles and new opportunities with MMM
In today's modern marketing world, there is an expectation for up-to-date insights and flexible solutions, and MMMs have finally become more accessible, helping deliver more detailed analysis in a more cost-effective and timely manner.
While MMM had accrued a reputation for being somewhat unwieldy and expensive, advances in technology and the growth of open-source and self-service solutions are helping lower costs and make it more accessible for advertisers. MMM enables them to go deeper, broader, and faster than ever before while at the same time delivering greater precision and robustness than alternative methods.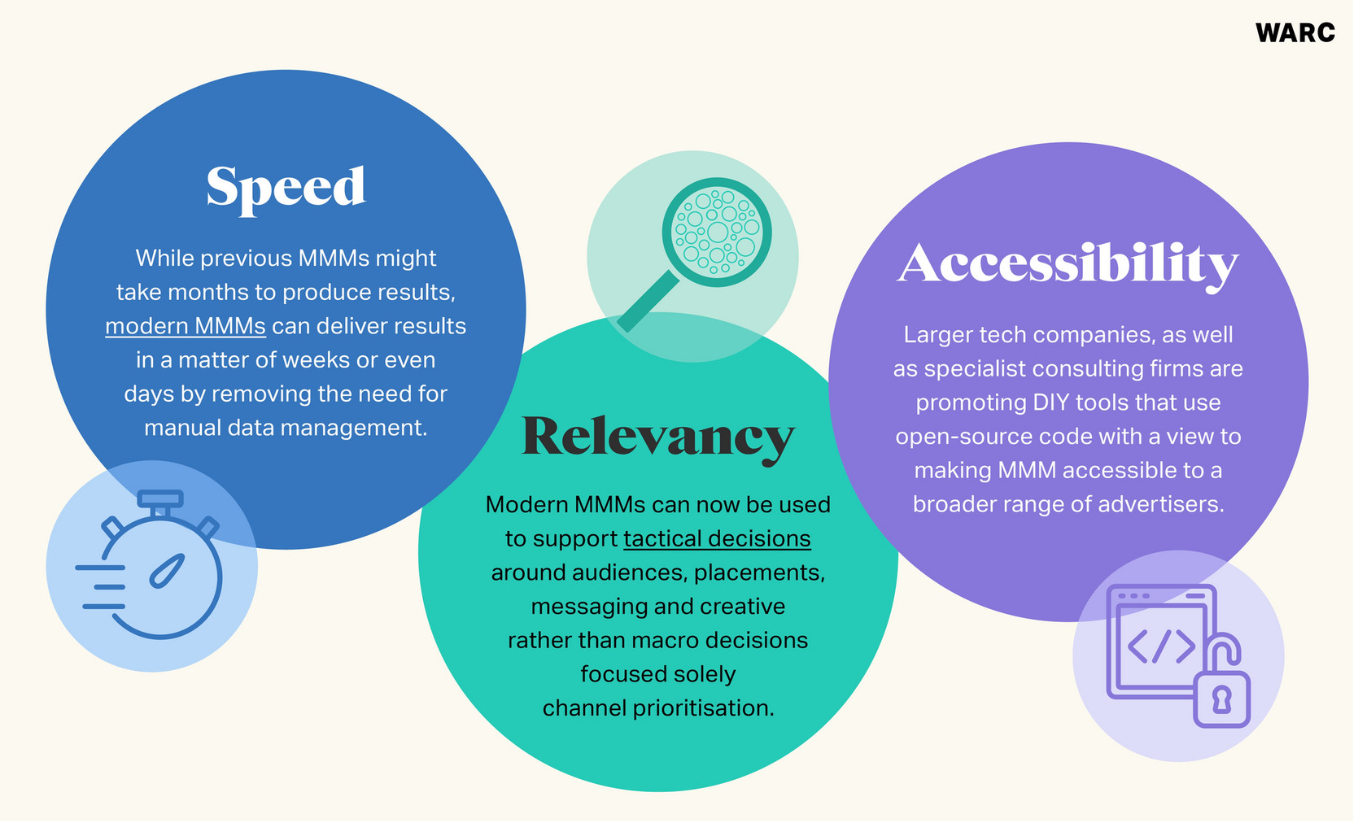 Source: Next wave measurement: Marketing mix modelling in the age of retail media, WARC, Jul 2023
This evolution is evident in the increasing adoption of MMM. According to data from WARC's Marketer's Toolkit survey, around 41% of brands use MMM to evaluate the impact of their marketing investment, as it can produce detailed analysis by an individual sales channel rather than an aggregated view, helping brands improve their retail partner and retail media strategies.
Unlocking synergies to drive successful outcomes
More than half (56%) of U.S. marketers[2] are now working with five or more retail media networks. Research has shown that advertising on multiple media channels drives higher reach and incremental ROI compared to advertising on just one channel. This is because of the synergies that exist between different channels. Television, for example, is known to have an impact on search, with TV advertising driving an uptick in direct, organic, and branded searches. By using aggregated signals to quantify the impact of different inputs including marketing (such as television, radio, digital, and more) and business outcomes (such as sales, brand awareness, or customer acquisition), MMM helps brands identify the optimal mix of media channels to achieve their marketing objectives and is already driving value across the industry.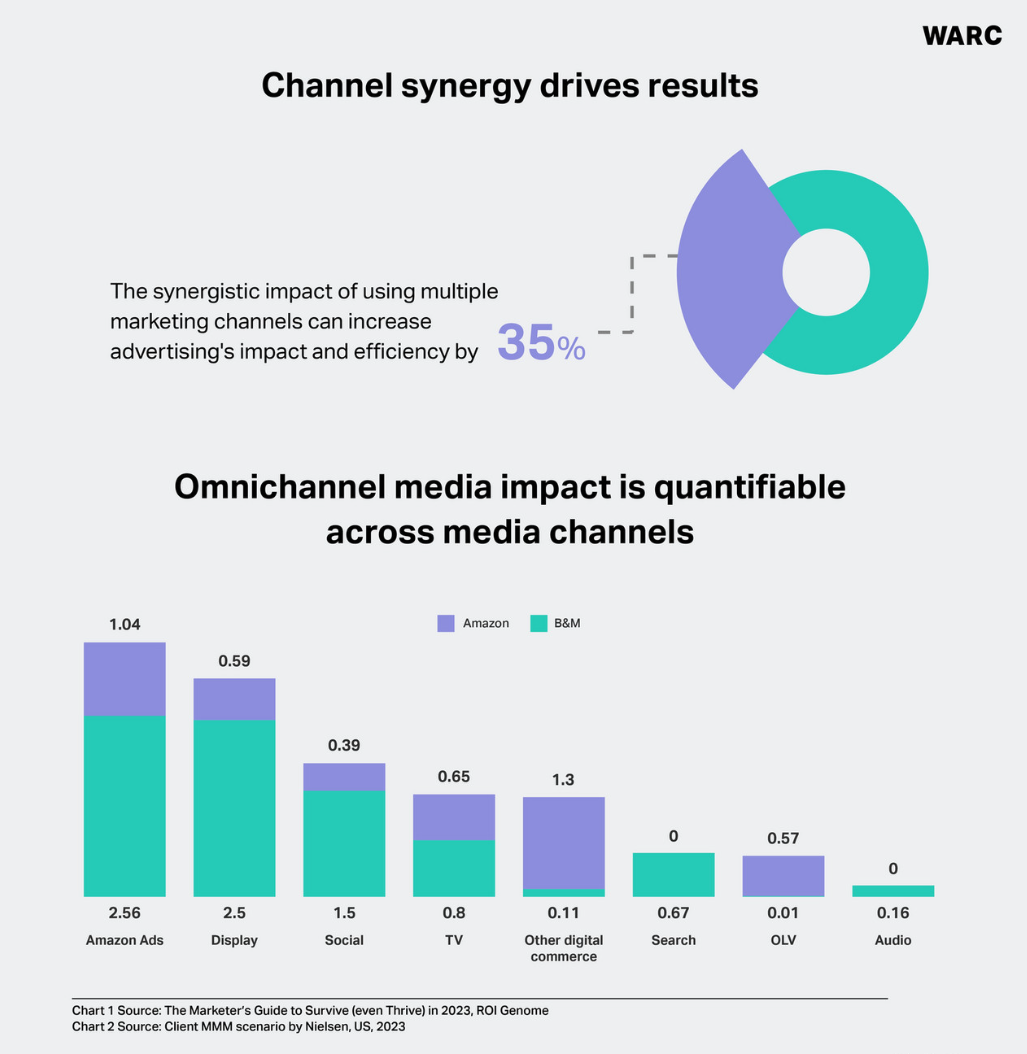 Source: Next wave measurement: Marketing mix modelling in the age of retail media, WARC, Jul 2023
"Our clients are increasingly seeking insights that navigate the intricate integration of retail and traditional media. The resurgence of MMM is essential, evolving to decode the complex signals within this blended landscape, ensuring strategies are both reactive and predictive," said Paul Cuckoo, head of analytics at PHD Worldwide. "It marks a shift toward a more refined, adaptive analysis, enabling marketers to not just be responsive but anticipatory, shaping nuanced consumer journeys in a world where the convergence of media channels is the norm."
Marketing mix modeling can help marketers understand how effectively different channels drive in-store versus online traffic and sales. A recent study by global insights firm Analytic Partners highlighted how online ads on Amazon can drive sales through other retail channels, demonstrating the relationship that clearly exists across channels and activities.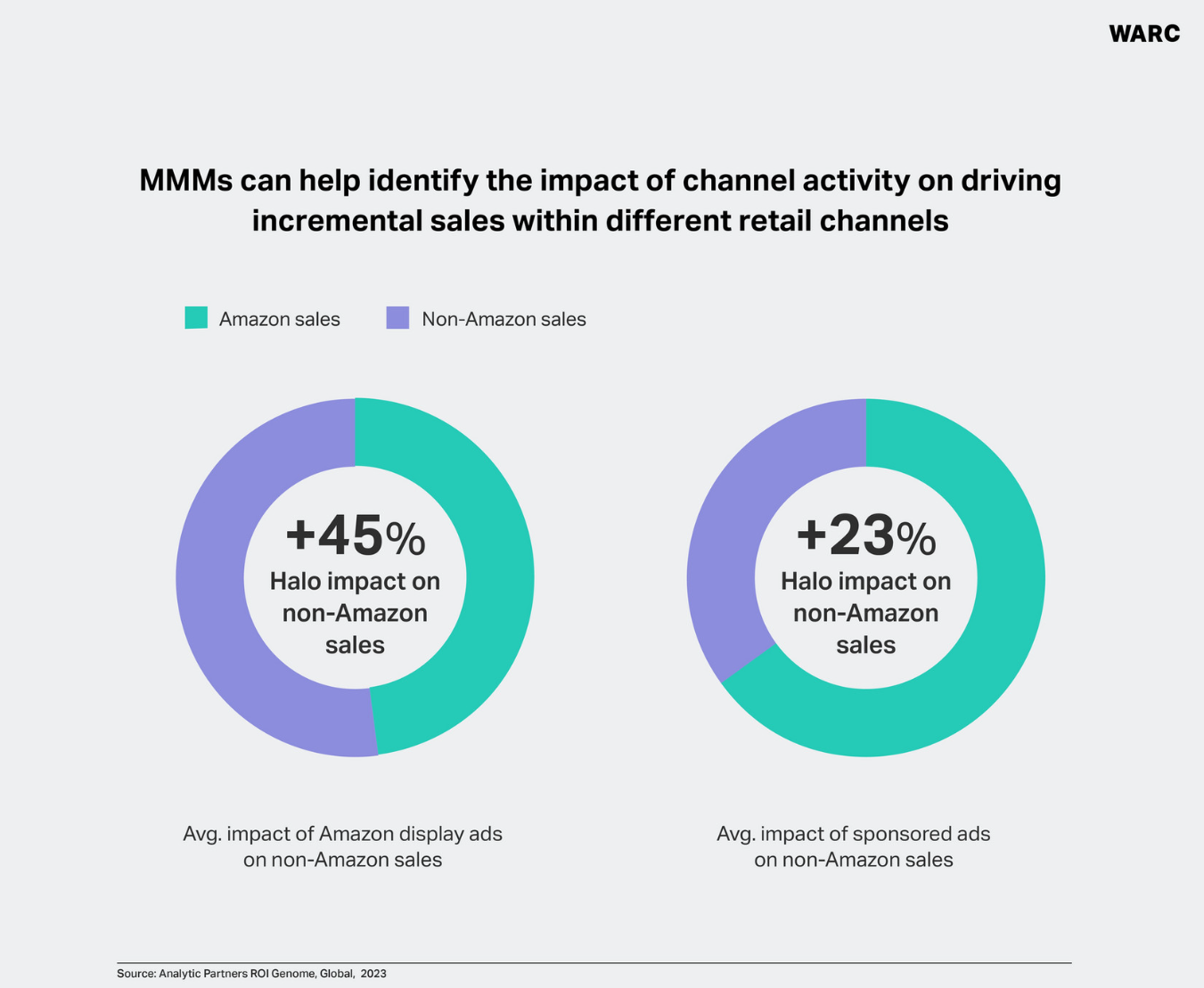 Source: Next wave measurement: Marketing mix modelling in the age of retail media, WARC, Jul 2023
Leveraging MMM can help marketers understand "hybrid" shopper journeys and the synergies between retail media and other channels, which has the potential to drive efficiency and unlock incremental ROI.
---
[1]  Gartner's Customer Data Survey: The 360-Degree View of the Customer Is More Myth Than Reality, January 19, 2022
[2] Retail Media Networks: A Forced Marriage or Perfect Partnership?" ANA, 2023