London, 8th July 2021: Motability, the national disability charity, today launches a new fully inclusive mobile-first website platform. The charity has been given a WCAG 2.1 AA* rating by the Shaw Trust's Web Accessibility Accreditation Service for its relaunched website, which was designed and built by independent creative agency, Initials.
Using information from beneficiary profiles, user journeys and behavior, Motability has relaunched the website, updating the technology supporting the charity's old website, which was due to run out in late 2021.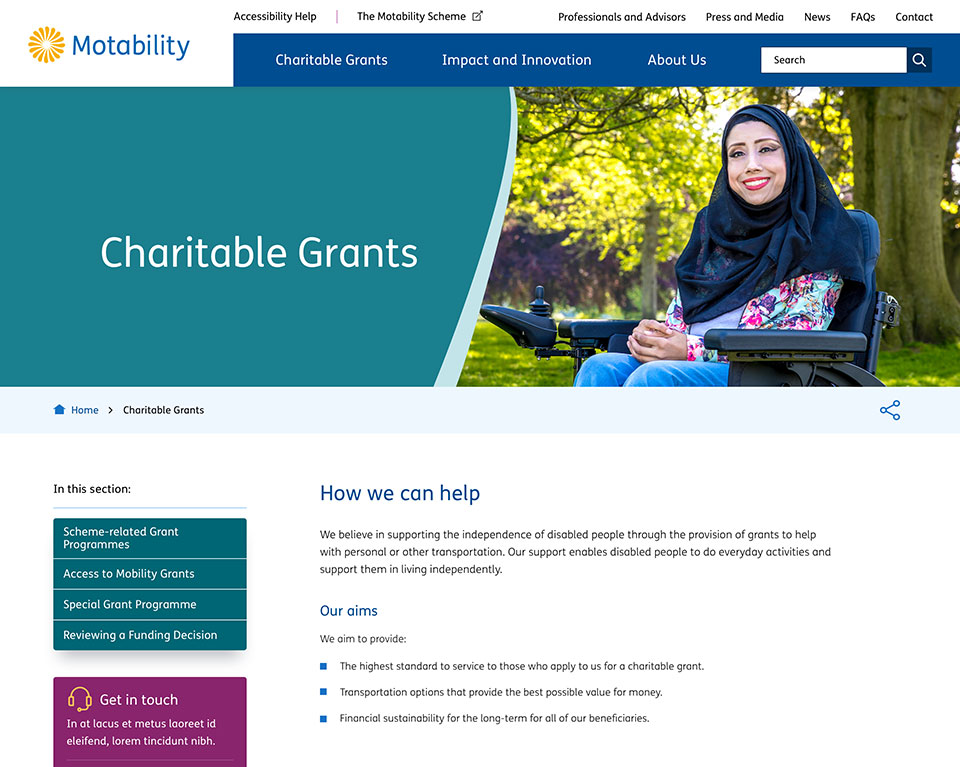 It was essential that the mobile version of Motability's website was as accessible as the desktop version. Analytics from Motability found that almost two-thirds (64%) of users were opening the charity's website via a mobile device as opposed to the desktop (28%) and tablets (8%) in the 12 months to June 2021.
The refreshed site will give all users, regardless of disability or browsing preference, the ability to engage with the site and discover how Motability can help disabled people across the UK.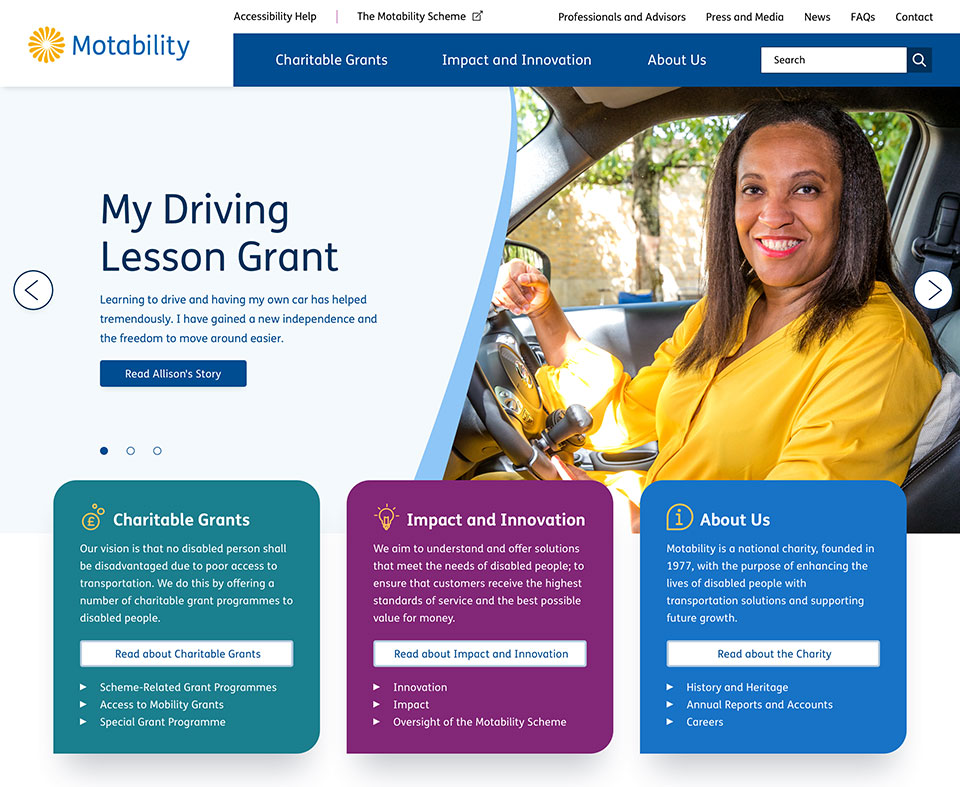 The accessibility of the website was reviewed by experienced testers from Shaw Trust with a range of disabilities including: mobility impairments, colour blindness, no and low vision, deafness, dyslexia and learning difficulties.
Motability's Chief Executive Officer, Barry Le Grys MBE, said: "Accessibility is paramount for us when communicating with our beneficiaries, and this is why we are proud to have maintained our partnership with Shaw Trust over many years.
"Together with Initials, they have helped to create a website that champions the stories of our beneficiaries and highlights the work of Motability. The new website ensures that disabled people and those who help and advise them are aware of the grants, research and projects that we undertake across the UK to help achieve our vision – that no disabled person shall be disadvantaged due to poor access to transportation."
Joe Manock, National Account Manager at Shaw Trust Accessibility Services, added: "Motability and Shaw Trust Accessibility Services have a long-standing partnership ensuring that the Motability Products and Services are fully accessible and inclusive for all.
"We at Shaw Trust are delighted to have supported the development of Motability's new website over the last few months and have been impressed at the care and attention that has been taken to meet the WCAG 2.1 AA Standards to create a fully inclusive and user-friendly accessible website."
Dominic Murray, Digital Director at Initials, noted: "It has been incredibly rewarding for Initials to work with Motability on creating a new website that amplifies the fantastic work that Motability does, whilst helping develop the foundations for the charity to engage with beneficiaries across a variety of digital touchpoints in a truly accessible way."
About Motability
Motability is a national charity set up with all-party parliamentary support in 1977 and incorporated by Royal Charter. Our vision is that no disabled person shall be disadvantaged due to poor access to transportation and our objective is to facilitate the relief and assistance of all disabled people in connection with the provision of personal or other transportation.
To help us achieve our vision and objective, Motability:
Sets the strategic policies and direction of the Motability Scheme and oversees its performance to ensure it meets the transportation needs of disabled people.
Uses charitable funds to support beneficiaries with the cost of their transportation needs.
Raises awareness of Motability, the Charity, and the Motability Scheme among potential beneficiaries and customers, and the people who advise them.
Constantly looks for and develops new solutions to meet the evolving transportation needs of disabled people.
Provides the highest level of customer service across the UK, underpinned by a strong infrastructure and empathetic culture.
https://www.motability.org.uk/
For further enquiries about Motability, please contact:
Press Office – call 07736 186094 or email pressoffice@motability.co.uk
About Shaw Trust
Shaw Trust works with central and local government bodies, private sector companies and charities across the UK and internationally. Shaw Trust Accessibility Services supports these organisations to create an accessible environment, both digitally and physically. The service is part of Shaw Trust – a national charity, which has grown in reach since it formed in 1982 in the village of Shaw, Wiltshire. Originally the charity supported the few local disabled people from Shaw to help them find employment. Now Shaw Trust supports over 50,000 people a year throughout the UK and further afield so they can live independent and inclusive lives.
Call the Accessibility Team:
0300 123 7005
Email us: Accessibility-Services@shaw-trust.org.uk
About Initials
Initials is one of the UK's most well-known independent creative agencies. Experts in Brand Development, Shopper Marketing, Technology and Ecommerce, Content and Experiential.
Providing elevated thinking for brands aiming to thrive in a challenging and ever-changing world; Initials marry focused planning with creative excellence to deliver considered, inventive and ambitious campaigns in both global markets and the UK.
For further enquiries about Initials, please contact:
Abby Hartley – aha@initials.co.uk