By Karl Kangur, CEO, Result Compass
Digital marketing trends come and go, but some strategies continue to hold importance even as the world progresses at a fast pace. Blogging, for example, has been around for more than two decades. And not only is it a relevant practice in 2021 and beyond, but it's also one of the best ways to actually drive results for your business.
But, there's one problem with strategies that consistently prove that they work: sooner or later, everyone starts using them. So how do you stand out with blogging? And what do you have to do to achieve the goals you're after?
Let's find out.
Commit to Value
The most important thing to remember when blogging is that the only way to grab and retain reader attention is to provide value from the get-go.
So many bloggers make the mistake of burying the lede. They make website visitors dig for the information promised in the headline, risking high bounce rates and short time on-page. But, what they don't realize is that value (or helpful information) isn't something that's supposed to be left for the end of an article, like a treat. On the contrary, it's the most important thing they can offer.
So, when looking to drive results with your blog content, do your absolute best to make your written pieces informative and engaging from start to finish.
Don't be afraid of providing answers in the very first paragraph of your post. That's not a missed opportunity to keep people on your page. It's effective search intent optimization.
If you check out the example post from Medical Alert Buyers Guide, you'll see that giving answers right away is what they do. Instead of pulling tricks, they offer their readers value. Then, they provide any other piece of relevant or connected information to create a complete experience.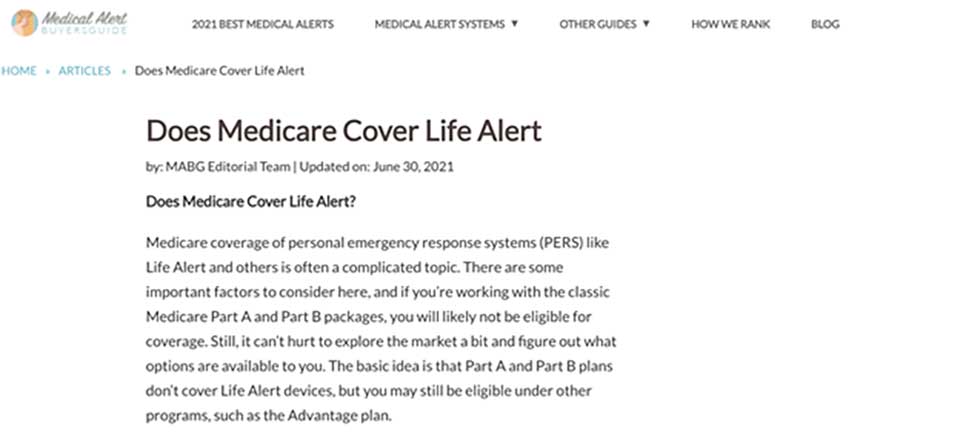 Source: medicalalertbuyersguide.org
Guide User Action
Another missed opportunity to drive conversions by investing in blog content is not giving clear instructions on what readers should do when they finish reading a piece.
If you consider any successful landing page design strategy, you'll quickly realize that it most likely rests on careful CTA placement. In the simplest of terms, drawing user attention to high-value page elements is the absolute best way to drive conversions. And that's regardless of whether you want to get more sales or expand your list of leads.
With this in mind, you need to carefully consider how you guide user attention on your blog posts. Do you include calls to action that benefit your business, like in this article about learning to code from Skillcrush?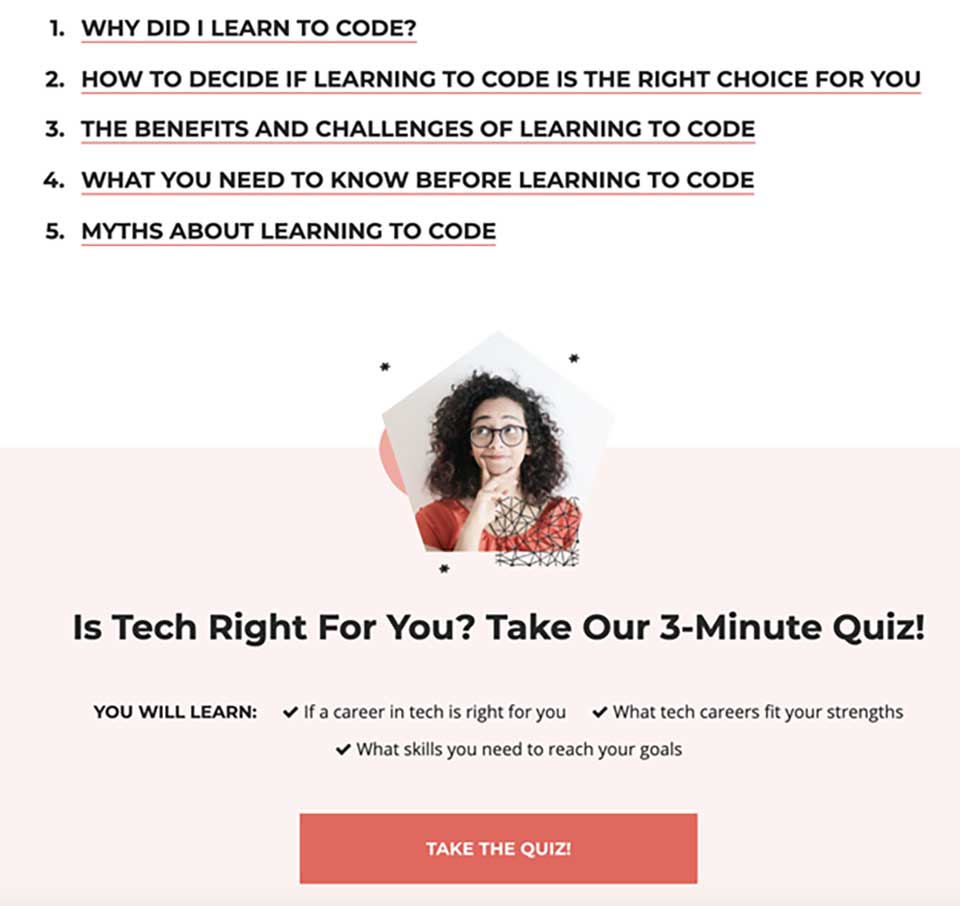 Source: skillcrush.com
Do you implement design tricks, like providing sufficient white space and compelling imagery to ensure your high-value elements are easily spotted? Even practices as simple as placing your CTAs above the fold work to ensure your blog posts benefit your business. Here's an example from Cookie + Kate:
Source: cookieandkate.com
Combine Marketing Strategies
If you're looking to supercharge your blog with business-boosting potential, you have to understand that no marketing strategy brings the best results when used on its own.
Yes, by focusing solely on blogging, you can get a significant following and even establish yourself as an authority on a topic. But without supplementing your content strategy with other actions, you're essentially just missing out.
For example, if you're running a content site, you'll want to ensure that you benefit from the hours of work you put into each post. Adding affiliate links to your posts, as Best Mattress Brand has done, makes for a logical solution. Of course, make sure that you actually stand behind the products you recommend.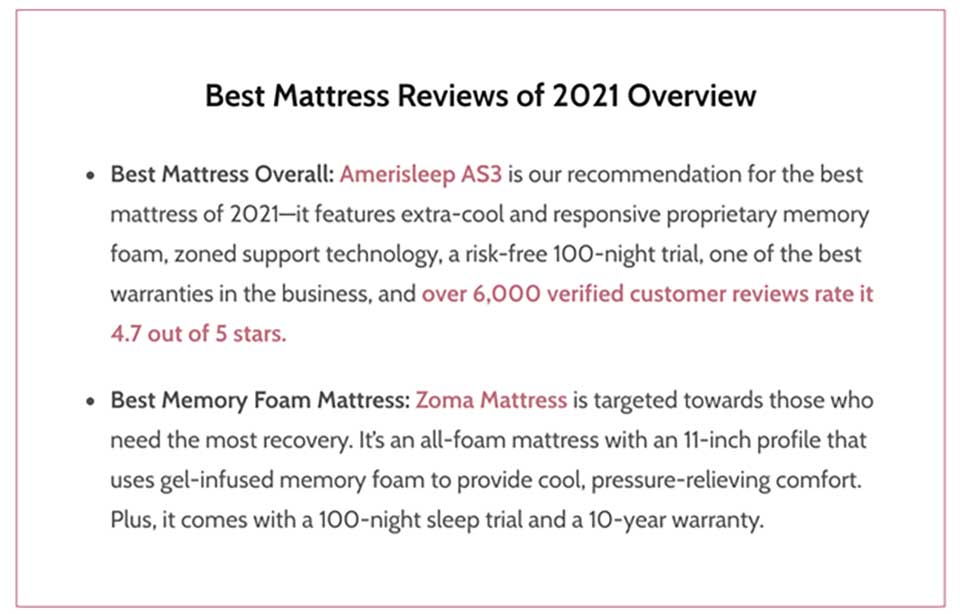 Source: bestmattress-brand.org
Another way to combine marketing strategies to drive results from your blog is to extend your activity to a variety of social media platforms. Find out where your audience hangs out and offer them your valuable content there.
The writer behind Simply by Christine, for example, supplements their blog content efforts with a successful YouTube channel that allows her to reach a far wider audience than just by writing.
Don't Leave Matters up to Chance
Last but not least, when looking to move your business forward with blog content, remember that a great post always starts with in-depth research.
Don't just spew out articles like there's no tomorrow. Instead, focus on what your audience wants to read about.
To do this, you'll have to have a strong understanding of your readers. You'll need a clear vision of what your brand stands for and who its target audience is.
You'll also want to invest in SEO, as well as follow and predict industry tendencies. That way, you'll always have the chance to cover relevant topics and keep up with trends.
In Closing
As you're probably well aware, blog content has great potential for driving your business forward. That is, as long as you take the right actions.
So, when coming up with a content strategy for your blog, make sure that you cover all these points we've talked about. Ensure that your posts are valuable, that they're well-researched, that they move readers down the funnel, and that they're well supported by other digital marketing methods. That way, you're sure to see the results you're after.