By Hannah Tree | SEO Manager | Reflect Digital
Christmas may seem like a long way off but planning in advance is key to staying ahead of the game and capturing the full potential the Christmas period has to offer.
Whilst annually the internet retail sales value has continued to grow since 2008, you cannot afford to think this is enough for your Christmas sales to start flooding in. Being prepared or not for the seasonality of your industry can see your sales and revenue skyrocket or take a turn for the worse – let's hope it's not the latter!
Whether you're a large eCommerce website or a smaller local business, creating an SEO strategy for the festive period can improve your chances of being visible for those all-important Christmas-related keyword phrases which ultimately drive traffic, generate sales and increase revenue.
In this article, we'll explore the following:
Content Audit
Keyword Research
Competitor Analysis
Content Roadmap
Adding the human element
Internal Linking
Structured Data
Measuring Success
Other considerations 
CONTENT AUDIT
First things first, start by conducting a content audit so you can easily identify where old content needs to be updated or new content needs to be created.
If you don't have any dedicated Christmas-related content you are going to struggle to fulfil the users search queries and therefore, rank for Christmas-related keyword phrases. This presents an immediate opportunity to create dedicated Christmas-related product pages and/or Christmas-related blog content.
If you do have dedicated Christmas-related content but it hasn't been refreshed since the previous year and references old dates, then you're going to want to refresh this content and ensure it's aligned with this year's search behaviour and keyword targets.
The content audit also enables you to identify whether you have content that serves your target personas or not. Customer-centric content is going to be your differentiator. Not only do you need to be visible for your key phrases, but you also need to stand out in the SERPs and engage with your audience. This is how you're going to drive clicks and conversions.
Combine your knowledge of your personas with keyword research and you've got a winning formula.
KEYWORD RESEARCH
Whether you need to start content creation from scratch, refresh your existing Christmas content or both, you need to conduct keyword research.
Extensive keyword research will give you an insight into what your customers are actually searching for and identify opportunities for Christmas content pieces.
Begin by asking yourself a few questions:
What Christmas-related products do I offer?
When you know exactly what products perform well around the Christmas period, you know exactly what pages you need to create and/or optimise for Christmas-related keyword phrases.
This also enables you to define pillar content and topic/content clusters.
Pillar content is a page that targets an overarching theme or subject using broad keywords (which typically has a high search volume).
Topic or content clusters are essentially a group of highly relatable landing pages which are linked by a common, overarching theme or subject known as pillar content. Generally, these types of landing pages target highly specific keywords (with smaller search volumes).
Example:
Pillar Content
Christmas PJs
Topic/Cluster Content
Girls Christmas PJs
Boys Christmas PJs
Women's Christmas PJs
Men's Christmas PJs
Family Christmas PJs
Couples Christmas PJs
Who is my target audience?
Although this seems like an obvious question and one you think you may already know, really hone in on who your Christmas products are likely to be bought by but also gifted to.
This type of information will dictate the keywords you target and the content you produce. For example, if you're buying a Christmas gift for your mum, your first port of call might be to enter a search query such as 'Christmas gift guide for Mums'.
Once you have identified this information, you'll also want to decide what stage of the user journey you want to target…
What stage of the buyer journey do I want to target?
The stage of the buyer journey will dictate the type of keywords you target as well as the content you need to produce to fulfil the search intent.
Awareness
If your user is in the 'Awareness' stage of their journey, they're likely to be doing high-level research and therefore entering informational searches within Google search.
In order to find a solution, they'll be inputting searches using phrases such as:
Guide
Best
Cheap
Alternatives
Compare
How
What
Why
Where
Ideas
Tips
Consideration
If your user is in the 'Consideration' stage of their journey, they have some information on how to fulfil their need/want but want further information so begin to search for more specific solutions. They'll be inputting searches using phrases such as:
[Brand Name]
[Product Name]
Reviews
Prices
Delivery
Features
Purchase
If your user is in the 'Purchase' stage of their journey, they're at the end of their user journey ready to make an action. These searches will be with the intent of comparing the different options available. They'll be inputting searches using phrases such as:
For sale
Buy now
Order
Where to buy
Deals
Discount
Collating your keywords
Once you have collated all of this information, you can begin your keyword research to develop a list of short-tail and/or long-tail keywords based on the products you have to offer, your target audience/personas and the stage of the buyer journey you want to target.
The best way to make use of your keyword research is to categorise it:
Map each keyword to the product page URL
By intent: awareness, consideration, purchase
By persona/target audience
COMPETITOR ANALYSIS
Whilst you may feel you already have an extensive list of keywords, there is never any harm in conducting competitor analysis to spot any missed opportunities and find some hidden gems/quick wins.
Tools such as SEMRush, have a useful 'keyword gap' tool that enables you to identify keywords your competitors are ranking for but you aren't, as well as, keywords your competitors are outperforming you for. From this, you may be able to draw out further Christmas-related keywords that you can add to your keyword mapping document.
The other great thing about competitor analysis is that you can spot ways in which your competitors are optimising their Christmas product pages which will help you when it comes to content creation, internal linking and promotional activities.
CONTENT ROADMAP
Build a content roadmap based on your keyword research and competitor analysis in order of priority. At this stage, it's particularly important to leverage your understanding of the search intent as this will help you determine the type of content you need to create.
You should also factor in:
The accuracy of production information
Optimisation of product descriptions
Optimisation of product images
ADDING THE HUMAN ELEMENT
When optimising your pillar content, topic/cluster content and product pages, make sure to add the human element. This is the best way to create messaging that aims to speak directly to your users.
You can do this by refining your target audiences into personas. You'll want to segment your target audience by socioeconomic demographics, create a description of them and their lifestyles and identify the functional needs and benefits that your product can offer them.
The next step is to learn your persona motivations through three different lenses – Contextual, Rational and Emotional.
If your persona is contextually motivated they have a desire to be made aware, recognised, included and make a difference. Their dominant values are status, recognition and purpose.
If your persona is rationally motivated they have a desire to be competent. Their dominant values are achievement and mastery.
If your persona is emotionally motivated they have a desire to feel connected to friends, teams and communities. Their dominant values are affiliation and authenticity.
Once you are aware of what motivates your personas, you can layer your human behavioural insights into your optimised metadata, product descriptions, on-page content and call-to-action.
INTERNAL LINKING
Don't just assume that once you've got your content live that your job is completed. It has to be linked to in order to be found. Try and coincide putting your content live with adding internal links to this page to bolster your chances at ranking sooner.
Internal linking is often underutilised but can go a long way in adding value. Internal linking helps Google to understand:
The site structure
The hierarchy of content
The relevance of pages
The importance/value of pages
The relationship between pages
Naturally, if you are following the pillar content and topic/cluster content approach, you will interlink between pages. As shown in the example above, your pillar content will link to topic/cluster content and vice versa.
If you're creating blog content or guides to target users in the awareness stage of the buyer journey, you can leverage internal linking by linking to category pages and products referenced within the content.
UTILISING STRUCTURED DATA
Make the most of using structured data on your category pages and product pages so Google can provide detailed product information in the search results.
Structured data enables users to see information such as price, availability and review rating from the search engine results pages (SERPs).
Not only does structured data help you stand out in the SERPs against your competitors, but it also helps to improve click-through rates.
MEASURING SUCCESS
With all this hard work that has gone into optimising your products for Christmas, it's important to measure their success.
Ensure you have a clear set of KPIs so you can effectively monitor the performance of these pages and understand what's working and what's not working.
SEO KPIs that might be relevant to your eCommerce website:
Organic revenue
Organic transactions
Organic conversion rate
Assisted organic conversions
Organic lifetime value
Organic rankings
Click-through rate
Organic traffic
ROI
OTHER CONSIDERATIONS
When should you start optimising your product pages for Christmas?
As you may or may not know, SEO doesn't happen overnight. Unlike paid search where you can see some immediate results, SEO takes time and patience. And for that reason, planning is key.
How long it will take for your Christmas-related pages to rank in search engines depends on a lot of factors, including:
Competition
Domain Authority
Resource
According to a study by Ahrefs, 95% of newly published pages don't get into the top 10 positions on Google Search within a year, however, the 5% that do manage to secure a top 10 place, do so within 2-6 months. Bear in mind that this study was conducted back in 2017.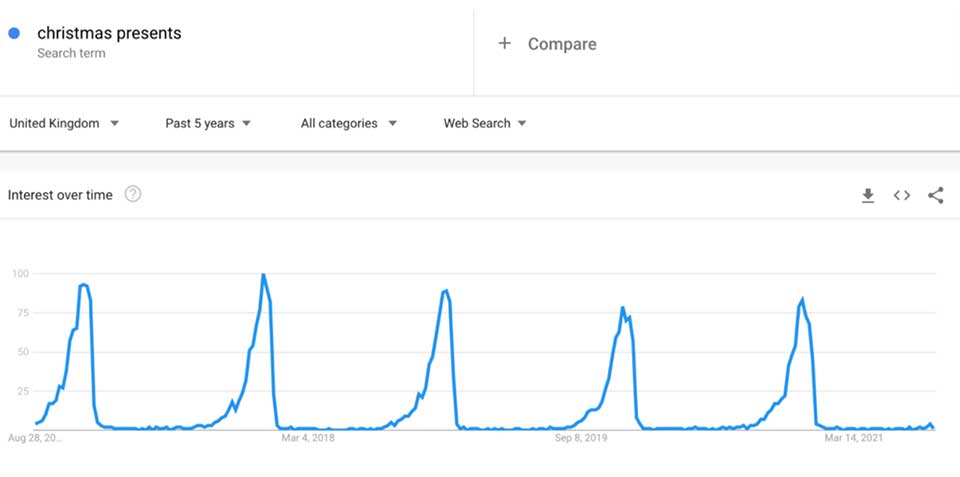 Looking into Google Trends, which is a free tool from Google that enables you to monitor the popularity of specific search queries, over the last 5 years, the interest in Christmas shopping starts to pick up momentum at the end of August, early September reaching its peak at the beginning of December. Whilst search demand will vary depending on the industry, this may go some way in helping to plan your Christmas content.
No one can give you an exact estimate on when you should start optimising your pages, however, it's always better to start sooner rather than later.
Managing old pages
Common mistakes companies make are deleting historic Christmas pages and creating new landing page URLs unnecessarily.
Where possible, keep your URLs the same. Only change the URL if you absolutely have to e.g. the URL references a previous year. If you do, always set up a 301 redirect, which indicates the page has been permanently removed, this will help to:
Keep visitors engaged
Pass link equity
If you have landing pages from previous years such as a Christmas gift guide, rather than creating a new landing page, update the content on the existing URL and benefit from the rankings, authority and equity this page has already acquired.
Collaborate with paid, social and email marketing
To really see the full benefit of your new Christmas content, collaborate with your paid search, social and email marketing teams!
A holistic approach to your Christmas campaign will help your content get seen by a wider audience and ultimately drive more sales and generate greater revenue.
KEY TAKEAWAYS
Start optimising sooner rather than later. This is going to be key to securing visibility for when the Christmas-related searches begin.
Content should be customer-centric and fulfil the search intent. By layering unique human behavioural insights within your optimised content, you not only create content that ranks but also resonates with your customers.
Content isn't enough. Ensure your content is linked to, in order to be found and disseminate link equity.
Set your KPIs and have your tracking in place. This is really important to understand whether your efforts have been a success and how you can improve next year.