With growing concerns surrounding the changes to data access across the industry, tested and trustworthy data continues to be a top priority for marketers. In the following Q&A, we chat with Eddie Dingels, GroundTruth's Chief Operating Officer, to get his view on the evolving mobile landscape, data accessibility, GroundTruth's recent MRC accreditation and how he sees the future of the industry shaping up.       
AW360: How are recent changes to data access impacting the advertising industry?
A: I've been in the mobile advertising industry for some time and have seen lots of change throughout the years. But I would say we are all working within a pivotal moment that is setting the stage for the next evolution of mobile advertising. Over the past several years there has been an abundance of location-based data sources for marketers to choose from. In some cases, from mobile app publishers aren't necessarily providing location-based services but still collecting the data for marketing purposes.
Increased regulation and more rigorous privacy guidelines are changing all that. For app download advertising models that are dependent on high opt-in rates, and app install businesses such as meal ordering apps, they will likely have some challenges with maintaining scale. Mobile retargeting advertising solutions on the other hand, such as what we provide at GroundTruth, remains relevant and adaptable to changes such as iOS's App tracking transparency (ATT) changes.
We have long been focused on compliance through scale, ID versatility and data sourcing, so we have been able to maintain our supply levels despite new regulations. That's because our data comes from partnerships and our owned and operated app that relies on location for a better user experience across several different categories. It's a strategy that has allowed us to maintain the scale needed over time to effectively deploy mobile advertising and measure the visits generated from those campaigns.
AW360: What do these changes mean for marketers?
A: For marketers, the difference between accurately identifying a person in one location versus a neighboring business is critical to generating actual business outcomes. GroundTruth's technology platform has provided increased accuracy using our blueprint technology and quality assurance algorithms. This new accreditation further provides brands that level of confidence and validation from a credible third-party source such as the MRC.
There is a lot to look forward to when it comes to the reach and engagement level that mobile marketing can provide brands. From our perspective, it opens the door for stronger reach and additional contextual targeting discussions, which we've been investing in for several years. We've built an infrastructure that supports scale and performance. This is opening a whole world of new possibilities amid a changing advertising landscape including new solutions such as contextual targeting and how we approach efficacy.
AW360: Why is there a need for third-party data validation such as MRC accreditation?
A: As concerns surrounding consumer privacy and data collection continue to be top of mind for brands, it is becoming more imperative than ever for any company that wants to provide location-based data marketing solutions to have independent third-party tested data, whether that be for measuring foot traffic or reaching specific audiences.
Our approach to data is focused on four key pillars which is important to how we meet our customers' goals: "build effective marketing solutions powered by scalable, privacy-compliant data that has been tested and proven in order to drive business outcomes for brands." You can say it's core to our mission when it comes to providing a whole new level of trust in the industry.
AW360: Where does your data come from? Are you doing anything to help mitigate the impact pending privacy laws and changes in data access might have?
A: I think every marketer who uses location data for their marketing investments should ask their solution provider the same thing. At GroundTruth we use a variety of different data sources that include our owned and operated app and our partner ecosystem. We are constantly working towards diversifying both to mitigate related industry changes.
As I mentioned earlier, we have been focused on scale, ID versatility and data sourcing well before these recent changes. This includes doubling our incoming ad supply with high-quality inventory and implementing multiple monitoring points so we can evaluate individual supply sources and make adjustments as needed. These initiatives and others are part of our effort to sustain a transparent and trusted relationship that drives performance for the brands we work with. And equally important, are the investments we have been making in consumer privacy and transparency in order to make sure our data collection policies meet and, in many cases, exceed industry standards and legislation guidelines.
AW360: What type of MRC accreditation has GroundTruth received?
A: We've received MRC accreditation for our visitation data. The accreditation recognizes our ability to detect visits and accurately assign them to a location. We're super excited to be receiving this seal of approval because it's one the most regarded accreditations in the industry. It has truly become the standard for determining data quality and effectiveness across the AdTech industry.
AW360: What did the MRC accreditation process include?
A: It was a multi-year operational undertaking and commitment by both parties that involved several GroundTruth teams across our entire organization including product, technology, supply, analytics, and many others. The MRC conducted a comprehensive evaluation of our data gathering infrastructure and processes. Probably also worth noting that the standard in which the MRC uses to determine the effectiveness and accuracy of data were created in partnership with the IAB and other industry organizations.
So, you can imagine how rigorous the process is. More specifically, it included undergoing an in-depth audit through an independent CPA firm to confirm our visits' compliance with industry standards and disclosing our methodology for determining location, place, and visits. And we provided specific information about our measurement methodology, data filtration processes and reporting procedures as they relate to our location data technology.
AW360: How do marketers benefit from working with data that has been tested and verified by a third-party?
A: Brands face immense pressure to reach their customers in such a time of flux and changing shopping behaviors. As we've proven, visitation data not only helps drive higher in-store sales but e-commerce sales as well. To generate meaningful business outcomes, brands need to make informed decisions about their marketing investments, starting with the data they are using. If they don't have full confidence in the accuracy and reach of their data, they could very well be missing out on opportunities to reach new customers and find ways to keep their current customers engaged. It also limits the use of campaign reporting if marketers don't have full trust their data is revealing accurate results.
Visitation data is one of the fundamental building blocks of everything we do at GroundTruth. It's not only core to our marketing platform's current capabilities, such as building audiences, media targeting, and attributing performance but also plays a crucial role in developing future marketing solutions. So our customers can have the confidence that our data is showing them the most accurate view of insights and performance.
AW360: How are things like third-party accreditation and shifting consumer privacy laws shaping the future of location-based marketing efforts?
A: Over the last several years the power of location data has proven to help brands uncover and understand real-world customer behaviors and intent. So, I believe there will continue to be a high demand for location signals to help drive marketing strategies and power advertising campaigns.
As legislators and consumers become more focused on consumer privacy issues, MRC accreditation and other 3rd party validated audits will play an important role in giving brands the confidence that they are using data signals that have been tested for accuracy and performance. Companies like GroundTruth that have made consumer choice and privacy a priority in the development and implementation of new products and services based on location data will be able to use that as a differentiator in the marketplace.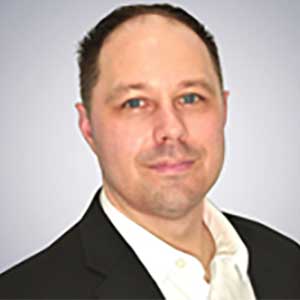 About Eddie Dingels
Eddie Dingels is Chief Operating Officer at GroundTruth, leading technology, product, operations and WeatherBug. Before becoming Chief Operating Officer, Eddie was General Manager of WeatherBug, leading the business, technology, product, and operations for WeatherBug. As General Manager, Eddie accelerated WB's revenue and profitability growth.
Eddie has a strong background in technology, where he has spent time as a developer, architect, and technology executive. He has worked in multiple operations roles, supporting corporate and production infrastructure, as well as leading cloud initiatives.