In all 50 states, COVID-19 restrictions are either being eased or lifted completely.¹ Vaccination rates are also rising steadily, and at least half of the US population has at least one dose of a COVID-19 vaccine.²
Without a doubt, the Great Re-Opening of America has begun. In addition to flocking to the restaurants, bars, and entertainment venues that we so dearly missed, American shoppers are eagerly returning to brick-and-mortar stores.
Though we saw a significant shift to online shopping in 2020, new data makes it clear that shoppers still desire the in-store experience—so much so that May sales surpassed pre-pandemic levels. An analysis of our clients' sales data shows that US in-store sales transactions in May were 8% above pre-pandemic levels in February 2020, the third consecutive month we've seen in-store sales exceed those prior to lockdowns.
Steady growth in in-store sales and a widening gap between store and online were particularly apparent in the Apparel and Health and Beauty categories, where in-store sales in late May were up 52% and 41% respectively vs the first four weeks in January this year.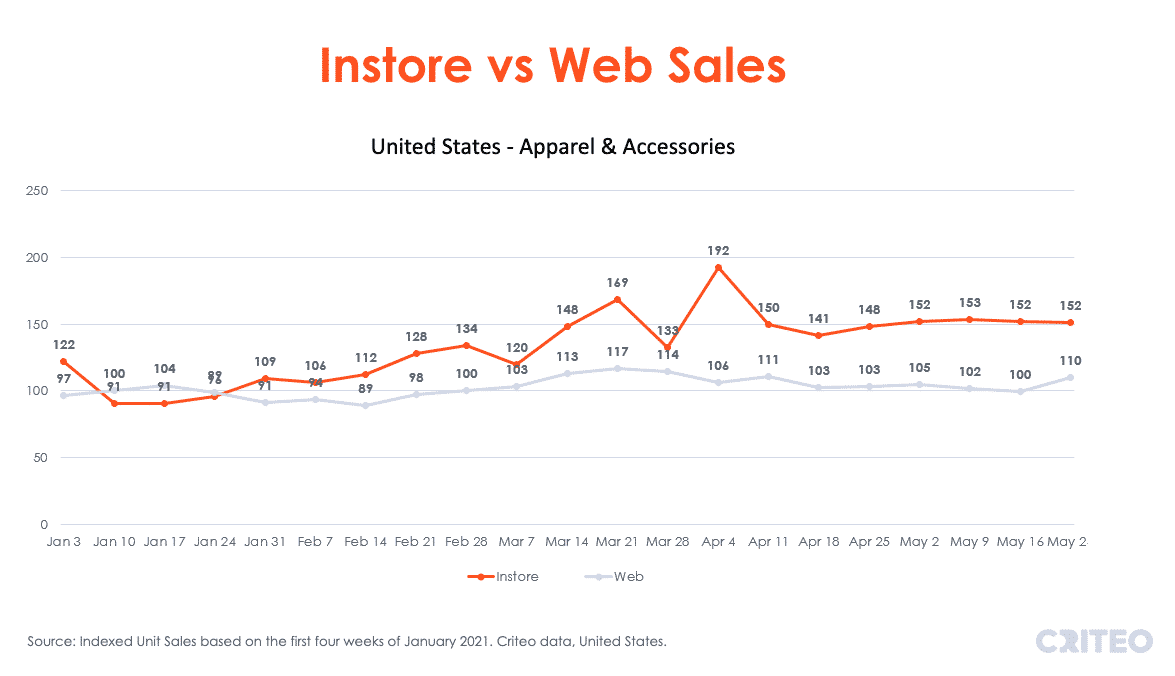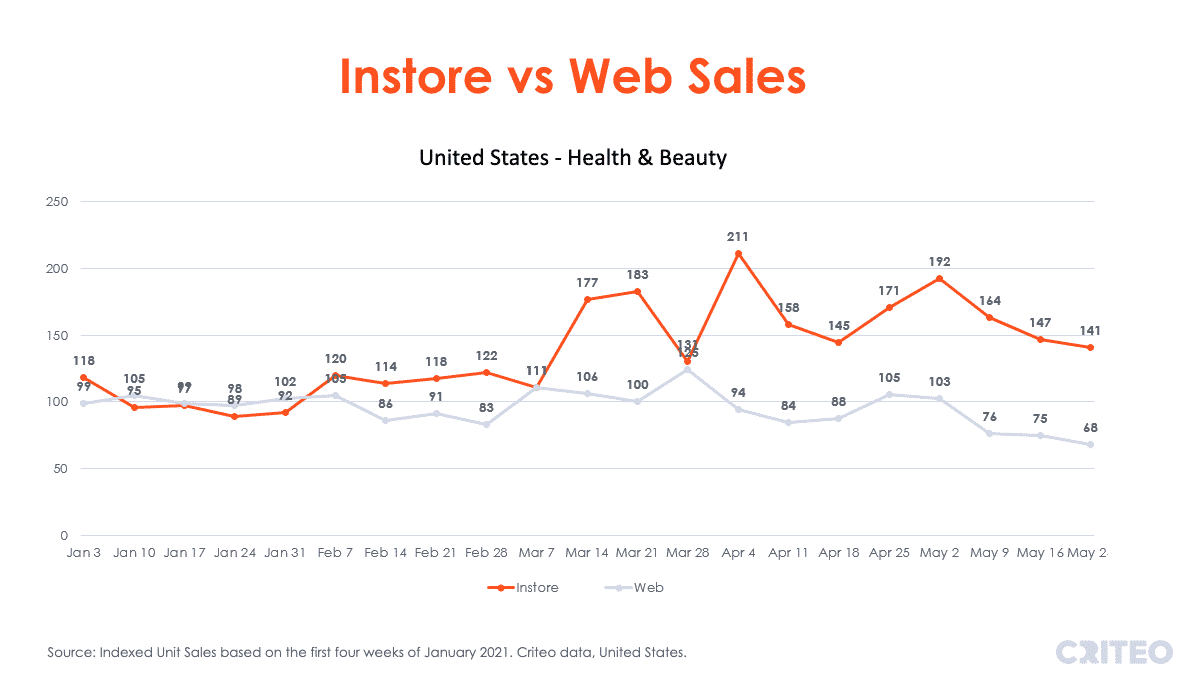 A survey of more than 3,000 US consumers that we conducted from April 2021-June 2021 further supports the in-store trend, with respondents confirming that many purchases in the last 30 days occurred in a physical store. In fact, nearly half of recent luggage, cosmetics and perfume, sporting goods, and home appliance purchases were made in brick-and-mortar stores. These are indicators of the new freedoms afforded by the Great Re-Opening—luggage for traveling, cosmetics and perfume for outings, and sporting goods for group activities.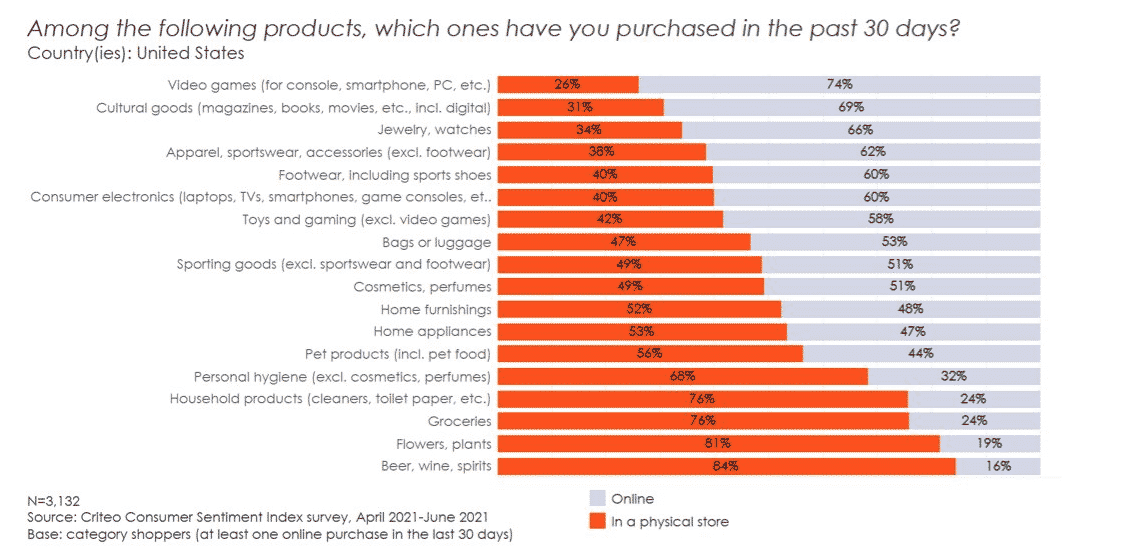 How do you make sure shoppers return to your store?
Though our sales and survey data show that shoppers are ready for in-store shopping again, this doesn't mean that retailers can rest on their laurels. During lockdown, consumers not only discovered or increased their online shopping—they also found new stores and brands to try or switch to. In our Peak to Recovery survey of US consumers conducted in May 2020, 40% discovered at least one new online store during peak COVID³ and 83% said they were likely to continue purchasing from new stores they discovered.4
Add to that the fact that a majority of omnichannel retailer customers are store only customers—meaning they only buy from a retailer's physical store, they don't visit or buy from the retailer's website—and this means that retailers have some work to do to ensure customers who've spent the last year shopping online come back to their brick-and-mortar stores to buy.

How can you combat online competition and re-engage in-store shoppers?
The short answer is to reach customers online. But with a majority of retail shoppers falling into the "store only" category, the real answer is a bit more complicated.
That's where Criteo Store Sales Campaigns come in. With Criteo Store Sales Campaigns, you can onboard your offline sales data and merge it with Criteo's commerce dataset to find your store customers online and understand what they've been browsing and buying online. Then, you can build the right ads to drive customers to make their next purchase in your physical store.
Criteo Store Sales Campaigns enable you to:
Identify and target customers online who previously purchased in-store
Re-engage churned customers, with the ability to onboard two years of historical sales and customer data
Find potential new customers who are likely to buy in-store, using both online and offline intent signals
Unify the journey and engage customers based on their entire shopping history of both offline and online purchases, including product recommendations based both on what they're most likely to buy next and what's currently in-stock, as well as store-specific messaging promoting their preferred store
Add more touchpoints to increase revenue. According to our data, adding online touchpoints with consumers who are only buying in-store increases their likelihood to buy with you again by 50%.
Convert store-only shoppers to more valuable omnichannel shoppers. Criteo data shows that over a 3-month period, omnichannel shoppers make 3.8 transactions on average, vs. 2.2 transactions for in-store only shoppers5
Activate your first-party data to maximize sales as shoppers return to stores
To make the most of the return to in-store shopping, start by targeting recent offline buyers to encourage them to continue to shop in-store with you. You can also target your lapsed customers to get your brand in front of those shoppers who have bought from you previously, but haven't done so recently. Targeting these segments can be key to maintaining your existing user base and ensuring that they buy from you again rather than switching to a competitor.
Ready to make the most of the Great Re-Opening? Learn more about Criteo's Store Sales Campaigns.
¹ https://www.usatoday.com/storytelling/coronavirus-reopening-america-map/#restrictions
² https://www.mayoclinic.org/coronavirus-covid-19/vaccine-tracker
3 Criteo Peak to Recovery Survey, n=1,365, United States
4 Criteo Peak to Recovery Survey, n=532, United States
5 Criteo data, omnichannel retailers, United States