By Anna Bager, president and CEO of the Out of Home Advertising Association of America, OAAA
Destination advertising is rebounding as the weather warms and vaccination rates rise.
Themes of travel-tourism advertisers include:
Comeback
Safety
Catching up/making up for lost time
Tourism analysts see hopeful signs in theme park bookings, airline traffic, and more. Leisure travel is recovering first, ahead of business trips, experts say.

New York City is spending $30 million on a global marketing initiative called "NYC Reawakens." The June launch includes TV, digital, out of home, content marketing, social media, and influencers.
Paul Vallone, New York City Council Member, explains the stakes: "Tourism is one of the pillars of our economy; there is no recovery without it."
A record 66.6 million visitors came to New York City in pre-pandemic 2019. NYC & Company, the city's destination marketing organization, predicts 36.4 million visitors in 2021, up significantly from 22.3 million visitors in 2020.
New York City's $30 million multi-media pitch is its largest-ever tourism campaign.
Likewise, Travel Wisconsin says it is spending more: "This year's advertising campaign will reach 12 markets, twice as many as Wisconsin tourism's record-setting 2019. Additionally, the spend will be higher in each of the markets with a deeper reach. The plan includes the historic markets of Chicago, Minneapolis, Milwaukee, Madison and Green Bay along with seven new markets – Cedar Rapids, Duluth, Rochester, Davenport, Des Moines, Rockford and Wausau."
Wisconsin's tourism campaign ("The Wonders of Wisconsin") fully launches in May with billboards, online video, TV, connected TV, radio, and additional digital ads.
Visit Philadelphia launched an 11-week marketing campaign in March. Travel Michigan is spending $7.6 million on a warm-weather campaign; 100+ digital and printed billboards launch May 3.
Travel promotion and public health is a delicate balance. Michigan Governor Gretchen Whitmer urges travelers "to take proper precautions" (i.e. get vaccinated) . . . and vacation in Michigan.
Michigan's TV commercial called "Catch Up" is on the air through July 4.
Besides its travel pitch, Michigan's ads also make other points. Pure Michigan ads on and inside new electric buses in Chicago highlight "Michigan's industry leadership in design, manufacturing, and delivery of the next generation of mobility," says the state's tourism arm.
Plus, its printed billboards will be covered in a coating activated by sunlight that helps clean the air.

Ads promoting Wisconsin tourism showcase brands produced and used in the state such as Johnson Outdoors, Harley Davidson, Trek, St. Croix Rod, and Jack Links.

Long-running tourism campaigns like Pure Michigan and Travel Wisconsin consistently produce award-winning creative. This year, Travel Texas and Jackson Hole Mountain Resort are finalists in the national  OBIE Awards that recognize outstanding creative in out of home media.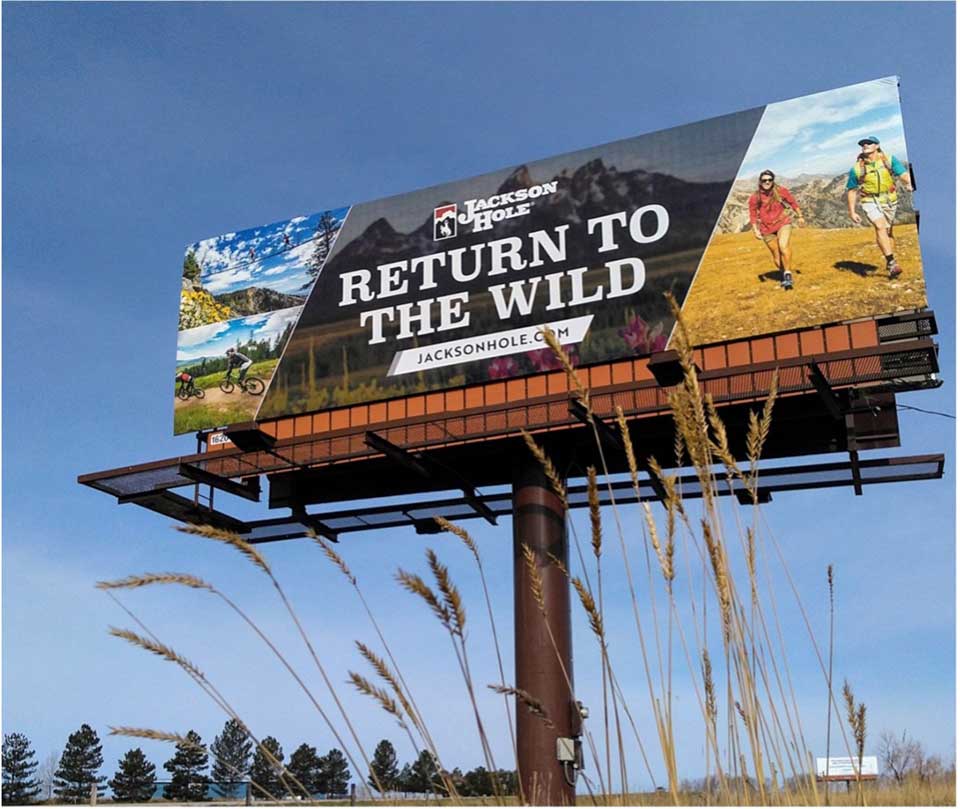 Winners will be announced May 24.