Brand collaborations have become increasingly popular in recent years, with companies teaming up to create unique products and experiences that combine their individual strengths. Brand collaborations are also an effective way to tap into new markets, reach new consumers and generate buzz and excitement. 
These collaborations often result in limited-edition products that consumers highly covet. Over the years, we have seen some incredible collaborations between brands that have created a lot of buzz and excitement. 
We did a deep dive into the history of brand collaborations and picked out what we think are 16 of some of the best. Some of the criteria we used to select our picks included brand recognition, originality, press exposure and overall product. 
1.

Van Leeuwen x Kraft Macaroni & Cheese

In 2021, Van Leeuwen, the popular ice cream brand, teamed up with Kraft Macaroni & Cheese to create a unique flavor that combined creamy mac and cheese with ice cream. The unusual combination quickly became a sensation on social media, with fans flocking to try it out.
While the Kraft Macaroni & Cheese ice cream is no longer available, fans of interesting food combos need not worry — Van Leeuwen most recently teamed up with Hidden Valley for Ranch-flavored ice cream.
2. KFC x Lifetime
In 2020, KFC took the internet by storm when it collaborated with Lifetime for a 15-minute mini-movie, "A Recipe for Seduction." The film starred Mario Lopez as a sexy Colonel Sanders fighting for the love of a woman. Twitter, of course, had thoughts.
3. Doritos x Taco Bell
Doritos and Taco Bell teamed up in 2012 to release the Doritos Locos Taco, which quickly became a fan favorite — and still exists today! It's now hard to envision a world where a taco shell made from Doritos and filled with Taco Bell's classic toppings doesn't exist.
Learn more about the history of Taco Bell's Doritos Los Taco here.
4. Peeps x Pepsi
Pepsi initially teamed up with Peeps in 2021 to create a limited-run offering of Peeps-flavored soda. The collaboration proved so popular that in early 2023, Pepsi and Peeps revived the soda for a nationwide limited run.
5. Oscar Mayer x Seoul Mamas
2022 started with an Oscar Mayer skincare line that took the internet by storm. Teaming up with Seoul Mamas, a Korean skincare company, the two brands created a limited edition bologna-themed, moisturizing face mask that sold out in hours.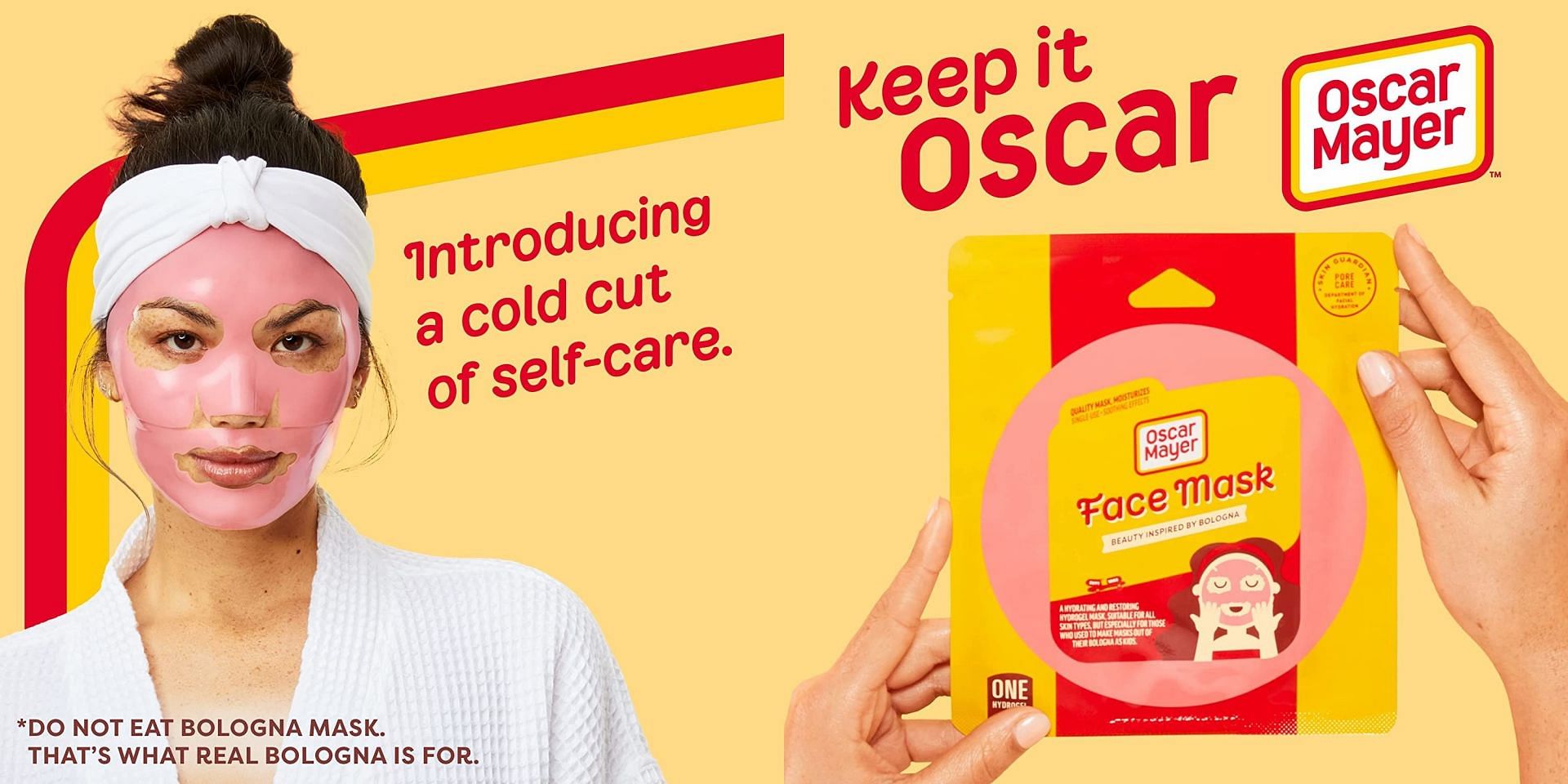 6. Arby's x Old Spice
In 2022, Arby's and Old Spice released a limited edition "Meat Sweat Defense Kit," intending to save us from the dreaded meat sweats. The kits sold out in three hours and featured Old Spice's Sweat Defense Dry Spray as well as a limited-edition roast beef-print sweatshirt and sweatpants, a moisture-wicking towel, a headband and a $15 Arby's gift card. 
7. Oreo x Supreme
In 2020, Oreo joined forces with popular brand Supreme to create a limited edition cookie packs that were wrapped in Supreme's signature red packaging.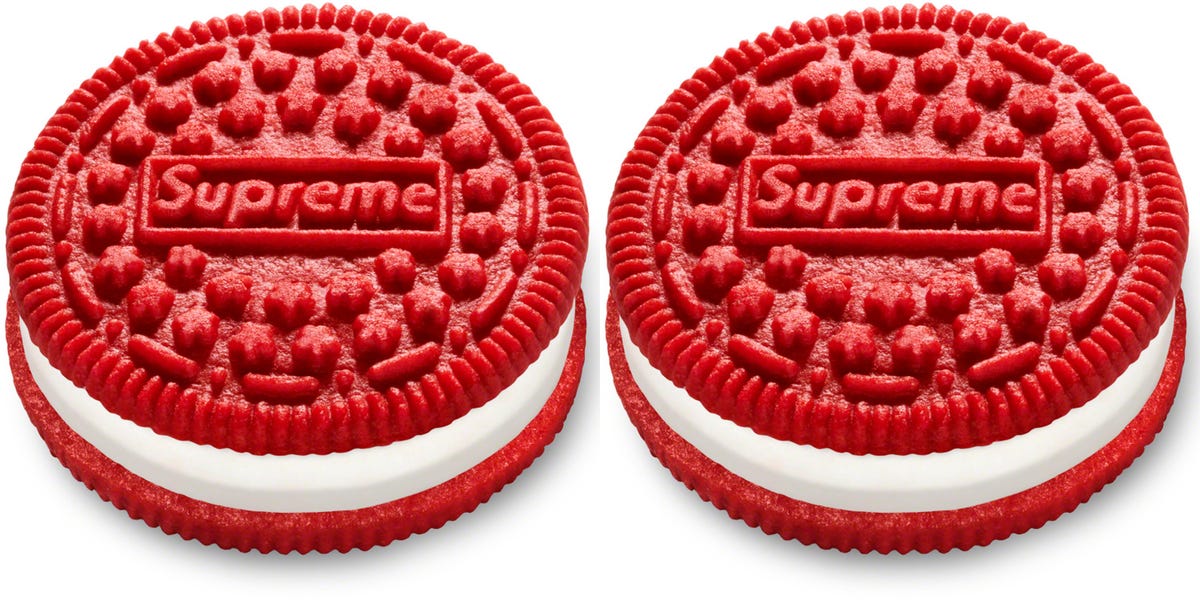 In true Supreme 'drop' style, Supreme Oreos sold out almost immediately, and at one point, a singular 3-pack was listed on eBay for $92,000. 
8. GoPro x Red Bull
GoPro and Red Bull came together in the early 2010s for a unique content partnership that showcased the extreme sports lifestyle and took marketing to new heights — literally.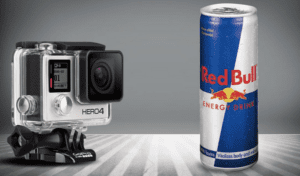 In a 2014 ad for the Super Bowl, the GoPro x Red Bull collaboration brought us the infamous commercial in which Felix Baumgartner skydives from a space capsule 24 miles above the earth, showing that marketing partnerships can really go out of this world.
9. Target x Lilly Pulitzer
In 2015, Target launched its collaboration with 'resort wear' and the much beloved Lilly Pulitzer. This launch was so popular among Lilly lovers that it crashed Target's website, while others stood in line for hours hoping to get their hands on the products. The result — A collection of affordable clothing and home goods that sold out within hours of its release.
10. Panera x Swimsuits
In the summer of 2021, Panera and Swimsuits worked together to create a limited edition swimwear line — also known as Swim Soups — after research revealed that 70% of Panera soup eaters ate soup even in the hottest months of the year.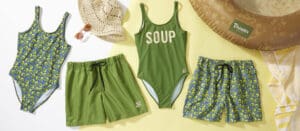 Inspired by menu items like Broccoli Cheddar Soup, the collaboration was a hit among fans of both brands and quickly sold out — a common theme among these collaborations!
11. Crocs x Hidden Valley Ranch
Also in 2021, Crocs and Hidden Valley Ranch partnered to create a limited edition of their famous clog that featured a ranch-inspired design. The shoes also came with Jibbitz™ charms that featured some of ranch's best pairings — french fries, chicken nuggets, vegetables, pizza and more.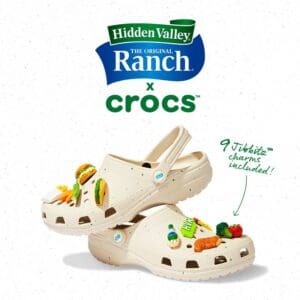 Also joining the Crocs x Hidden Valley Ranch collaboration was rapper Saweetie, a reigning brand collaboration queen. Saweetie helped promote the collaboration to her audience to help get a pair of the much sought-after shoes into the hands of fans.
12. Sour Patch Kids x Post
At the end of 2018, cereal brand Post announced its latest invention — Sour Patch Kids cereal. Purporting to taste like 'the real thing,' Sour Patch Kids cereal quickly went viral with fans of the candy excited to try it.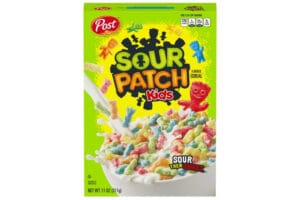 13. Sephora x Museum of Ice Cream
Makeup collaborations are a dime a dozen, but the Sephora x Museum of Ice Cream collaboration stands out from the rest. The curated, Insta-worthy and exclusive nature of this partnership set it apart from others.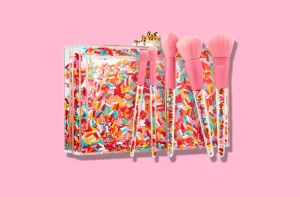 In 2018, the two brands released their 'super sweet' makeup collection that incorporated elements of MOIC's aesthetic. The products were a hit with fans and makeup lovers alike.
14. Gucci x Disney
In early 2020, Gucci and Disney teamed up to create a range of clothing and accessories as part of Gucci's Cruise 2020 collection. 
Featuring classic Disney characters such as Mickey Mouse and Donald Duck, the collection was a hit with both Disney fans and fashion enthusiasts, who loved the playful yet high-end designs.
15. Liquid Death x Martha Stewart
Ahead of Halloween 2022, Liquid Death, a canned water company, teamed up with the legendary lifestyle guru Martha Stewart to make a candle — though it was not any ordinary candle. This collaboration launched the Dismembered Moments Luxury Candle, featuring a life-sized severed hand clutching a can of Liquid Death.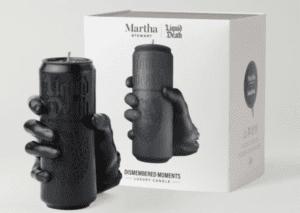 This collaboration was a great success, with consumers loving the quirky partnership between the water company and the domestic goddess.
16. Nike Air Jordan x Dior
In 2020, sportswear giant Nike and luxury fashion house Dior collaborated to create a limited-edition line of high-end sneakers. The shoes combined Nike's technical know-how with Dior's high-end design aesthetic and were highly coveted among sneakerheads. Only 13,000 pairs were produced, with only 8,000 available for public purchase through a lottery.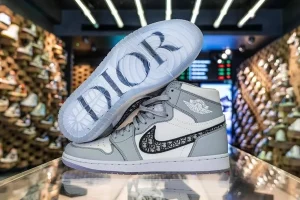 These 16 brand collaborations will go head-to-head in PopIcon's Brand Madness, beginning March 23. Head over then to Advertising Week's Instagram to vote on who you think should be named the best brand collaboration of all time.