(On June 24-26, 2005, evangelist Billy Graham held his "last crusade" at Flushing Meadows Corona Park, speaking to approximately 242,000 people. Today, from Graham's birthplace Charlotte, NC, Gale Bonnell of Adams Outdoor Advertising looks back at the connection between the legendary preacher and out of home media).
By Gale Bonnell
If you visit the Billy Graham Library (museum) in Charlotte, you'll find billboards that remind us:
Of the strong connection between out of home media and culture (in this case, religion), and
Billy Graham was a multi-media communicator, including via out of home media
The Billy Graham Library tells his story from birth on a dairy farm in North Carolina in 1918 to his global outreach.
A turning point occurred in 1949 in Los Angeles, when a Billy Graham tent revival was extended by popular demand and the press took notice. To set the scene in 1949, the Billy Graham Library displays a top-lit Guy Martin Motors billboard from that era.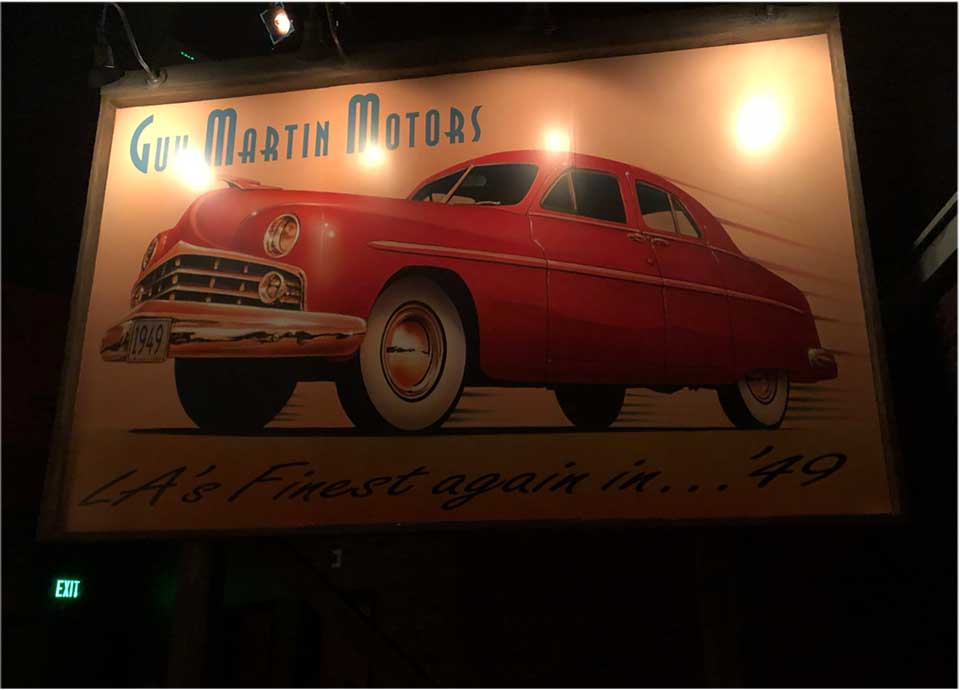 1949 billboard displayed at the Billy Graham Library, Charlotte, NC  (Photo: Ken Klein)
Billy Graham preached to live audiences of nearly 215 million people worldwide. A pioneer in use of media, he also reached millions via television, radio, print, out of home media, and (later) social media.
By 2015, a million visitors had come to the Billy Graham Library in Charlotte, promoted as a destination by Visit North Carolina.
The walk-through experience — located near Billy Graham Parkway — includes his childhood home, video from mass gatherings, and photos of his casket at the US Capitol in 2018 (he was the fourth private person to lie in honor at the Capitol Rotunda).
The Billy Graham Evangelistic Association used billboards to advertise multi-day Graham rallies/crusades/festivals. The Billy Graham Library in Charlotte features this Donrey poster in Albuquerque promoting a week-long event in 1998.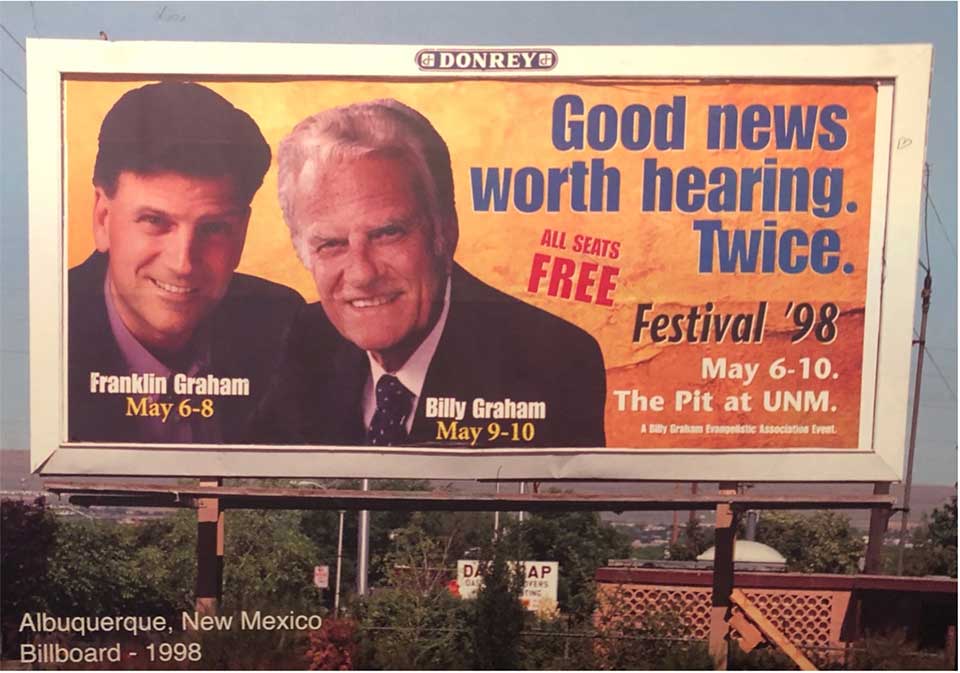 (Clear Channel's Eller Media acquired Donrey billboards and taxi tops in 2000.)
To celebrate Billy Graham's 95th birthday, his organization prepared a special broadcast ("My Hope America with Billy Graham") which aired November 7, 2013.  On October 14 of that year, a digital billboard went up in Times Square.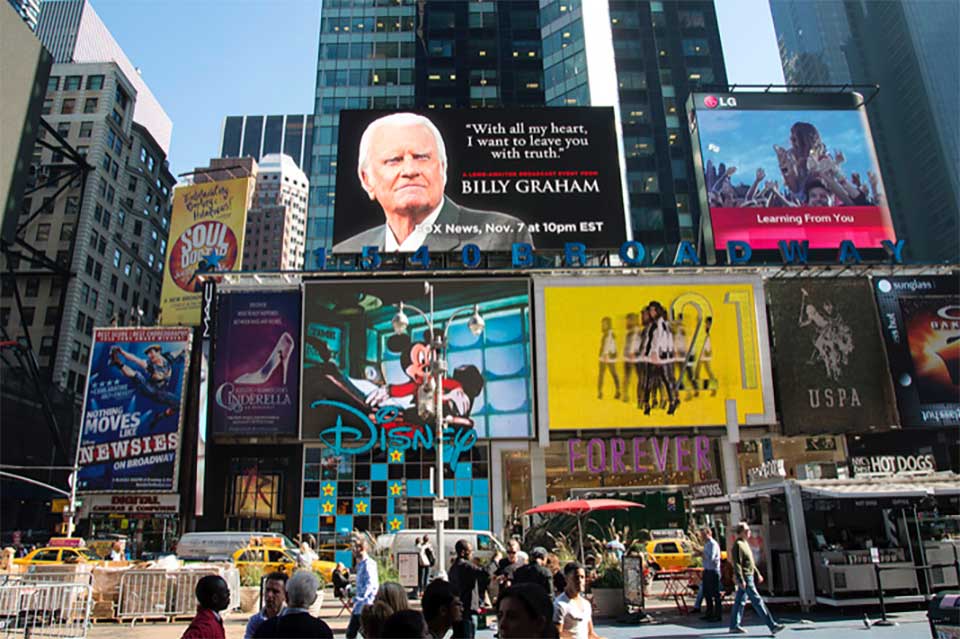 (Photo: Billy Graham Evangelistic Association)
"With all my heart, I want to leave you with truth," the billboard said.
At age 99, Billy Graham died at home in Montreat, NC. Across the country, out of home media memorized the legendary preacher, including this memorial tribune in Times Square created by award-winning design firm Extra Credit Projects.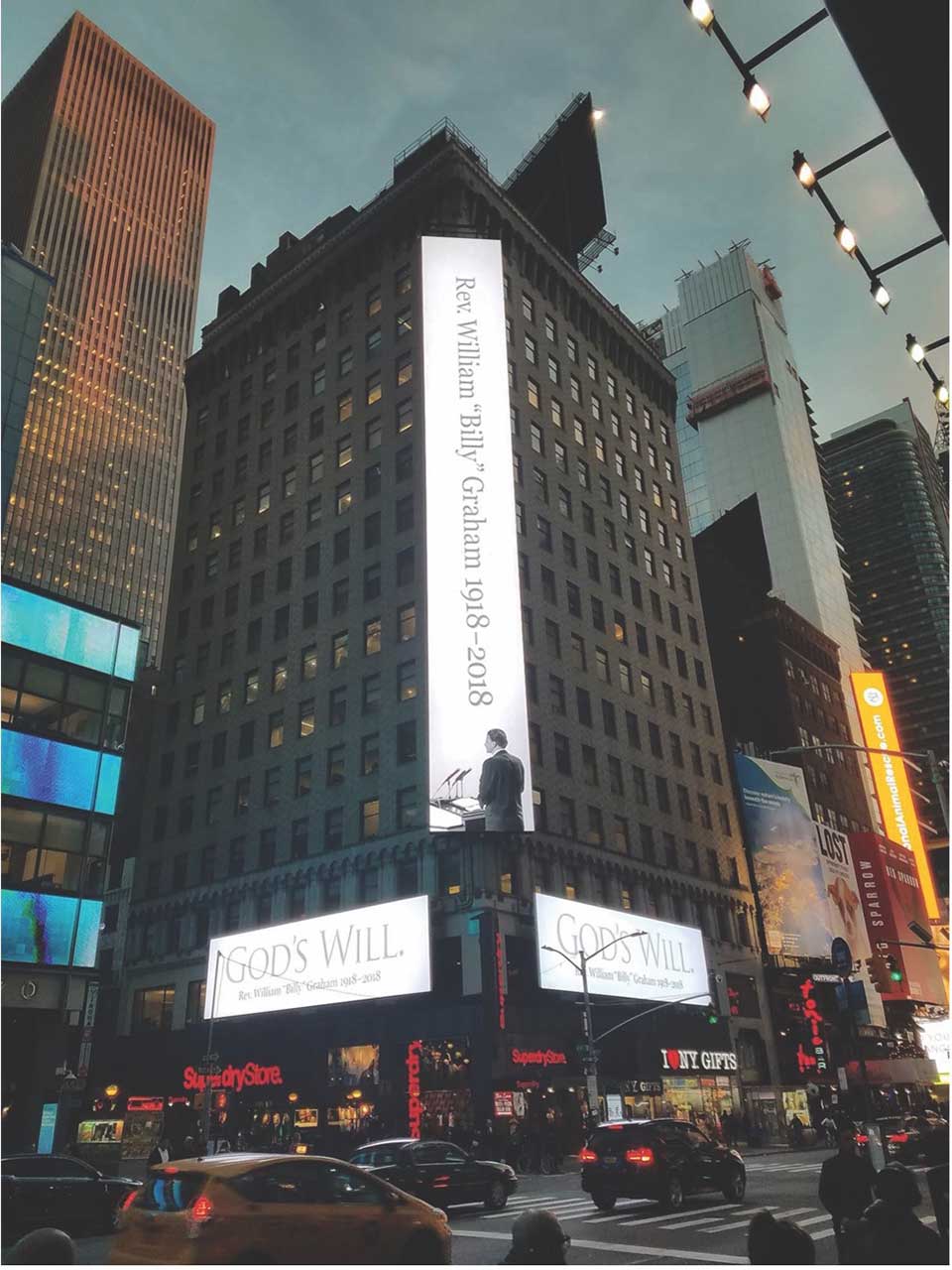 Photo: Extra Credit Projects
From Midtown to small towns, a farmer's son from North Carolina named Billy Graham made a big impact on America, religion, and culture. Out of home media is honored to be part of the story.
(Gale Domokos Bonnell is director of Business Development at Adams Outdoor Advertising, Charlotte, NC)