By Cary Tilds, Chief Strategy and Operations Officer, Frameplay
Jennifer Patterson, VP, Business Intelligence and Analytics, Frameplay
Nicole Mancino, Director of Marketing, Frameplay
The average consumer sees over 4,000 ads per day across various channels, according to dentsu Aegis Network. In the 1970's, the number was approximately 500 ads per day, which almost sounds inconsequential to today's standards. The rise of digital advertising has not only led to an overinflation of served ads, but also created the race for the most coveted metric of all: Attention.
Marketers know where their consumers are spending time between linear TV and OTT, social media, OOH events, and of course, gaming, but just because time is spent somewhere does not mean each of these channels is given undivided attention. Case in point: We all know people who scroll through their phones at concerts, fold laundry while "watching" TV, or leave the room altogether during commercials… but do we know anyone who multitasks while playing a video game?
Advertisers need to consider attention as a critical indicator of where to spend ad dollars, but how can this metric be measured? Understanding the research and data could provide valuable insights into the future of an evolving advertising landscape.
Attention and Video Games Go Hand-in-Hand
Newly released attention research  led by Frameplay and dentsu International show a significant correlation between Frameplay's proprietary intrinsic in-game viewability algorithm and Intrinsic Time-in-View as strong indicators of attention.
Frameplay's Intrinsic Time-in-View metric measures the length of time an ad impression is viewable during game play. An impression is only considered viewable if it meets Frameplay's intrinsic in-game advertising proprietary and market-leading viewability requirements. This is a complex pixel analysis within the game that accesses data such as ad ratio, skew, and obstruction from the visual perspective of the game player. When the ad is considered viewable, the time clock starts and pauses or ends once the ad is considered no longer viewable. In addition to evaluating Intrinsic Time-in-View in the context of how long the ad is in view during game play, Frameplay also analyzes the total amount of time the ads are in view during the entirety of the campaign and the average amount of time each ad and campaign is in view per player session.
"Our proprietary intrinsic in-game viewability technology has been at the forefront of our product offering since our company's inception," said Jonathon Troughton, CEO of Frameplay. "We are proud to share that we have further validated the efficacy of our advertising solution, with results from our two eye tracking studies showing a strong correlation between our intrinsic in-game viewability algorithm and intrinsic time in view as substantial indicators of attention."
Frameplay, joining forces with dentsu, executed research with Lumen where participants were exposed to a game play session.
"The results from these studies validate proven attention in Frameplay's gaming inventory, and we will use this data in planning as we evaluate future intrinsic in-game opportunities," said Joanne Leong, Vice President, Director, Global Media Partnerships at dentsu.
Further, Frameplay partnered with both Lumen and independently, eye square, to analyze and compare Frameplay's Intrinsic Time-in-View calculation with their respective eye tracking measurement. Both companies, using unique and differing methodologies and technologies, validated with confidence that Frameplay's Intrinsic Time-in-View measurement is a viable measure of attention.
Game-Changing Results and Key Findings

Validation of Frameplay's Intrinsic Time-in-View metric during the studies was accomplished with both companies by taking Frameplay's Intrinsic Time-in-View calculation for those game play sessions that were part of the eye tracking study and our time-in-view metric that was applied to the viewable impressions to calculate the Intrinsic Time-in-View for each ad that was served during those sessions. Frameplay's eye tracking partners then compared their version of time-in-view for each ad and each session based on their eye tracking attention metric methodology.
Lumen concluded the following take-aways:
Lumen's average viewable time metric was consistent with Frameplay's Intrinsic Time-in-View metric for calculating viewable time
The advertisement analyzed successfully captured 1.4x more attention of the gamers vs the norm, performing significantly higher than Lumen's comparative norm of mobile display
Overall attention produced by Frameplay's Intrinsic In-Game campaign analyzed by Lumen outweighed the mobile display norm
Lumen's composite metric of attentive seconds per '000 impressions was used to assess inventory quality across media formats and channels including Frameplay's in-game intrinsic advertising. The results indicated that Frameplay's Intrinsic In-Game Advertising performed similarly to social in-feed video norms and outperformed every other social, web, and mobile formats, including social in-feed image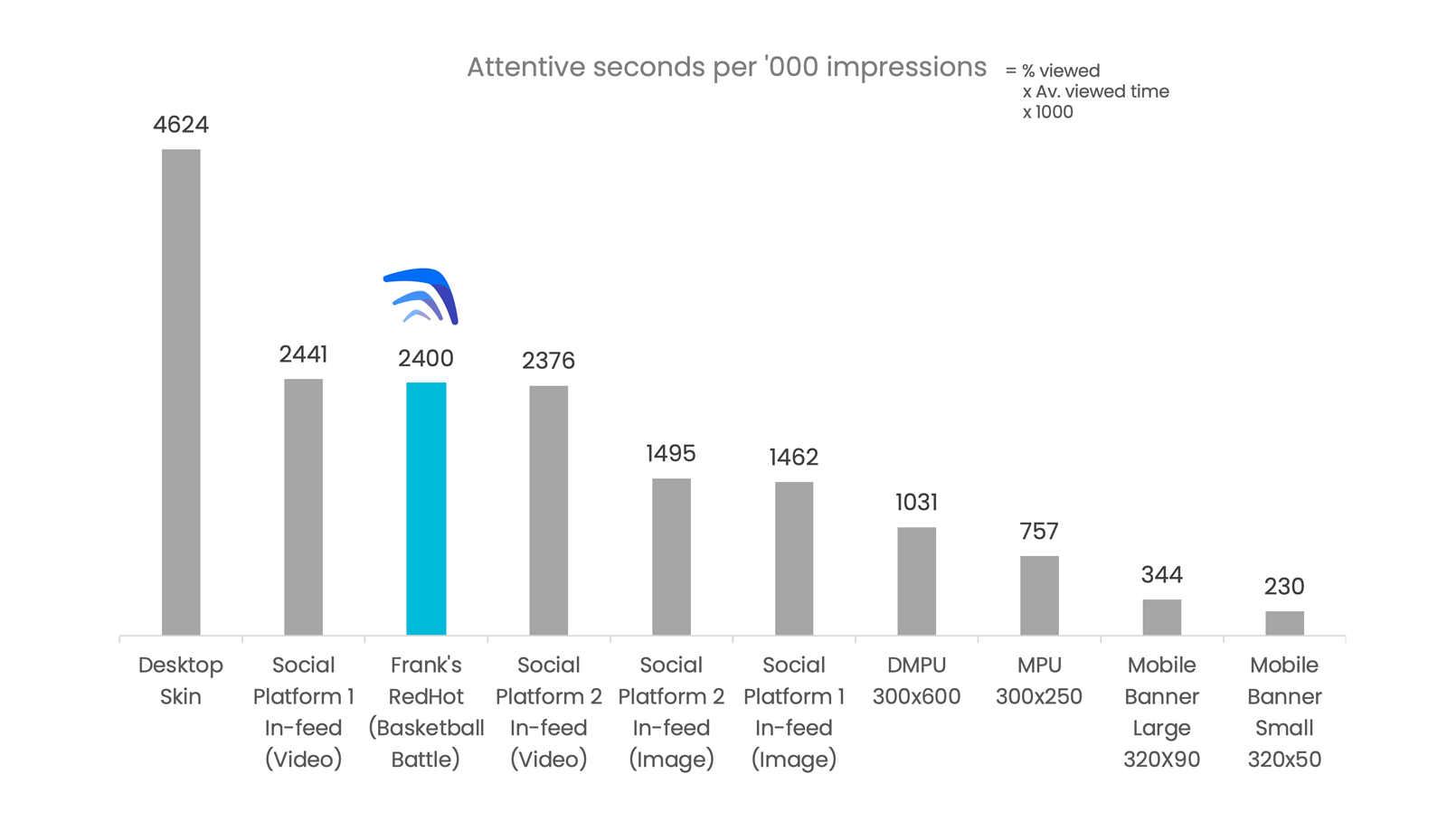 "Lumen conducted an eye tracking test to assess how much attention goes to Frameplay's in-game ad formats, and how this compares to standard digital ad formats. The research shows the power of in-game advertising that works to support the user's experience rather than interrupting their game play," said Mike Follett, Managing Director at Lumen.
eye square concluded the following take-aways:
Critically testing Intrinsic Time-in-View turned out to be very close to the true real-life value provided by eye square's eye tracking measurement
Intrinsic banner ads in mobile games are highly appreciated, while in contrast, interrupting video ads are not liked at all
Real world inspired branding and sponsorships will improve gameplay experience and subjective life-world authenticity
eye square sees great potential in Frameplay's innovative ad framework technology to satisfy the changing commercial and cultural needs of advertisers, companies and gamers
"Considering the socio-technical complexity of online ad delivery and viewability measurement on mobile devices and having over 20 years of experience in evaluating ad delivery, effectiveness and perception, eye square considers the performance of the time in view algorithm to be accurate and very close to the true real-life value," said Dr. Jan-Michael Kühn from eye square GmbH Berlin, Senior Gaming Experience Expert, Tribe Lead Video Games UX.
Getting Your Brand in the Game: Planning and Execution
Instead of people simply watching stories through video methods, video games allow people to play the stories, making the experience interactive and captivating. Brands looking to capture the attention of their consumers are actively pursuing intrinsic in-game advertising opportunities.
Before setting up an intrinsic in-game advertising campaign, consider the following attention best practices:
Think logo first: Highlight Your Logo Position your logo prominently within your design to make sure your brand is recognized by the gamer audience
Use distinct imagery: Incorporate distinct imagery and colors from your brand, product, or campaign. Keep it simple!
Limit text: Avoid extra typography where possible.
Adapt for the gaming environment: Tailor your creatives to the gaming audience to create a "that's cool" connection
By optimizing creatives for the gaming environment, advertisers can anticipate reaching their audience within highly cinematic interactive video games at the moments when gamers are paying the most attention. Intrinsic Time-in-View offers brands the opportunity to not only ensure their ads are viewable, but that they have enough time to resonate for consumers to make purchasing decisions.
For more information on getting your brand into the game, contact Scott Linzer, SVP, Business Development at s.linzer@frameplay.gg
About Frameplay
Frameplay is the global intrinsic in-game advertising leader headquartered in San Francisco, California with worldwide offices and teams supporting NA, EMEA, LATAM, and APAC. Frameplay enables game developers to easily place impactful advertising intrinsically within video game environments without disrupting the gameplay performance or experience. The result is amplified brand exposure for advertisers, additional revenue for developers, and an enjoyable, uninterrupted experience for gamers. For more information, visit www.frameplay.gg.
Link to press release