By Katie Long, Head of US Demand, Beachfront
Within the ever-evolving digital advertising landscape, contextual targeting has long served as a key tool for reaching audiences in relevant and brand-safe environments.
In its early days, the tactic was primarily focused on digital display opportunities and the subject matter of webpages. With the rise of Connected TV (CTV) and streaming, however, the considerations associated with contextual advertising (especially in programmatic) have evolved quite considerably. Contextual opportunities are no longer confined to webpages and defined by crawlers, and now encompass rich video metadata and program-level insights.
Understanding Contextual Targeting in CTV
Contextual targeting involves delivering advertisements based on the content that viewers are consuming, rather than relying on user data, demographic info, or more advanced audiences. In CTV and streaming specifically, this approach takes advantage of the rich content information available across various streaming platforms, including for movies, TV shows, and live events. With a detailed understanding of the programs being consumed, advertisers can align their messaging with viewers' interests and preferences in real-time, leading to a more relevant and engaging ad experience.
CTV's digital nature enables real-time optimization and personalization, making contextual targeting even more powerful. Advertisers can leverage data and insights to adapt their campaigns on the fly, ensuring that ads are served in the most impactful contexts. Through deep analytics and key advances in things like show-level reporting, advertisers can also identify patterns and trends, optimizing their buying strategies to maximize ad delivery over time. This dynamic approach allows for hyper-personalized advertising experiences aligned to what viewers are watching in the moment, increasing the likelihood of driving conversions and achieving campaign goals.
For instance, by utilizing content metadata — the descriptive information associated with a piece of content — advertisers can orient their buying strategies around specific networks, channels, and genres that align with their brand message. A food delivery service might run their creatives within Live Sports programming to drive app downloads and real-time orders; or a hardware store might advertise across Home & Garden shows to drive footfall, as just two examples.
The State of Contextual Advertising in CTV
While it is still evolving and maturing, contextual solutions are very much ingrained in CTV advertising ecosystems today. The growing abundance of publisher-declared metadata and video-level content identifiers signal that the industry has taken big steps forward. To illustrate this progression, Beachfront's CTV Marketplace recorded a genre signal on nearly four-fifths of CTV ad impressions delivered programmatically in the first half of this year.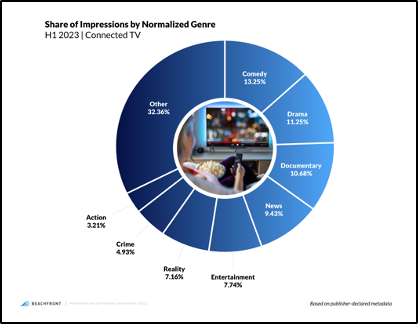 What's more, buyers activated campaigns across more than 70 standardized genres over a six-month time period; ranging from comedy and news, to crime and reality. Publishers, too, were rewarded for providing this valuable information. Beachfront's H1 2023 CTV Marketplace Insights report also reveals a 27% lift in CPM for impressions that included a genre signal in the bid request.
While these data points indicate a considerable step forward in bringing more contextual transparency to CTV, the buy-side is still seeking more. Understanding the totality of the contexts in which ads are delivered (including specific shows and even tonality) is critical for ensuring brand-safe delivery and for identifying opportunities to optimize campaigns based on the networks or programs that perform well.
This type of information has long been table stakes in traditional linear TV buying models; a juxtaposition captured well in this anonymized quote from a TVRev report on contextual solutions.
"The thing is, when I buy linear TV, I know exactly where the ad ran, I just don't know who saw it. And when I buy CTV, it's just the opposite — I know exactly who saw the ad, I just don't know where it ran." — Senior Agency Executive.
For contextual targeting to reach its full potential in CTV, rich video-level insights should become standard operating procedure going forward.
Contextual CTV's Significance in the Years Ahead
Contextual targeting is undoubtedly a game-changer in the realm of Connected TV. By leveraging the power of context, advertisers can deliver relevant and engaging ads that resonate with viewers – on the biggest screen in the home no less. Contextual targeting capabilities not only help to enhance the viewer's experience, but have become increasingly important amid intensifying signal loss and evolving data privacy regulations.
Further, the integration of first-party datasets and contextual targeting holds tremendous potential for the future of media buying. By combining the best of content analysis with privacy-conscious audience data, advertisers can unlock a new level of personalization.
CTV has revolutionized the way we consume television content, offering viewers a personalized and interactive experience. As the landscape continues to expand, the need for efficient targeting and relevant advertising has become more crucial. Contextual targeting will not only help to create a better user experience in CTV, it will also help advertisers secure a better return on their investment.