By Josh Campo, President of digital marketing agency Razorfish, and Ted Thompson, Customer Experience Management Lead at Razorfish
Relationships are all about people — weird, wonderful, complex people. Every relationship is as unique as the entities in it.
And yet, we know a lot about relationships at scale. We know relationships need to be nurtured — before and after the point of purchase. We know personalization is a business imperative. We know loyalty is an investment. And now, we know that brand purpose is a significant variable in purchase decisions.
Customer relationship management (CRM) has evolved with our industry. Hit-or-miss emails, SMS subscriptions, and brand apps can fail to deliver real value. The result? Millions of "relationships" between brands and people wither on the vine. But customers don't buy less—they go elsewhere.
Let's see what is at stake.
CRM: An Opportunity for Meaningful Personalization
When you think CRM, do you think about operational capabilities? You're not alone. Well-integrated tech and sound data practices are critical, sure, but that's just half the story. By forgetting the faces behind the data, brands are missing opportunities to make meaningful connections. According to a Forbes roundup* on the power of personalization:
71% of consumers say a personalized experience would influence their decision to open and read brand emails.
80% of consumers are more likely to make a purchase from a brand that provides a personalized experience.
63% of consumers will stop buying from brands that use poor personalization tactics.
So, how can we use the exponential amount of data that exists today to make meaningful connections, nurture relationships, and provide the kind of value people are craving? By tying it to strategic insights that build meaningful connections.
What we know for certain is that getting this wrong is costly. And with more than half of consumers willing to opt-out, the time to move is now.
CEM: A Better Way to Build Connections
At Razorfish, our client conversations now center on customer engagement management (CEM). It's an evolution from CRM, as brands are recognizing that, instead of a nebulous, feel-good idea, engagement is a key performance metric.
It's no surprise that there is a strong correlation between engagement and customer spend. Our research since 2014 proves that highly engaged people buy more frequently, buy more premium products, and buy more offerings from favorite brands. They also stay loyal longer.
In 2019, we expanded our research and analyzed data from 100,000 consumers in the US and UK across eight business categories. Sure enough, the same correlation was found across brands, categories, even geographies.
From there, we dug into our client data, finding a direct link between how engaged a person is and how much value they generate in terms of purchasing decisions (their LTV, or lifetime value). Understanding this link is especially important for brands in automotive, consumer tech, and other categories that endure longer spans of time between purchases.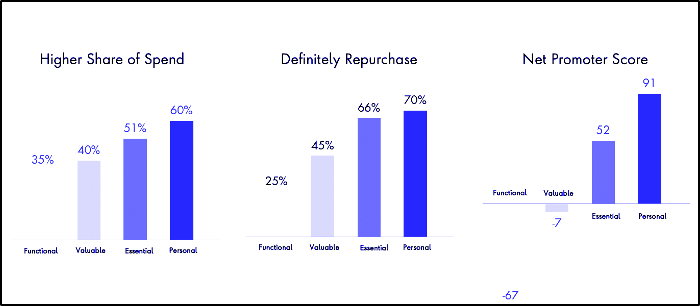 Powerful CEM goes well beyond email, spanning platforms and moments, and is informed by personalization and data. From SMS to push, mobile apps to brand websites, live experiences to remote service centers, every experience should deliver value that nurtures a meaningful relationship.
Above all, CEM prioritizes the quality of an experience — and that's what resonates on a human level.
How Do We Move from CRM to CEM?
The good news is, CEM doesn't require an organizational shift. It is a change in perspective and prioritization.
First, we acknowledge that people expect a personalized experience. Considering how much data customers share, it's the least we can do.
Rather than a hard sell, CEM facilitates a dialogue. It invites people into a value exchange, where the brand's purpose and the individual's intent intersect. People make decisions based on who they are and who they want to be — and they can do that through relationships with brands whose purpose represents their tomorrow. This critical shift forces brands to think about what the customer needs and the difference they're making in the world.
Using tools and technology you probably already have — aligned to the right metrics — you can help customers and prospects see your worth, your purpose, beyond products you sell — which leads to a meaningful exchange in time, attention, and products.
Here's how to get started:
First, embed engagement as a key metric. For example, you may want to increase your database "active rate" by 5%. What steps will get you there? Along with current customers, you can begin engaging prospects with personalized experiences that bring value to their life.
Next, put your data to work. Get a clear view of your customer journey, identify "moments that matter," and invest in the ones that aren't nurturing your relationships. You can start with pain points, but it may evolve to so much more than that.
Resolve gaps. At Razorfish, our Marketing Maturity Model helps us plot a brand's current CEM capabilities and where they'd like them to be. Data, technology, insights and processes needed to support CEM strategies are prioritized into a CEM roadmap and gaps are resolved. Oftentimes, even modest improvements can get brands on the path to higher engagement.
At its best, CEM helps customers and prospects feel inspired, supported, entertained, and rewarded (key pillars of a great loyalty program). It's felt across the marketing spectrum, where small interactions become memorable, meaningful moments. People opt-in because the message speaks to their purpose and passions.
While it's tempting to look at sales as the final story, customer engagement means playing the long game—investing in LTV, the lifetime purchasing value of a relationship. It's a powerful strategy that requires highly integrated data and engaging experiences. Successful brands will have to evolve into using LTV as the business KPI to gauge the health of their relationships.
It's time to get on board, start building better relationships and watch your business grow.