Whether it's running from zombies, taking lessons from a chess Grandmaster, or enjoying a concert—as many as 8 million streamers go live on Twitch every month to share these experiences with their communities. On Twitch, audiences watched 1.3 trillion minutes of content in 2021 and an average of 31 million visitors tuned in each day. As the ultimate livestreaming destination, Twitch offers a place for brands, audiences, and content creators to connect in real time.
In a new series, Going Live, Amazon Ads explores how popular Twitch creators found their communities and cultivated a space where viewers, streamers, and brands can connect in real time. Learn how these Twitch creators work with brands to create an authentic and engaging experience for their followers.
Sharing passions with chess superstars, Alexandra and Andrea Botez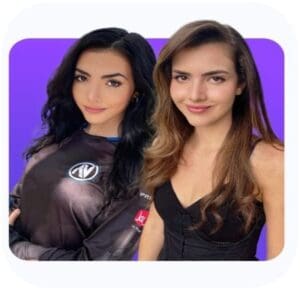 The so-called "Queens of Chess," Alexandra and Andrea Botez, have 1.1 million followers on their Twitch channel BotezLive. Their channel has grown to include a host of different passions and hobbies. Sometimes they'll play poker, they'll take circus lessons, they'll cook, they'll play Jenga with their roommates. They've also launched the Botez Travel show, where they explore cities around the world to meet players, attend competitions, and learn strategies from the best in the game of chess.
In the early days of her stream, Alexandra said she had a few dedicated sponsors and members of her community who financially supported her life as a full-time chess content creator. Now, working with brands has created some of their favorite moments while streaming, like an Uno tournament in LA, hosted by Cash App, where they got to hang out with other Twitch streamers in person and play games. Chess.com has also been a major supporter because of the creative freedom they gave to the sisters. "A lot of traditional brands come in with a script or things like that. But on Twitch, that doesn't work and it's not authentic. Brands who understand Twitch and let their creators have control tend to do a lot better," Alexandra said.
"Brands are always looking for a way to grow. You could do it through traditional marketing or on TV or social media ads. But influencer marketing is a really big category," said Alexandra. "The cool thing about Twitch is the audience tends to be a lot more engaged than other [services], and has loyal viewers. So, you need to think about how much more viewers are dedicated to the fact that it's live. So, when you do brand sponsorships on a stream, if people are there for you, they're not going to skip through your content."
Supporting Art With Musicians and Filmmaking Duo, Courtney Birk and Ashleigh Coffelt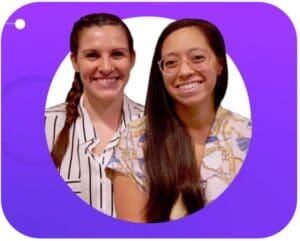 Award-winning actors and directors, Birk and Coffelt have appeared in, or made, more than a hundred films which have screened at national and international film festivals, and they have paved their own path in the industry by means of Twitch, with their CA in LA' channel. But in March 2020, as the pandemic was surging, Birk and Coffelt turned to CA in LA's community for support. "As soon as we set up a donor (tip) goal for rent, everyone flooded it. They were just like, 'Whatever you guys need, I got you.' And no lie. Everyone had us," Coffelt said.
With the help of their community, which they call their Ohana, the Hawaiian word for family, the duo hunkered down and devoted themselves fully to building their community and creating art. While CA in LA's Ohana has continued to support their art (in late 2021, they reached a $10,000 funding goal for a new film with a $1,772.82 donation from a single viewer), they've also worked with brands to help support themselves full-time. Right now, their sponsorships include the beverage company Intent and the lighting company Rosco.
When courting these collaborations between brands and streamers, Birk and Coffelt say it's important for creators to be proactive and show what they can do for brands. For Birk and Coffelt, it's all about authenticity. They say it's important to support brands that they actively want to use—the Rosco lights illuminate every one of their streams.
"That means we do a lot of research on our end to make sure we align with that company," Coffelt said. "We know the influence we have with our community, and they will jump behind something because they see us and trust us at our word. As long as you've developed that trust and authenticity and aren't just like throwing 100 products at them left and right."
Gaming with Chris "Sacriel" Ball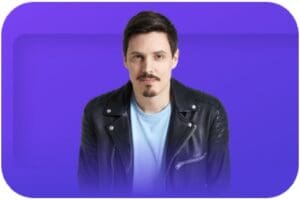 Chris "Sacriel" Ball got his start professionally gaming more than a decade ago. It started as a hobby when he began putting videos of himself playing video games online. In early 2012, he got a comment from a fan on one of his videos suggesting he go on Twitch and interact with his viewers live. Sacriel gave it a try, nervous at first about being live where he could make mistakes. But fans were asking him questions live and he was answering in real time. "It was really exhilarating," he says of those early streams.
As he's established himself on Twitch, Sacriel has turned his success into meaningful brand partnerships.
To create these meaningful brand partnerships, Sacriel puts a lot of thought and work into picking who he works with and why. Sometimes he said a brand will approach him and other times he'll approach the brand. He needs to be excited about the brand as much as the brand is excited about him. That's because these relationships thrive on authenticity.
For brands looking to work with content creators on Twitch, Sacriel suggests they do their research on streamers first. Browse their videos, get to know their community and assess if it's the right fit. "I think the value for brands, if they work with the right people, is authentic brand representation," Sacriel said. His audience trusts him, and when he talks about a product during his streams they listen because he believes in it. He can answer questions, he can show the product in action, he can let his audience interact with it. This, he said, is a win-win partnership for brands, him, and his community.
Want to learn more about Twitch? Visit advertising.amazon.com to learn how to build a Twitch community in this Amazon post and help grow your brand in this Amazon post through Twitch Ads.