Advertisers of all levels are experimenting with new formats and techniques for video, with research from Omdia showing that online video advertising is expected to generate $362 billion of revenue globally in 2027.[1] So how can you make your video ads stand out? According to a recent study with Amazon Ads and Kantar, interactive video ads performed +2x in helping to drive consideration and +1.7x in helping to drive ad awareness than video campaigns without interactive features.[2]
Interactive Video Ads (beta) are video advertisements that allow viewers to actively participate in the experience and engage with brands while they stream content on devices. The extra level of engagement means they could interact with the ad by using their remote control, speaking to a smart home device, or scanning a QR code with their smartphone. An increasing number of customers consume videos on connected TV (CTV) devices, which are internet-connected devices such as gaming consoles or smart TVs. This can be a huge opportunity for advertisers to add an interactive element to videos to reach and engage customers where they are: at home. Amazon Ads offers a range of creative options for creating your interactive video ads.
"We're always looking to invent ways to help advertisers engage with their customers. With Interactive Video Ads on Fire TV and Freevee Video on Demand, advertisers can run campaigns that reinforce their brand message, as viewers can explore and shop products and services directly from their TV. Interactivity naturally lends itself to improved measurability when compared to campaigns that run on linear TV. We're very excited about this next chapter of video advertising presented to connected TV audiences, and look forward to continuing to build into the best campaign outcomes for our advertisers."
—Gopal Venkatraman, Head of Interactive Video Ads Product, Amazon Ads
Increasing awareness and understanding impact with interactive video ads
To help increase awareness, favorability, consideration, and purchase intent, Philips One Toothbrush added an interactive element to their video ads. After an interactive ad overlay appears on the screen, viewers can shop by using their voice or remote control to add a product to their cart, to their Alexa shopping list, or even buy a featured product. Viewers can also learn more about a product or service by requesting product details via email or by scanning a QR code on the screen.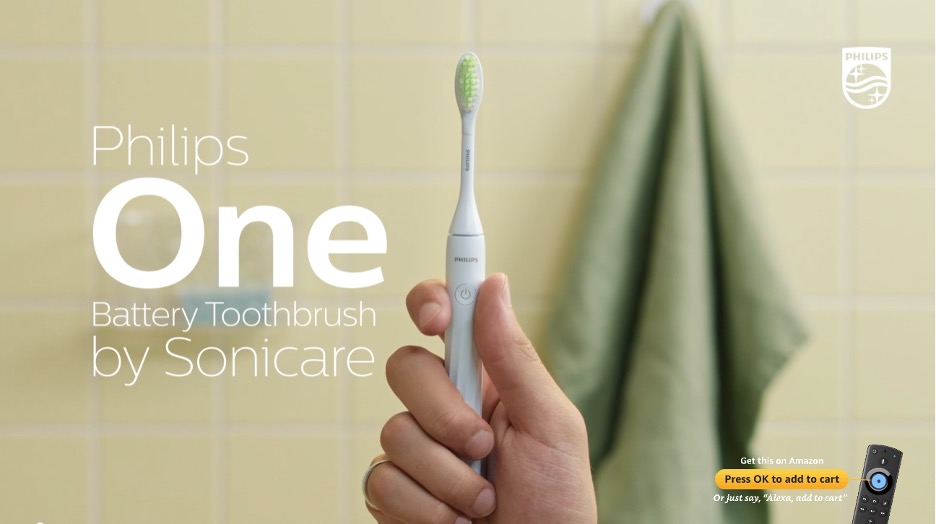 When Smartwater wanted to understand the impact of their full-funnel marketing, they used an actionable Streaming TV ad with a call to action (CTA). In the interactive video ad, viewers on the Freevee app on Fire TV were able to add a product to their cart, learn more about the product, or make a purchase. Customers could activate the "Shop Now" option with their voice or remote control.

Benefits of using interactive video ads
Using interactive video ads can help drive positive brand lift, and improve awareness and recall of your brands and products. In fact, according to an internal 2022 analysis, Interactive Video Ads campaigns were +1.3x more likely on average to deliver positive brand lift than video campaigns without interactive ads.[3] Using Interactive Video Ads can also help drive stronger consideration and potentially increase shopping actions. On average, interaction rates for the Show Now CTA on Interactive Video Ads outperformed the detail page view rate (a similar action) for video campaigns without interactive ads by +2.2x.[4]
Best practices to consider for interactive video ads
One of the earliest insights Amazon Ads gleaned from Interactive Video Ads campaign performance is that the duration of an ad matters. Interactive Video Ads with a duration of 30 seconds outperformed those with a duration of 15 seconds. The longer format delivered an average interactivity rate of +2.4x.[5] As more advertisers test and learn with interactive video ads, the aim is to have additional insights, including whether ad length best practices vary by industry or interactive ad format.
Explore more ways Amazon Ads can help you reach and engage your audiences in the places they love to be.
---