Which ad do you remember most from your childhood? What made it so memorable? 
I will never forget the Green Machine Go Kart circa 1978. Growing up in Queensland, I was a tomboy and I wanted nothing more than to ride in the street with the rest of the neighbourhood kids (who were boys).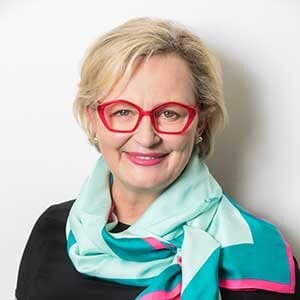 Back in the days before people had mobile phones, we'd be out in the street playing at all hours and there were some kids with Green Machines who I was immensely jealous of.
The idea that you could have a go-kart and ride on the road! That ad is forever burned into my memory and possibly speaks to why I'm working on getting a scooter license right now.
What is your all-time favourite ad (or ad campaign) and why?
You can't go past Old Spice.
It's funny, over the top and unlike any other ad in the category. This campaign finally recognised the fact women are usually the ones buying aftershave and deodorant for the blokes in their lives.
Before we met the Old Spice man, there was a sea of ads with women fawning over men with long red fingernails caressing their buff, hairless chests. Which is great if you're into that sort of thing. But I'm not, so this was a game-changer.
It was almost as if this product – and the campaign to promote it – was designed by a woman. There's something to be said for giving your target market a say in the development process, from a marketing perspective or otherwise.
Which individual ad has brought you to tears, or had the biggest emotional impact on you, and why?
The Always #LikeAGirl – Super Bowl XLIX campaign. Great work from a feminine hygiene brand that finally spoke to its customers in a way that is true and real.
The notion of giving young women a voice and reminding us all that girls can do anything and are entitled to be treated equally is unexpected but extremely welcome. It was high time for a brand for women to address the fact that women can do, be, and say whatever they choose to do, be or say.
I don't know any mother that says to her daughter she's not as good, or strong or brave or shouldn't try as hard as her sons. This ad did a beautiful job of reminding us all to forget about stereotypes and work hard not to pass them on to our kids.
What's the funniest ad you've ever seen? 
That would have to be the lamb ad from 2019.
Meat and Livestock Australia has a great history of making lamb ads. Every year, like most people, I'm hanging out to see what they come up with next.
I love all the lamb ads, actually, but this one in particular just nailed how we were all feeling at that particular time – New Zealand was doing a better job of being Australia than Australia!
Tapping into the mood of an entire nation is no easy feat, but for me, this campaign nailed it. My favourite part was that the Australians were pitching a stronger tie-up between the two countries while floating in pool toys and chomping on lamb.
And the cleverest ad you've seen?
There's something pretty darn clever about the Pauls Milk ad from 2010.
At a time when everything was becoming more complicated, Pauls tapped into what should be so simple: buying a carton of milk. The shopkeeper's deadpan delivery is pure gold and much like the lamb ad, this taps into the general mood of the country.
It goes to show you that if a brand really understands its customers, budget isn't an obstacle to making an impact. I reckon it's more important to have a really great creative agency that believes in the brand than a big-budget ad without consumer insight.
And while we are talking advertising, tell us what you are most looking forward to about Advertising Week APAC in 2021?
I'm looking forward to finally seeing the inside of the Sydney Masonic Centre.