By Britt Fero, Principal and Founder, PB&
To many, it feels as though the skies have parted and the world around us is opening up. Our worlds have been 'unlocked' and it has us ready for what's next. In fact, the first place we've gone is to our computers…"Get me the heck out of here!" As just one example, a recent Census study revealed that nearly one-third of the adult population in Seattle has plans to take an overnight trip at least 100 miles from home in the next four weeks.
At face value, those behaviors suggest we simply need an escape. Or perhaps it signals a need for rest and relaxation from the winding path of insanity we've been on. After all, on top of quarantine, we've also experienced the worst mental health crisis in two decades.
In fact, over the past year – therapy and travel have worked as yin and yang. Google search trends show an inverse and pronounced relationship between the two. As searches for travel grew, those for therapy declined; when they dipped, searches for therapy piqued.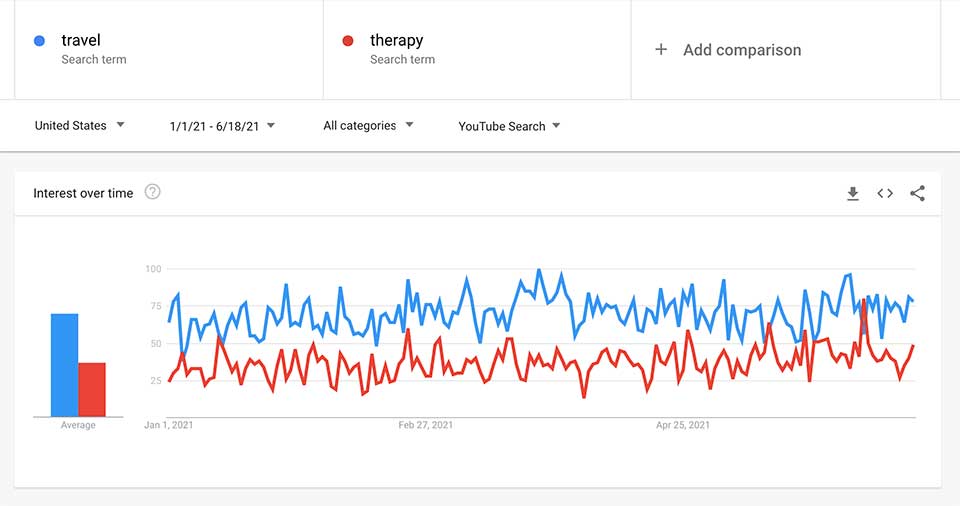 In many ways, we've just been living in a fog, and travel can be the antidote.   But what we want and need from travel will be different – which means the way travel brands connect with us and inspire should evolve as well.
Trips with purpose
Our travel won't just be for play in the near future—It will be more purposeful. We've recognized its effect on our lives, well-being and social connectivity. We will look for new, more specific benefits from our travel experiences and we'll more actively recognize its bigger value. We'll be more thoughtful about where we want to go and how we want to get there. The rebirth of the road trip isn't just because it's been a 'safer' way to travel, it's also a way to bond and share the experience of the open road. Each decision in our travel plans will be more thoughtful, even if spontaneous. Brands can help us see the emotional or lasting benefits of what they offer, not just the practical ones.
Less anonymity, more connection
Pre-pandemic, Google search trends showed a 131% increase in searches for solo travel from 2016 – 2019, and #solotravel was associated with over 5 million posts on Instagram. We sought time alone. We wanted to remain anonymous and fall quietly into the background. Today, connection is a driving force of travel decisions. In fact, Lonely Planet reported that 61% of travelers plan to use a trip as a way to reconnect with loved ones and 40% of travelers are extremely interested in multigenerational travel today. Even for those who do travel solo, nearly 90% of them hope to engage with locals. VRBO is tapping into this truth and positioning itself as a source of reconnection. Destinations and hospitality brands can use that opportunity to serve up group ideas, rates and interactions — especially in destinations with high vaccination rates.
Presence > escape
No longer do we want to be away from it all, we want to be in it. We've been disconnected for far too long. Today we carry a greater appreciation and understanding of being in the moment, being present. Over 80% of travelers want to experience something new and bucket-list destinations have become priorities. In recognizing life is short, perhaps we've come to appreciate the wisdom in Ferris Bueller's words… "life moves fast, if you don't look around once in a while you will miss it." Help us bring our lives into focus; travel brands have the opportunity to embrace mindfulness as an advantage.
We want to Reboot, not Recharge
It may seem like semantics, but there is an important distinction here. Recharging means to "regain one's strength and energy by resting and relaxing for a time." Rather, rebooting is "to start anew: to make a fresh start." Pre-pandemic we craved those 'lay back' moments that could refill our energy meter and help us feel whole again. But today, we don't just want to 'refill back to where we were before COVID. We are ready for something new, something more. We are ready to break open a new chapter of life. As people and travelers, we want to lean forward into experiences; to shake off the webs of last year. We are ready to take advantage of life and seize a new beginning. Beyond activities, how can your brand help us find new parts of ourselves or help us plot the next chapter?
An era of awakening
As people, we don't want to be told we need to be shaken out of our fog. Or that you offer experiences designed to 'reboot' us. Don't tell us all about the glory of your product or destination – help us feel it. We need travel brands to help us feel alive and aware. We need to see the world in three dimensions, rather than two; even before we set foot on a plane or in our cars. We need to come back from a travel experience seeing the world in a wider and fuller way.
This is a moment where our senses need to be provoked. Brands have the opportunity to bring their experiences to us before we go to them. Smells, sights, sounds can help us feel what we've been missing and reinforce the need to visit IRL. Sensory experiences and ideas that pull us into our worlds rather than push us to learn more will help brands win in this new era of travel.
As we all begin to venture out, travel and tourism brands are poised to help us reboot and create a meaningful and memorable next chapter. To do that, don't just tell us about what you offer; make us feel it. Awaken us for what's next.
BRITT FERO, PRINCIPAL/FOUNDER
With a passion for growth, innovation and human insight, Britt has built her career helping a wide range of recognized brands re-energize their businesses locally, nationally and globally. Over her career, Britt has helped build and turn around brands including Kraft Heinz, United Airlines, the International Olympic Committee, the Islands of the Bahamas, American Girl, Aflac, Anheuser Busch, among others.
Prior to founding PB&, Britt was the chief strategy & media officer at Publicis Seattle, where she drove the agency's overall strategy and led the charge in unlocking clients' business potential. Prior to Publicis, Britt was a partner at Cole & Weber United and spent the majority of her career at Fallon in both Minneapolis & New York, a place where she learned the importance and power of culture, curiosity, compassion and creativity.