By Courtney Devereux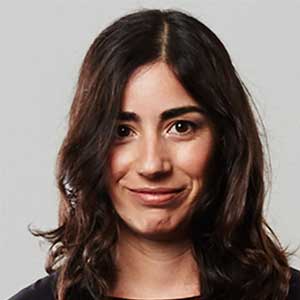 "It's actually quite an easy time to be creative because inspiration is just everywhere."
This is the sunny outlook of Carmela Soares, who plies her trade as a creative strategist at Facebook's Creative Shop in Sydney. For Soares, creativity is the secret ingredient that helps brands cut through the noise in our everyday lives.
"You ask anyone, in any moment, about creativity – especially agencies or creatives – and they will say that it is more important than ever. And the next minute, that same sentence will be true as well," she says.
Since Soares' early days as a junior copywriter, she has considered the opportunity creatives are presented with to be an incredible privilege.
"I'm very aware that the work I do must accomplish something: it needs to move people from a distracted state of mind to a state of appreciation. Essentially, an idea is only worth its budget if it makes people react, interact and remember," Soares explains.
Her own creative process starts with painting a mental image of the audience to truly understand their wants and desires. Predominantly this comes through robust research into social media preferences.
"I use quite a bit of Facebook and Instagram, researching groups and hashtags, as both are places where people come together around their passions and interests," Soares says.
Connecting through these platforms allows her to gain insights into audiences, ultimately helping the creative to match new information.
"Recently, I was doing research for the launch of a new vegan brand. I discovered that, beyond the most obvious vegan values of being cruelty-free and sustainable, a huge number of people buying the products were not necessarily full-time vegans.
"They were people with allergies, or those just starting their vegan journey. Or even those who are conscious about heart health. The research suggested there were new audiences and conversations for this brand to start.
"By learning how culture happens, and how communities connect, we can develop ideas that help celebrate and facilitate what's important to brands' key audiences," she says.
For Soares, these are the ideas that resonate at the deepest level, as they connect with the individuals based on their core interests and values. This in turn allows brands to pay audiences back for their time with something meaningful.
"They go beyond describing a product or service, they are action-oriented and built on purpose. They do something for people, they respect people's attention and they reward them with something useful and empowering," she says.
Through her work at Facebook's Creative Shop, Soares notes the inspiration around her creativity has recently shifted from the product to the individual.
"The product used to be the inspiration, now that lens has shifted. Today we create by using people as inspiration, and we're making things that will resonate, get more cut through and stand out amongst all the crowd," she says.
This 'people-centric' approach on creativity helps Soares to adapt her creativity on the fly.
"The world is changing so fast. But if you spend long enough watching people, you sense it happening and you can react to it. You have to be ready to change gears because the pace of change is so fast that it ultimately affects consumer behaviour," she says.
Finding inspiration and knowing her audience also allows her to adapt the creative to influence people on an emotional level.
"The way we humans make purchase decisions is through our emotions. That's when creativity becomes really crucial. Because brand storytelling and experience has to be quite unique, pleasant, or joyful to really connect with those individuals at an emotional level," she states.
This brand storytelling is integral to driving great results while also making a meaningful connection. Soares highlights last year's Cadbury's Christmas campaign Facebook developed with Mondelez, Wavemaker and T-DA/Alt-VFX as an example of this.
"With Cadbury "Santa Lives" we recreated Santa to connect with families through digital platforms. We used augmented reality so parents could take a photo of their kids with Santa in their homes, so no one would miss out on that memory during lockdown.
"The campaign itself was an act of generosity from a brave and amazing brand, and the result of a really iterative and collaborative process," she says.
Ultimately Soares feels that compelling creativity comes from understanding people's core values, and delivering memorable experiences.
"We really work to capture that emotional moment with our creative. Because that's how you form a connection, and that's how you stand out."