By Angel Renee, Vice President, Sales & Marketing, NetBlaze
As a bi-racial, divorced, and working mom of three, I have faced more than my fair share of hurdles as a female working in tech. I have taken the lessons I have learned over the years to my current position at  NetBlaze, a digital marketing SaaS company for small businesses.
Both my personal and professional experiences have contributed to my successful career in digital marketing, and have provided me with insight into how to maintain a healthy balance between my professional and personal lives. Below are some valuable tips to help today's working women and working moms find this essential balance.
Find a Mentor:  Identify one (or two) professionals who have accomplished what you are working towards and reach out to them directly. Receiving advice, guidance, and tips from successful people in your line of work can only help you become more successful in your work too.
Use your Support System: All working moms are exceptional jugglers. We do it day in and day out. But don't forget: You can not do it all. Perhaps it's revisiting household chores and responsibilities with your spouse, partner, and/or children. Or maybe it's asking your colleagues who are juggling similar demands how they make it work. There are also many online and professional groups that have been created to help working women support each other and navigate the work-life balance. Whatever it is, reach out and ask for help when needed—chances are, other people have gone through similar challenges and can help you.
Never Stop Learning:  It's important to always keep learning because others around you are doing so, too. In today's digital world, it has never been easier to subscribe to a newsletter, bookmark an industry-related website, or read an article that can teach you more about your line of work. Attending professional networking events (in person or virtual) not only allows you to plan ahead but also gives you the opportunity to learn from and connect with others in the same line of work. Whatever you do: Never. Stop. Learning.
Routine, Routine, Routine: I've found having a routine is critical to success. Eating well, exercising daily, and spending time with family all contribute to mental health and job performance. One thing I've found is that "me" time is a must. Finding me-time is difficult enough already, but especially for working moms. Take the time to do something you enjoy – even if it's only for a few minutes a day. Doing so will keep you feeling refreshed and motivated in your work.
Set Realistic Goals: I follow a 12-week goal system for myself, but I know other women who make weekly and monthly goals. Do what works for you! Think of this like a daily "To Do" list for your career. The idea is to create attainable, short- and long-term professional goals that help you know what you need to do in order to get to where you want to be. Seeing your goals laid out clearly like this provides motivation to follow the plan and reach your goals.
Prioritize and Plan Ahead: Spend an hour over the weekend to plan the week ahead. Prioritize goals and must-dos both professionally and personally. If an upcoming meeting overlaps with your child's doctor appointment, move it. If you are overbooked or double booked, fix it in advance. Identifying potential areas of stress (and eliminating them) will have a profound impact on your mental health, and allow you to focus on the tasks ahead so you aren't scrambling frantically trying to make it all work.
Boundaries: Set boundaries for yourself in order to maintain a work-life balance and create time for yourself, your job, and your family. Knowing when to walk away from your desk and put down your smartphone is important and will also help prevent burnout. Of course, this is easier said, than done. It's also never been more difficult thanks to the pandemic which has blurred the lines for so many working women and moms. Even if it's difficult, do your best to create those boundaries for yourself.
If you look at the numbers from the most recent U.S. Census, you will find that there are more than 23 million working moms in this country, 2/3 of them work full-time, and nearly 70% are single moms. Remember you are not alone. Working women and working moms persevere. We make it work — day in and day out — for our colleagues and our kids. Following the steps above as you move forward in your daily life will help ensure you are successful professionally, no matter what line of work you may be in.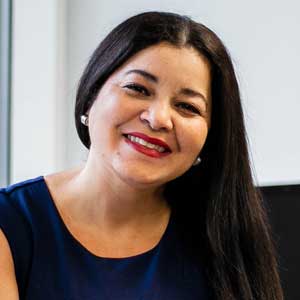 Angel Renee is the Vice President of Sales and Marketing for NetBlaze, a Chicago-based SaaS digital marketing solution for small businesses nationwide. Renee has been with NetBlaze since its conception in June of 2018 starting as the Marketing Director. In her current role, her responsibilities include helping clients implement and grow their online presence through social media strategies, CRM tools, reputation management and customer reviews. Renee has demonstrated experience working in the digital marketing industry. Her previous role prior to joining NetBlaze included being a social media strategist and manager for a digital marketing company, Blueprint Information Products. She holds a B.A. in Communications from Purdue University.