By Vee Lockey, Senior Strategist AnalogFolk and Rama Gheerawo, Director at Helen Hamlyn Centre of Design, Royal College of Art
Last year, on International Women's Day 2020, a female-led team at AnalogFolk launched BigUp.AI – a digital language tool that gives women the confidence to get ahead in their career by helping them express their strengths with impact instead of downplaying them. The idea was born from the insight that women are four times more likely to shrink their successes (Forbes, 2019). And this lack of self-promotion contributes to a whole host of negative outcomes such as the perpetuation of the gender pay gap and fewer promotions, and a lack of women in senior roles and leadership positions globally (Major Players, 2017).
A year on, amid the Covid-19 crisis and mass job losses, we've had nearly 5000 strengths submitted to BigUp.AI. And the data is revealing – drawing attention to another challenge women are facing when trying to reach leadership positions.
The findings from BigUp.AI
BigUp.AI's data shows that users are overwhelmingly submitting empathetic and socially-focused strengths to the tool. There is a clear demand to know how to talk about strengths like collaboration, empathy and communication in a way that will have an impact on employers.
However, being able to demonstrate and articulate these strengths with confidence and impact isn't the only problem to fix. Strengths like collaboration, empathy and communication are all too often ignored or dismissed as second-rate skills and are rarely associated with leadership or success.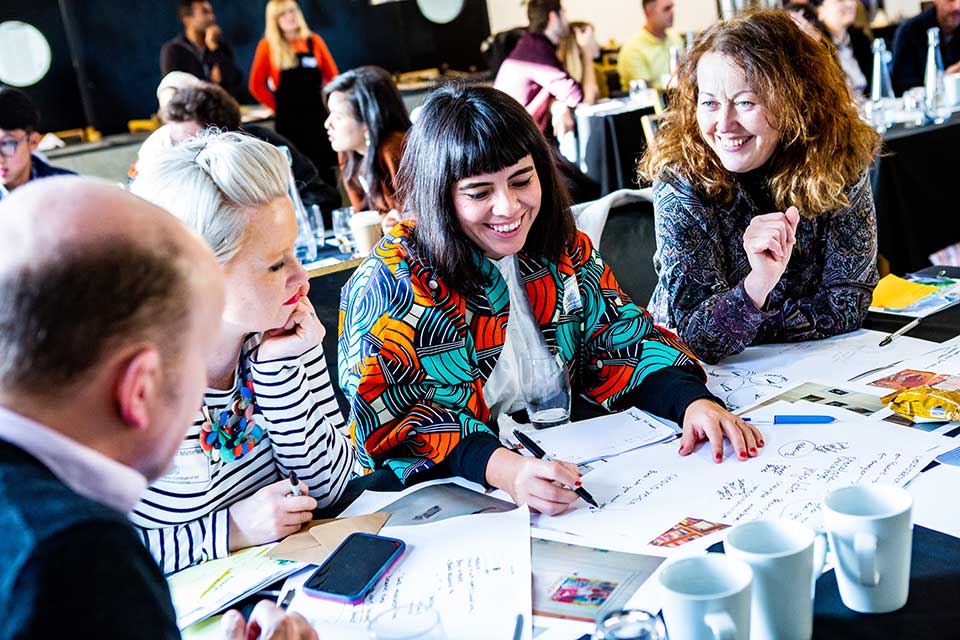 Research shows that women with empathetic and socially focussed strengths are generally well-liked in the workplace but have historically been viewed as less competent leaders (Catalyst, 2007). Society still holds a very narrow, and stereotypically alpha-male, definition of successful leadership traits – strong, assertive, confident and decisive. And even when women present those strengths they're seen as competent but dislikeable leaders. This creates an unconscious bias that women don't belong in senior-level positions. Within this narrow paradigm of leadership in which women are "damned if they do, doomed if they don't" (Catalyst, 2007), it's sadly unsurprising that just 5% of FTSE 100 CEOs are women.
Pioneering a new definition of success
The ambition for BigUp.AI is to help more women reach senior and leadership positions. However, the tool was not designed to encourage women to emulate existing, male-dominated leadership styles in order to get there. BigUp.AI is here to represent and hero the authentic strengths and voices of users.  Women have exactly what it takes to effectively lead on their own terms –  female leaders excel in taking initiative, acting with resilience, practicing self-development, driving for results and displaying high integrity and honesty alongside strong interpersonal skills (Harvard Business Review, 2019).
Research also shows that female leaders excel during crises. On a macro scale, outcomes related to Covid-19, including the number of cases and deaths, were systematically better in countries led by women (SSRN, 2020). And since Covid-19, employees have put greater importance on interpersonal skills like communication, collaboration and motivation, all of which were traits more often displayed in women (Harvard Business Review, 2020).
The pandemic's poster child for this is perhaps New Zealand Prime Minister Jacinda Ardern, who stated: "One of the criticisms I've faced over the years is that I'm not aggressive enough, or assertive enough, or maybe somehow because I'm empathetic, I'm weak. I totally rebel against that. I refuse to believe that you cannot be compassionate and strong."
It's evident that society is ready for, and in need of, new forms of empathetic leadership, which truly includes women and empowers them to thrive by owning and celebrating their multitudes of strengths. But whilst this empathetic leadership style may be represented by women, it must be inclusive of everyone.
An inclusive form of leadership
One big player in reframing leadership attitudes and pioneering new empathetic forms is The Helen Hamlyn Centre for Design at the Royal College of Art, with their Creative Leadership model. At the heart is a simple, yet powerful idea – by combining empathy, clarity and creativity, everyone has leadership potential. The model uses these three universal human qualities to bring marginalized, ignored and underrepresented people into the leadership conversation – with no exceptions or excuses.
These three components of empathy, clarity and creativity are key in the creation of a more equal future by changing the existing definition of leadership. One of these values by themselves is not enough. Empathy is the hallmark of a 21st-century leader; creativity is a universal ability to develop solutions that positively impact ourselves and others, and clarity is the missing link in aligning vision, direction and communication. Each of these values interacts with each other, temper each other and supports each other. This leadership model has formed and informed ideas with government, business and the third sector, but more importantly, with thousands of individuals across the globe.
"Changing our leadership mindset from outdated models of yesteryear to become visionary, empathic and effective will be one of the most challenging, yet ultimately transformational, achievements of this century. Create better leadership at every level, and you create better decisions at every level." (Helen Hamlyn Centre for Design, 2020)
Shaping the future
BigUp.AI has given women, who have been left out of leadership conversations too long, the tools and language to confidently articulate their strengths with impact. Alongside this, the Helen Hamlyn Centre for Design has pioneered a new form of success that encourages governments, businesses and society as a whole to be more open to hearing these diverse strengths and opens up a truly inclusive leadership conversation. This IWD and beyond, we will be actioning the change we want to see – by challenging the status quo around leadership and helping to champion this new definition of leadership that can enable everyone, especially women, to excel.