By Noam Harel, CMO, BrandTotal
In today's social media landscape, brands' decisions and what they stand for are scrutinized more than ever. Consumers increasingly care that the brands they support are on the same side of social issues as themselves, which means one wrong move could mean millions of dollars lost. On the other hand, supporting popular causes could get a company in consumers' good graces. We've already discussed how brands must promote sustainability specifically, but that's just one of many causes that consumers are calling on brands to support.
But why exactly do brands have to pay attention to this instead of taking the safe route of saying nothing at all? Look no further than the demographic with a large amount of purchasing power these days: Generation Z.
Gen Z, more than any other generation, cares about whether the brand they're buying from is one they can be proud of, and are 1.4 percent more likely to pay a premium for eco-friendly products. Statistics from a recent Deloitte 2021 Millennial and Gen Z Survey shows that they are determined to hold themselves and others accountable on society's most pressing issues. "Others" includes brands, which consumers believe are big enough to drive change on their own. Gen Z also believes that not driving change, or worse — being against change – could be viewed as negligent.
Therefore, brands can no longer "sit out" social issues, especially when consumers find less than half of brands as trustworthy, and they wouldn't even care if 75% of brands were to suddenly disappear.
With this in mind, BrandTotal analyzed many brands between July and August this year to see what kinds of social responsibility  messages were being promoted. Here are some of the causes some major companies got behind:
Racial & social equity
Starbucks has had a history of unfortunate racial incidents in their stores, and in response, the coffee giant has made a commitment to showing consumers that they care about and are working to advance racial and social equity with their employees as well as communities. This Instagram post, which reaffirmed such a stance, garnered more than 27,000 likes.
Vaccine accessibility
COVID vaccines have been one of the biggest hot-button issues over the past year, with many companies promoting it in their advertisements. Ride-sharing service Lyft went the extra mile though, collaborating with Delta, Hilton, and The Points Guy to launch the "Lyft Vaccine Access Program," providing transportation access to vaccination sites for low-income, uninsured, and at-risk communities.
Looking to the future
Given how much of an impact younger generations have had on advertising, it's important for brands to recognize this and give back to the community and the future. And that's what Capital One did, collaborating with nonprofit New Futures, which seeks to maximize the potential of young people in the Greater Washington community. They are offering workshops to prepare students from under-represented backgrounds for professional success, which shows the difference between promoting a cause just to get goodwill, which consumers can see through, and making a long-term commitment to a cause.
The negative side of corporate social responsibility 
However, not all companies that are seriously committed to social responsibility are received well, especially when they encroach upon politics. Ben & Jerry's learned this the hard way. Despite promoting many progressive causes, even releasing special flavors, the sentiment from consumers seems to be that they don't want brands to give their political opinions, and decisions involving pulling their ice cream from certain regions of the world invited plenty of conversation, but also overwhelming negative sentiment: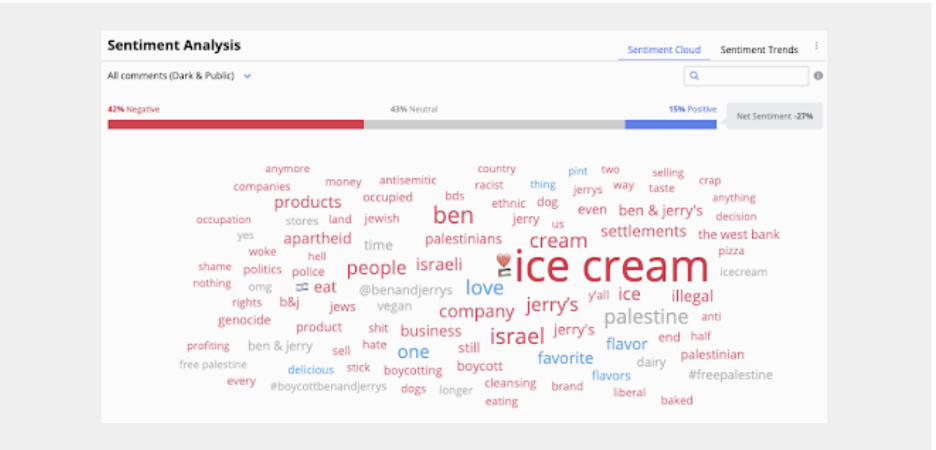 This provides a valuable lesson for brands: while it's important to promote causes, getting too political can create unnecessary controversy.
Conclusion: 
Now more than ever, it's imperative for brands to show that they legitimately support causes that are important to consumers, in ways that are not just "lip service." People want to shop from companies that align with their views, and there's no indication that will change in the generations to come. Thus, the days of ignoring or being blind to pressing social issues are over, as saying nothing is as bad as being on the wrong side, in the eyes of today's consumers.