By Rebecca Ackers, MD, UK & Nordics at Magnite
CTV has Europe talking. With smart TV penetration at an all-time high and streaming platforms such as Molotov, Pluto TV and Discovery+ expanding across European markets, the once nascent channel has hit primetime.
Four out of five European households are now watching CTV and publishers are eager to unlock CTV demand. Likewise, advertisers see a golden opportunity to reach addressable audiences at scale.
But what's all the fuss about the CTV opportunity? Here are three factors driving excitement and investment.
CTV's Reach and Addressability Present a Unique Opportunity for UK Advertisers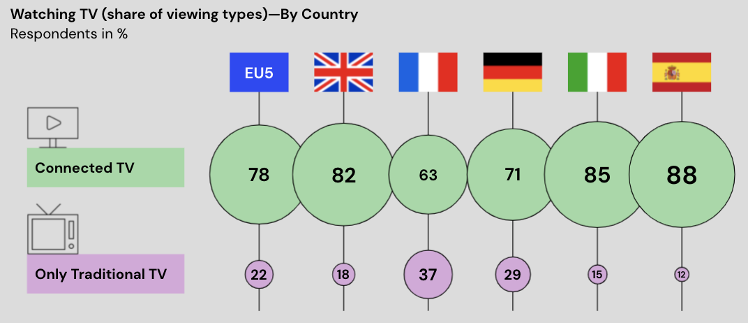 While CTV was already on the rise across Europe, the pandemic only accelerated adoption with people streaming entertainment from the safety of their homes. These viewing habits stuck even as pandemic restrictions eased. In the UK, CTV's reach now rivals broadcast.
One might go so far as to say that in the UK, CTV is the "new normal," with the majority of households (82%) watching either only CTV or a hybrid between CTV and linear. Meanwhile, over the last 12 months, CTV viewing growth  (+40%) far outstripped linear (+23%).
Of special interest to video advertisers, adverts are not a barrier to adoption. As more audiences suffer from subscription fatigue, they're seeing the value exchange in ad-supported content. This has evened the scales between AVOD and SVOD services, where SVOD once reigned supreme. In the UK, AVOD is nearly on par with SVOD: weekly SVOD usage averages 75%, while AVOD is at 74%.
This offers a tremendous opportunity for video advertisers looking to unlock incremental reach beyond television. Particularly because over the last few years, technical standards and processes have matured, enabling marketers to access premium CTV inventory (with granular audience targeting) in one seamless buy.

For example, Magnite recently teamed up with Digitas on an UnderArmour campaign to track incremental user reach across CTV households. The report results showed that from 1.4M Magnite CTV impressions delivered, 104,000 incremental in-target households were reached. Additionally, 32% of total users were digital-only viewers, who would be otherwise unreachable via linear TV.
CTV Attracts Coveted Audiences That Are More Diverse
Not only does CTV achieve greater reach but it penetrates a wider diversity of viewers – which is more representative of Europe's current population.
Whereas the traditional TV audience skews older and consequently under delivers against younger audiences, CTV attracts addressable audiences across age groups. This is a seismic shift, as CTV was once assumed to only cater to younger, digitally-savvy viewers.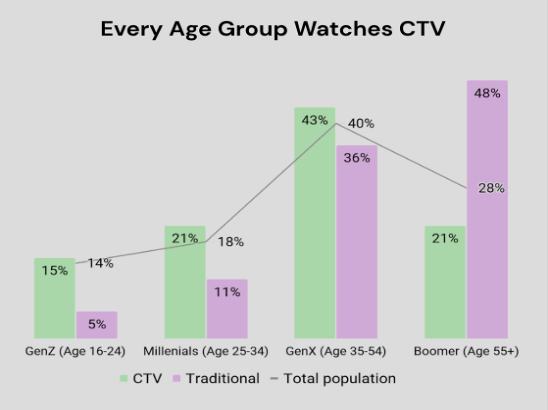 When assessing the diversity of the CTV audience, it's not just about demographics.
Europe's population encompasses rich differences in lifestyle, culture and interests. Here, CTV can reach underrepresented groups who may be otherwise hard to find. For example, in the UK, CTV reaches 89% of online gamers. CTV is also an excellent way for brands to reach families: 46% of CTV UK viewers have kids in their households.
CTV offers another service linear can't: foreign-language content. As CTV is not limited to the constraints of language and location the same way traditional programming is, it can deliver local language content in a flexible, personalised way, be it through a broadcaster AVOD service or a native OTT platform via CTV.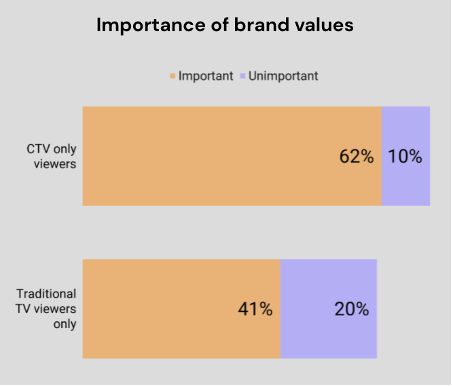 Meanwhile, with the rise of "conscious consumerism," 62% of viewers say buying brands in line with their values is important. Here, CTV delivers a powerful opportunity for marketers to tailor their message to audiences across political or value-based lines.
CTV Ads Are Highly Engaging and Actionable
Perhaps what's driving the most excitement around CTV is that the ads work. Research shows that CTV reaches 65% of purchase decision-makers, making it a highly actionable channel.
In the UK specifically, 24% of viewers are more likely to purchase the product after seeing a CTV ad (as compared to linear television). CTV's relevant ads also make them more resonant: 56% of viewers pay more attention to relevant ads.
Furthermore, CTV audiences are happier to share their personal data (49%)  in order to receive more relevant ads as compared to traditional TV (28%). Here, data-led addressability proves to be a core benefit of CTV, creating an ad-friendly environment. Sellers can ask for more information from users, users are happier to share their information and marketers can then leverage that data to provide a one-to-one targeted ad.
CTV Is a Must-Have for Helping Publishers Optimise ROI on TV Ad Campaigns
Over the past few years, the media landscape has experienced an overhaul. At a time when linear TV is becoming more fragmented, streamers are winning over greater audiences and investment. Out of the fray of the pandemic, CTV has emerged as a powerful, mature channel with widespread adoption. Drawing excitement to the channel is CTV's reach, diversity and ability to drive campaign outcomes.
While historically, CTV has been viewed as supplementary to linear TV buying, we're moving into a world where it's central to a TV buying strategy.