By Heather Taylor, Icon Editor, Advertising Week
It's not often we have a design evolution feature for a brand mascot who is barely a month old. But then again, we've never seen anything quite like La Bussi, the new brand mascot for Spain's transit system Sabadell.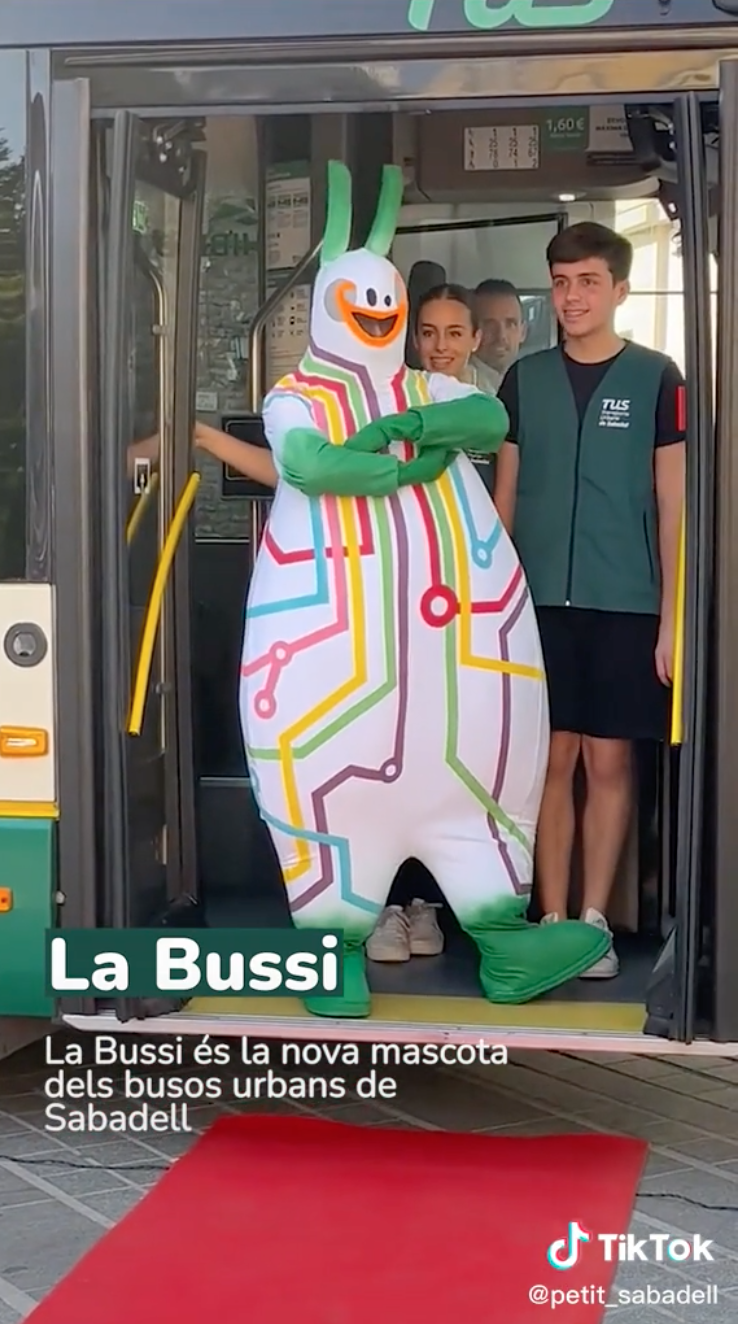 Upon first glance, I was under the impression La Bussi was essentially a walking bus route. The character had what appeared to be colorful lines and drop-off/pick-off spots all over its body. This reminded me of a bus map and made enough design aesthetic sense for a mascot representing a transit company.
Here's the thing though: I don't know if this is actually correct. La Bussi's design may not be based on transit lines. Some outlets have speculated the character is meant to be interpreted as an onion. (!)
Let's see how much of La Bussi's backstory I can uncover in figuring out if La Bussi is an onion, bus map, or meant to be another character, like a clown, entirely.
Who Is La Bussi?
Most of the details of La Bussi's origin story can be found in the caption of its TikTok video.
In these captions, we learn La Bussi was created by the Transport Urban Sabadell (TUS) cooperative. The character is the new mascot for Sabadell's urban buses. As a mascot, La Bussi wants to bring everyone, especially kids, closer to public transportation and getting in the habit of choosing public transit options.
Where does his name come from? Quite simply, "La Bussi" combines the words "bus" and the Spanish word for "yes" — sí — together.
The design of La Bussi was done by Ariadna Lara, an illustration student at Escola Illa, an art school in Barcelona. La Bussi made his debut during European Mobility Week where he stepped off a Sabadell bus and onto a red carpet. A musical performance accompanied his debut and La Bussi danced alongside Sabadell staff members.
La Bussi: Onion or Transit Map?
Vigilant viewers will notice La Bussi has green hands, feet, and ears. These bits of green, accompanied by a bulbous white body, do imply La Bussi could be an onion.
How could an onion make sense in the context of a transit brand mascot? Gizmodo reported there is a vegetable on Sabadell's city crest: an onion!
Maybe La Bussi is an onion or a walking bus line — or a combination of both ideas. In the year 2022, it's a great thing to promote utilizing sustainable transportation to the masses. Fingers crossed the birth of La Bussi leads to a mass public transit brand mascot revolution!