Advertisers know that it's important to get their brands heard and to connect with their customers. Digital audio ads provide brands with a way to reach their audiences while they're doing what they love, like listening to a favorite playlist. Whether you're new to advertising or have experience creating audio ads, one way to create a memorable experience for consumers is to add an interactive element to your audio ads.
What are interactive audio ads?
Interactive audio ads from Amazon Ads are audio ads that include an Alexa call-to-action (CTA), allowing customers to engage with that device using their voice. When customers hear an interactive audio ad that interests them, they can add products to their shopping cart, set reminders on their Alexa-enabled device, or request to receive follow-up information via email or push notifications. The experience is simple and frictionless for customers, without disrupting the streaming audio content they were enjoying. Interactive audio ads are now available for Amazon Ads in the UK and US.
"Interactive audio ads help brands start a dialogue with customers. We build audio ads with voice-interactivity by working backwards from the customers' needs and wants, with the vision of helping them discover, engage, and transact with brands through ad experiences that are as natural and compelling to interact with as Alexa itself. Interactive audio ads help them learn about or shop for products and services with greater ease, and we see in the research that adding Alexa CTAs to the ads pay off for brands too, with greater performance in brand and retail metrics." – Nurit Levanon, Head of Audio Ads Experiences, Amazon Ads
Let's dive deep into the two interactivity options from Amazon Ads with Alexa CTAs that brands can use to connect with customers.
1. Interactive Audio Ads
Brands can help consumers take action on their ads with a simple voice request. Customers simply say to an Alexa-enabled device, "Alexa, add to cart," "Alexa, set a reminder," or, "Alexa, send more info," and Alexa can complete and confirm the action without disrupting the streaming content.
2. Branded Experiences with Alexa (beta)*
Branded Experiences with Alexa are longer-form experiences that customers can enter, explore, and engage with using their voice. The experiences allow brands to start a dialogue with customers, offering a variety of paths and engagement options. Examples include an automotive brand offering a virtual, voice-based showroom to highlight new vehicle features, an electronics brand asking customers for their priority inputs and providing an electronics product that suits their needs, or an entertainment brand offering trivia, behind-the-scenes clips, or extended trailers. The opportunities are nearly limitless, and the experiences can be customized based on the needs of the advertiser.
So how are advertisers using audio marketing to create standout experiences that help them better connect with their customers? Let's look at two recent examples.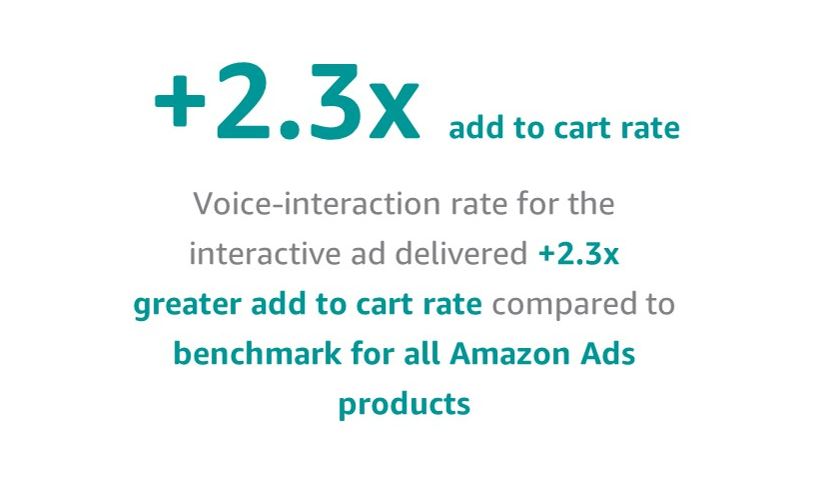 A home and garden brand used audio ads to make it easier for customers to add products to cart. One home & garden brand used Interactive Audio Ads to help grow their add-to-cart rates. The Interactive Audio Ad campaign made it easier for customers to add the product to their cart using only their voice. As a result, the Interactive Audio Ad campaign delivered an add-to-cart rate that was +2.3x higher than the average Amazon add-to-cart rate for the industry.[1] This success story demonstrates the power Interactive Audio Ads have in contributing to a positive customer experience and actionable insights for brands. Similar to a click-through rate, the voice-interactivity rate on Interactive Audio Ads also provides advertisers with in-flight metrics on the ratio of customers interacting with the ad. These insights can help brands A/B test their ads and optimize in-flight.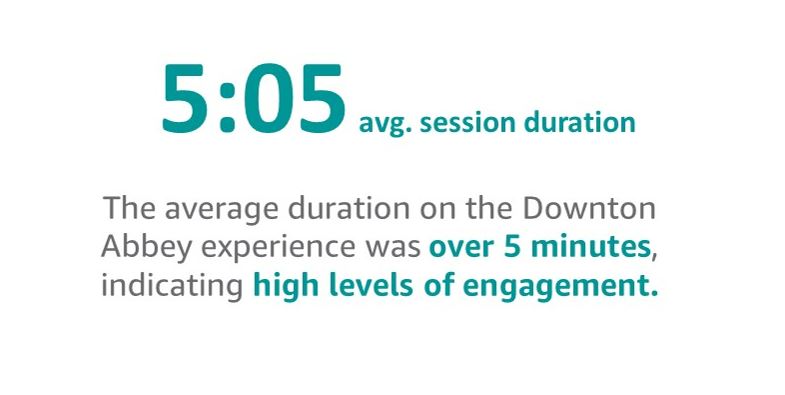 Downton Abbey used Branded Experiences with Alexa to create an immersive movie launch.
The Downton Abbey: A New Era experience began with an Alexa call-to-action, "Alexa, launch the Downton Abbey Experience." The CTA launched a voice-based experience that provided customers the option of participating in trivia, a behind-the-scenes tour, or purchasing tickets for the movie. The experience was voiced directly by Mr. Carson, the show's butler. A majority of customers typically spend over 30 seconds on Branded Experiences with Alexa, and the Downton Abbey experience earned an average session duration of over 5 minutes. These longer-form experiences mean brands can provide customers with fun and interactive ways to engage with their brand for longer than a typical ad unit.
What are best practices to consider when using Interactive Audio Ads and Branded Experiences with Alexa?
Amazon Ads Interactive Audio Ads and Branded Experiences with Alexa are new ad products, and we have already started to collect insights and best practices for driving strong results. For example, we ran a series of A/B tests in 2022 and uncovered two creative tactics that helped increase interactivity rates. First, ads that repeated the call-to-action twice throughout the ad outperformed ads that only said the call-to-action once. Secondly, ads with a fade-out after the ad outperformed ads without the fade-out. We hypothesize the fade-out allows customers to process and respond to the call-to-action before the next ad begins. In addition, we found that Interactive Audio Ads drove stronger upper-funnel metrics with a lower frequency (4x-6x over 30 days), while Interactive Audio Ads drove stronger upper-funnel metrics with a higher frequency (7x+ over 30 days).[3] and we are consistently testing our messaging, media, and product to provide advertisers with insights and best practices on how to improve performance.
Similar to interactive video advertising, audio ads can help brands engage, inspire, and interact with customers while they stream their favorite audio content.
Explore more ways Amazon Ads can help you reach and engage your audiences in the places they love to be.
*Branded Experiences with Alexa are in open beta in the US and UK
---