Why does the UK Government choose to support UK advertising businesses at global events from Advertising Week to SXSW to Cannes Lions or Shanghai International Advertising Festival?
Simply because we recognise the size and value of the sector to the UK economy. And as barriers between creative disciplines from music to fashion to film break down, we see the central role that advertising plays in connecting the whole spectrum of our creative industries to brands and buyers around the world.
Those creative industries contributed over £100 billion ($120.21 billion) in gross value added to the UK economy – greater than aerospace, automotive, life sciences and oil and gas sectors combined. Also advertising finances UK culture, media and sport, valued at £10 billion ($12 billion) a year. So GREAT advertising is worth celebrating.
With consumers spending more time on digital platforms, from social media to streaming services and gaming, brands are exploring new ways to connect with audiences and capture their attention. This shift has led to a convergence of advertising with other creative industries, such as fashion, gaming, sports, music and more.
The lines between these industries are becoming increasingly blurred and we are seeing collaborations between brands and artists that would have been unlikely just a few years ago. Fashion brands are partnering with video game companies to create in-game apparel, while music artists are teaming up with sports teams for promotional events. This convergence is creating new opportunities for brands to engage with consumers in unique and innovative ways.
The use of AR and VR technologies allows brands to create immersive experiences that can transport consumers to different worlds and engage them in a way that traditional media cannot. Brands such as Burberry are using AR and VR to showcase their products, creating a more engaging and interactive shopping experience.
As creative industries merge with advertising, there is a need for individuals with a diverse set of skills, from creative directors to designers, writers and producers. The UK has a wealth of talent from right around the world in these areas. Since 2005 the UK has won more Cannes Lions than any other European country – nearly 1,700.
Additionally, with a large AdTech sector, the UK is the world's most advanced online advertising marketplace. UK online ad spend is the highest in the world relative to the size of its economy. The convergence of industries is creating new avenues for creative expression, tech delivery and commercial success.
The UK's long-established expertise in managing global brands across multiple markets supports our position as a gateway location for companies looking to go global whilst thinking local. Many global brands see the UK as the first place they come to when expanding their business to reach an international audience.
As a result, the advertising industries are an exporting success for the UK. Annual UK exports of advertising and marketing services were worth £11.7 billion ($13.9 billion) according to the latest ONS figures for 2020. The UK exports more advertising services than it imports to the tune of £5 billion ($6 billion). And the UK is second in the world (to the US) for advertising services exports.
In conclusion, the accelerating consumer use of digital media is transforming the advertising industry and creating new opportunities for collaboration and innovation. The convergence of advertising with other creative industries is breaking down barriers and creating new demands for talent and platforms for brands. In the UK, there is a depth of creativity and innovation across the sectors in one space and the convergence is creating new avenues for success.
As technology continues to evolve, the UK government is working hard with the creative and tech industries to make sure the UK is the place where even more creative and innovative advertising strategies emerge in the future.
We are delighted therefore to be working with Advertising Week and some leading UK advertising and creative sector leaders to develop these ideas around creative convergence, the moving media landscape and changing consumer habits. The idea behind the podcast series is to help provide for thought leaders to discuss some of the important challenges facing brands currently around the world.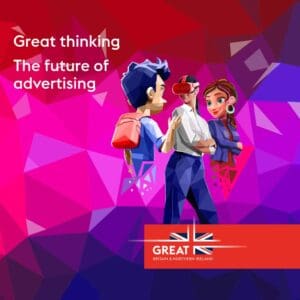 Tune in to to hear from Charli Cohen whose
label NEXTWEAR was born out of a need for progression within the fashion industry. They make limited runs of clothing: looking to the future of fashion, aesthetically, in terms of technology and in terms of sustainability. They work with game brands and fashion retail metaverse partners to create digital counterparts to this physical fashion, to be experienced in virtual spaces, in-game and in AR and VR.
Jonny Shaw of VCCP+ and Mackenzie Jackson of Alliance Studios will be discussing the massive potential for brands to reach the multi-billion global gaming audience. And how this is a complex, thriving multiverse of distinct and diverse platforms, media and cultures – from content, to influencers, lifestyle, design, entertainment and sports.
Find out for yourself: visit us at UK House SXSW
You can meet over 50 great UK creative tech companies at UK House SXSW. Check out the UK House programme of events at SXSW 2023 running from March 11 until March 14.
Click here to view a list of award-winning businesses we're taking to SXSW 2023.
If you're looking to get hands on, join us in the experience zone packed with activations and demonstrations. You can even create your own completely unique sustainable t-shirt by AI, that comes with an NFT.
I look forward to seeing you there.
David Moody
Advertising and Creative Technologies Adviser, UK Department for Business and Trade