By Ken Klein, executive vice president of the Out of Home Advertising Association of America, OAAA
When President Joe Biden visited Pittsburgh to pitch his infrastructure bill, environmentalists urged him to "Go Big" on Covid recovery. Their media platform:  billboards.
Days later, Democrats launched an aggressive multi-state billboard campaign to thank Biden and Democratic senators for passing a $1.9 trillion Covid relief bill.
This so-called "off season" spate of political advertising — months after the election — showcases three key points about out of home media:
There is no "off season."
Kantar media tracking service says political-ad spending on out of home media increased 64 from the 2016 presidential election year to 2020. The OOH political-ad category posted strong gains despite the pandemic. Out of home buys, this year from sophisticated, deep-pocket customers show that trend continuing.
"Out of home ads cause consumers to look, read, and think (twice) about a subject," says Nancy Fisher of Wilkins Media. "Campaigns that maximize out of home can utilize the space to generate publicity, layer social media content, increase activity on-line, and stir up interaction in society, which ultimately, is the cause and place for change; their raison d'etre."
A wide variety of voices — across the political spectrum — are drawn to ad formats outside the home.

Green New Deal Network billboard in New Jersey; truck side ad in Binghamton, NY
The Green New Deal Network, which posted billboards in Pittsburgh aimed at Biden, also promoted its recovery legislation (the THRIVE Act) in targeted congressional districts. https:// www.greennewdealnetwork.org/pittsburgh-billboards
In Georgia, voting-rights groups used billboards and wall projections to urge Coca-Cola and other corporations to oppose new voting requirements. The Coca-Cola Company issued this statement from its Chairman and CEO James Quincey: "We want to be crystal clear and state unambiguously that we are disappointed in the outcome of the Georgia voting legislation." https://www.coca-colacompany.com/media-center/georgia-voting-legislation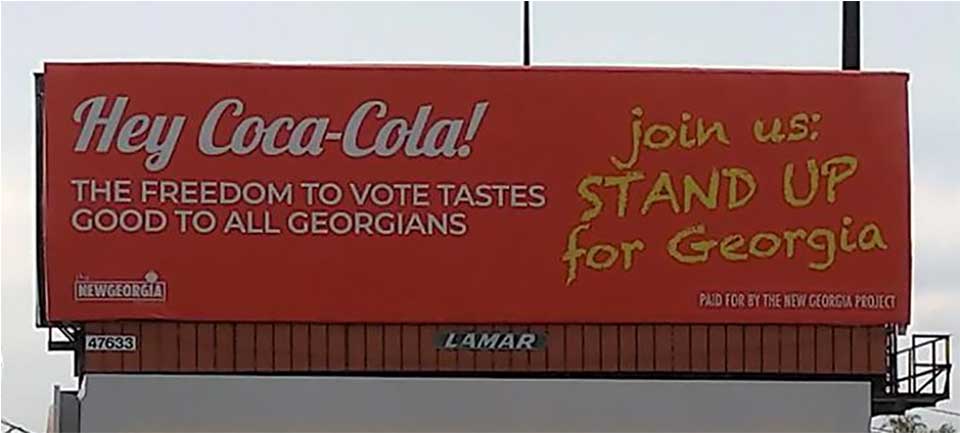 The Republican Accountability Project launched a $1 million billboard and TV campaigin to support Republicans in Congress who voted to impeach and convict former President Donald Trump. https://accountability.gop/thank-you-billboard-campaign/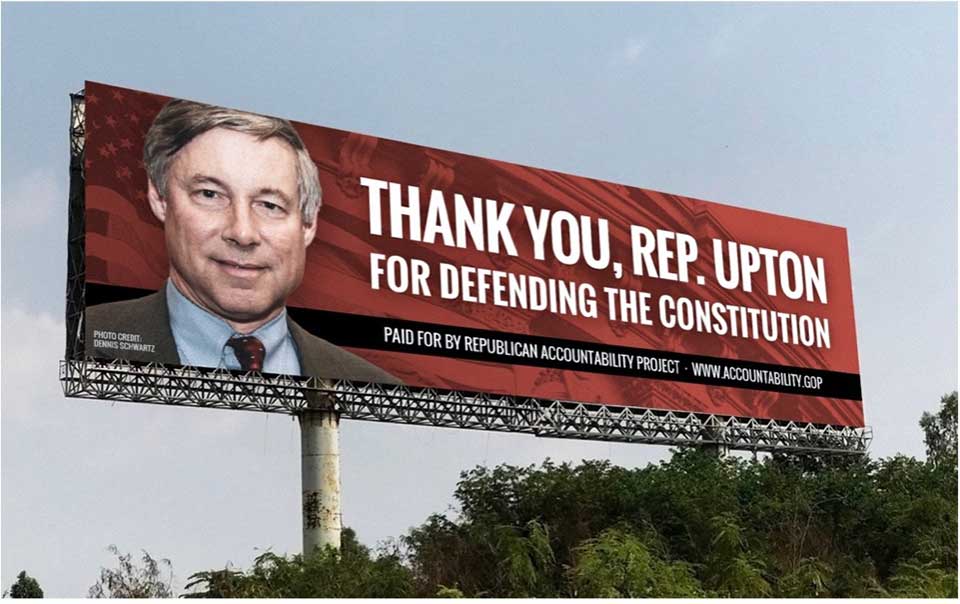 After the Democratic-controlled Congress approved Biden's $1.9 trillion Covid-relief bill, the Democratic National Committee placed billboards in 20 states thanking the president and gigging opponents (Republicans said the bill was bloated and partisan).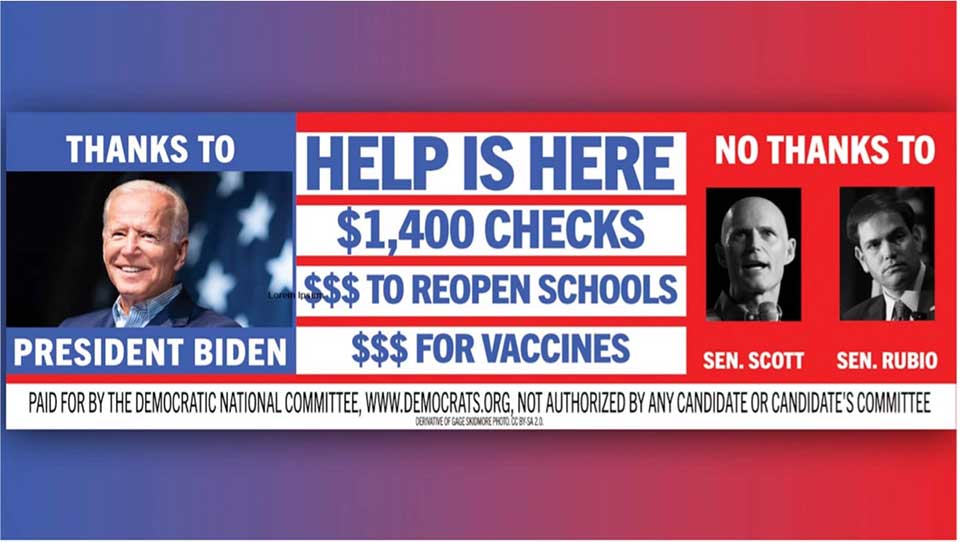 A single billboard can resonate
Millions around the globe saw a highway billboard in Albany, NY, urging Governor Andrew Cuomo, D-NY, to resign. Fed up with Cuomo, Brian Olesen paid for the Albany billboard; his viewpoint was amplified far beyond Albany.

TV news sites quoted Olesen's social media posts. The UK edition of The Guardian, https://www.theguardian.com/us-news/2021/mar/05/andrew-cuomo-nursing-home-deaths-aides-report Sputnik News, and other high-traffic sites featured a Reuters color photo of Olesen's billboard in Albany; a widely published Getty image appeared in The Washington Post.
One billboard — with very few words — can crystallize a political message.
A decade ago, an iconic roadside sign along I-35 in rural Minnesota featured a smiling former President George W. Bush and the question "Miss Me Yet?"
Some did; some didn't.
But most everyone agrees that pithy political pitches will have a growing prominence on ad formats outside the home . . . in a world hungry for summary, weary of TV attack-ad overload, and drawn to social media that craves interesting visuals.
(Ken Klein is executive vice president of the Out of Home Advertising Association of America, OAAA)