Jess Phillips, CEO and Founder, The Social Standard
The past few years brought about major shifts in our society, from working and learning at home to consuming more content. One of the most significant changes is young adults' perception of higher education.
A recent survey by Snapchat showed that 47% of U.S. students who had defined paths are now re-assessing their options and about half of today's Gen Zs and Millennials want a non-traditional career, compared to less than a quarter of Gen Xs and Boomers.
The Perception of Higher Education is Changing
Historically, the path for life-long success has been to graduate from high school, go to a four-year university and enter the corporate workforce. And while college is necessary for a laundry list of career paths (i.e. medical professionals, lawyers, scientists, etc) some occupations do not require a college degree.
Many young students have shifted their perspective on what a "desirable" job is, with many looking to take a more non-traditional route. Perhaps they pursue an entrepreneurial venture, go into a creative field that doesn't require higher education. Perhaps they want to freelance, or school may just not be for them.
Whatever the reason, the shift is happening and influencers and creators alike are playing a role in how students view higher education and the workforce.
Creators are Adding to This Shift
Gen Z grew up online, watching YouTube, consuming content, and closely following influencers. A 2018 study showed that becoming a social media star was the fourth most popular career aspiration for Gen Z, ranking well above actor or pop star.
With this heavy focus on influencers and creators, many young people learn how to develop and edit content and amass large followings before they even think about applying to college.
Not only are creators showing young people that content creation is a viable career, but they are also proving that it is fruitful. Today's youngest and biggest internet stars are too young to apply to college, yet they are out-earning even the most educated professionals.
Ryan's World, a YouTube channel for children aged 2-6, featuring 10-year-old Ryan Kaji and his siblings has over 30.7 million subscribers. The family recently launched Ryan's Toys, with Walmart, and have raked in $30M alone from the product line on top of being one of YouTube's highest-paid creators.
What Other Factors Play a Role?
Money + Time
Today, the average cost of a four-year degree in the U.S. is $43,775 at private colleges, $28,238 for out-of-state students at public schools, and $11,631 for state residents at public colleges, according to a recent survey on US News. In addition, the earning potential in certain fields is capped, traditional careers require strict 40-hour weeks, and work-life balance is often non-existent.
The younger generation is pushing back against this format and seeking out career paths that allow more balance and flexibility. Earlier this year the TikTok below went viral, almost as a Gen Z anthem.
The World of Freelance  
The freelance world has seen significant increases. It is estimated that the number of freelance workers in the United States will increase from 65 million in 2020 to 90 million in 2028.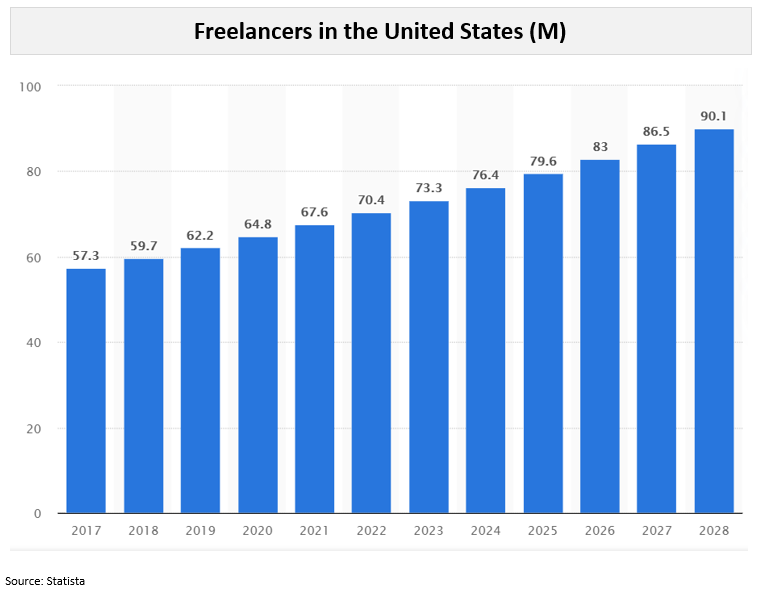 Alex Fasulo, who is well known on TikTok as @alexfasulobix, openly shares her journey as a Fiverr freelance writer. She joined the site in 2015 and began charging $5 per writing gig.
Now seven years later Alex is consistently making six figures, bringing in an average of $37,000 per month. She shares her journey on TikTok, giving advice on how to do the same, best practices for working with clients, and the benefits of working as a freelancer.
Online Education Options
The last factor, and maybe the most overlooked, is that there is education happening all over social media and via education-focused brands. We've talked a lot recently about Fin-Influencers, or influencers who create content around financial topics.
Those creators are sharing skills that are easily applicable and allow young people to make money from home. There is also a multitude of brands that bring education to their customers in one place like Masterclass and SkillShare. These platforms allow you to take classes and learn an array of topics and skills from home and on your own time.
Education platforms can sometimes be costly, but let's not forget the OG learning and tutorial platform, YouTube. So many creators teach their audience a skill or educate them on a topic and the amount of information is endless. 
So What Careers are Students Pursuing?
Creator/Influencer
More young people are creating social media accounts and posting regularly hoping to pursue careers as influencers. Morning Consult found that 86% of young Americans surveyed said they're willing to try out influencing on their social media platforms, 12% said they already considered themselves one, and another 20% said they know an influencer personally.
Entrepreneur
The shift to WFH isn't going anywhere and it is fueling the younger generation's desire to start their own businesses. Gen Z is the most entrepreneurial generation in history.  A recent study found that 54% of Gen Zers want to start their own company, 89% have considered an education path that looks different than college, and 77% of people in grades 5 through 12 want to be their own boss.
Brands, Take Note
Brands must pay attention to the younger generation. For one, education brands have a huge opportunity to support students in learning the way they want to learn.
If your brand typically targets college students or reaches its audience on college campuses, it might be time to freshen up the strategy. Do not alienate parts of your target audience simply because they aren't going the traditional route.
For non-education brands, messaging is everything. It's important to stay informed on how the younger generations are approaching life. Knowing that a good portion of Gen Z isn't looking to pursue classic education and career paths will allow you to tailor messaging the speaks to them and makes them feel heard.
The education landscape is going through major changes, it's undeniable. Gen Z is going to be the generation of entrepreneurs, freelancers, and creatives. As a brand, it is going to be imperative to keep your finger on this conversation, stay informed on the needs and wants of the younger generations, and lend your hand in facilitating the new iteration of education.