Brands should think responsibly when producing their next campaigns.
By Linda Ong, CEO and Founder of CULTIQUE
Years from now, when historians and cultural anthropologists look back at the 2021 Super Bowl ads, what will they glean about our culture today?
They would note, over the course of the three-plus hour spectacle, a parade of spots that promoted unity: Jeep's Bruce Springsteen ode to "The Middle," Anheuser-Busch's "Let's Grab a Beer," "Come Together" for M&M's, and "As One," the Super Bowl's opening spot featuring a creepy holographic resurrection of Vince Lombardi.
Then, along with the usual celebrity pitchfest, they'd also see commercials emphasizing the defining cultural and emotional need-states of the era. Dignity (Indeed, WeatherTech, Dexcom). Localism (DoorDash, UberEats). The desire for certainty (Rocket Mortgage and FindaMortgageBroker.com). Bad singing (Cheetos, Oatly). The Great Outdoors (Bass Pro Shops and Cabela's). Cringey digital effects (Doritos 3D, Mountain Dew, Verizon, Klarna). And of course, there was that insanely perfect Reddit spot, a five-second middle finger to pop-culture capitalism itself.
More importantly, they'd see in comparison to past years, as Daniel Feinberg wrote in The Hollywood Reporter, Super Bowl LV was "boringly normal." And that's just the problem. Taking place amidst the worst pandemic in one hundred years, those future investigators might shake their heads at how none of these spots acknowledged the existence of COVID-19. And in one of our most complicated, polarized times, a middling or nonexistent response might do more damage than good. Advertisers, claiming they didn't want to "remind" people of the existential crisis, chose to embrace denialism instead – a misguided attempt at escapism.
In treating COVID-19 as a binary choice — sorrow or celebration, reality or joy – they failed to seize the opportunity to "remind" almost 100 million viewers to reach for their masks, socially distance, adopt the vaccine, keep their at-risk loved ones safe – and feel all in it together. Isn't keeping your customers alive a good marketing strategy?
This year should have been the chance for brands to meet the moment in exceptional ways. Where were the ads that normalized or encouraged safe COVID behaviors? Aside from the McDonald's and Ford's pre-game spots, no in-game advertiser chose to use their $5.5 million platform to address the massive elephant in the room – COVID-19 – that filled every home in every life across the planet this year. How many people were infected – or hospitalized, or worse, died – by the time Tom Brady picked up the Lombardi trophy?
To prove my point, try re-watching your fave Super Bowl spot and note the number of COVID-safety infractions that take place. By that definition, DoorDash x Sesame Street'ssingalong with Daveed Diggs was a superspreader event. I'll bet Mike Meyers, Dana Carvey, and Cardi B got tested before they squeezed together on that couch, but you'd never know it from watching that UberEats spot. It's ironic that both food delivery services, hauling in record revenue over the past year, have been direct beneficiaries of the pandemic's longevity. Maybe promoting safe COVID behavior is bad for their businesses?
Most of the spots that aired in Sunday's game could have subtly nodded to safe-COVID behavior, without killing the fun (I hear your bellyaching, creatives!). For example, what if John Cena lowered a watermelon-hued mask before he spoke? How about a little social distance between Anthony Anderson and Travis Kelce in the T-Mobile flag football contest (another potential superspreader event)? And a little hand sanitizer would have gone a long way to make sure prospective homeowners – and Tracy Morgan – stick around for that 30-year fixed-rate Rocket Mortgage.
Experts predict there will be another surge in March – ironically perhaps as a result of lax protocols at Super Bowl parties, combined with highly-transmissible variants. If you're in the advertising business, I challenge you to make great creative, do good and help get life – and business – back to "normal." Just as brands have recently embraced more inclusive approaches to casting, COVID-19 safety shouldn't be the focal point, but the real-stakes, collective context for all consumer life today. Here are a few thought starters:
Reflect the new body language: elbow bumps, namaste hands, waving from afar, and other new ways to replace hugs and handshakes in culture.
Show the mask, even when it's not being worn: tucked into a pocket, hanging by the door, in a backpack, ticked below the chin.
Safe behavior brings us closer: a squirt of sanitizer or mutual masking creates trust; a caregiver protects someone at severe risk. Little things mean a lot: a Band-Aid on a bare arm can nod to vaccination; a step backward signals consciousness of social distancing.
Remember, advertising has long been a first mover in normalizing social change. IKEA was the first brand to feature a same-sex couple. Cheerios braved backlash for showing a multiracial family. CVS vowed to not retouch its ads to avoid promoting unhealthy imagery. All of these brands proved that when brands lean into the right side of history, they also see the upside in their balance sheets.
In today's stakeholder economy, when a company's values are as important to consumers as the products it makes, it's critical for advertisers and content creators to normalize safe COVID-19 behavior in their spots. Why? Because humans need role models. We need to see it to be it.
https://www.linkedin.com/in/lindaongcultique/
About Linda Ong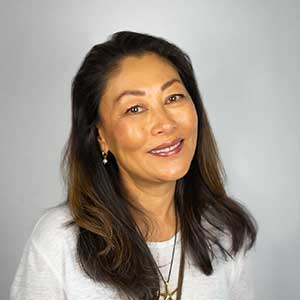 Linda Ong is the CEO + Founder of CULTIQUE, the cultural insights and strategy venture of CIVIC (a Seacrest Global Group Company). Founded with partner Sarah Unger, the premium boutique crafts bespoke cultural strategies for forward-looking businesses in media, entertainment, tech and consumer spaces. Launched in Fall 2020, CULTIQUE unites thought leaders, industry disruptors, academics, creatives and experts to maximize the impact of brands, content, and products in a world of constant change.
Formerly Chief Culture Officer at CIVIC, Ong leads a team of analysts devoted to helping some of entertainment's leading companies navigate fast-changing times, recalibrate for new audiences, and cultivate growth in an uncertain world. Ong's groundbreaking work on cultural insights related to women, Latinx biculturals, Millennials and other drivers of the rapidly changing landscape has positioned her as a sought-after cultural advisor and industry voice.
She has been featured in several books including Joel Beckerman's T​he Sonic Boom: How Sound Transforms the Way We Think, Feel, and Buy; Scott Stowell's ​Design for People; ​and Chiqui Cartagena's ​LatinoBoom II.​ Ong has been a guest lecturer at the S.I. Newhouse School of Public Communications at Syracuse University, the Marshall School of Business at USC, and UTLA, The University of Texas' LA-based program for broadcast, marketing, and communications.
Ong has been at the center of some of the most high-profile brand transformations in the media and entertainment industry over the past 20 years, having run her own shop TruthCo., an omnicultural branding and insights firm. As one of Fast Company's Most Creative People in Business, Ong recently joined the publication's Impact Council, which brings together some of the brightest and most innovative leaders in business, and is featured in the November 2020 "New Rules of Business" issue.
Ong is a founding LA member of AllBright, the London-based women-only membership club in West Hollywood, and serves on the advisory board of Women in Entertainment. In 2016, she served as a delegate to the United Nations Media for Social Impact Summit and as "Innovation Ambassador" to the 2014 United Nations World Summit on Innovation and Entrepreneurship. Ong was a founding member of the Creative Alliance for Civic Nation, a non-profit, non-partisan organization started by the former President and First Lady, Barack and Michelle Obama, to address some of the nation's most pressing challenges, having advised the administration on its cultural approach to Latinx biculturals.
Prior to founding TruthCo., Ong was SVP of marketing at Oxygen Media, where she oversaw the multi-platform launch of the Oxygen network. Before that, she was managing director of strategy and creative director for Lee Hunt Associates, a segment producer for Videofashion! Inc., and an art director for McCann-Erickson USA. She is a graduate of the University of Texas, Austin. Ong is based in Los Angeles. Follow her @lindaong100.