Billions of Tweets reveal tomorrow's big movements.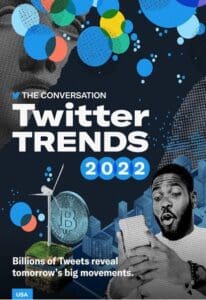 The talk on Twitter today reveals where the world is going tomorrow. Analyzing billions of Tweets over a two-year period, we uncovered three must-know trends about to go big. We're diving deep into what's now, what's next, and what we've got our eyes on in the future. Download the full 2022 Twitter Trends Report to keep your marketing ahead of what's ahead.
This article, in its original form, was previously published on marketing.twitter.com on March 9, 2022. Subscribe for the latest marketing insights from Twitter. Delivered right to your inbox.