By Nextdoor Staff
What's important to neighbors right now? Each other. A recent Nextdoor survey found that 73% say neighbors are their most important community. This enthusiasm for the neighborhood extends to nearly every aspect of their lives, from how they're socializing to which businesses they're supporting.
Neighborhood data can inform campaigns and provide insight into what attracts consumers as localism thrives. The sixth installment of Nextdoor's Insights series, "The Neighborhood is the Community You Can Count On," provides new data about ways neighbors are connecting and how their habits have shifted.
Five takeaways:
Proximity is a priority.
Neighborhood connections continue to grow; 61% of neighbors have recently felt it's more important to build connections in their neighborhood vs. outside of their community. Among those making connections are parents, with 30% saying meeting local parents with same-age children is a top reason they joined Nextdoor.

Localized creative campaigns are winning them over.
Localized messaging is essential; Nextdoor research shows that it drives 58% higher engagement. Right now neighbors are connecting with creative brand campaigns that offer personalization and a local focus.
For example, this year Traeger Grills saw success with a contest focused on stories of neighborhood kindness and "meaningful and flavorful moments." Xfinity offered a "New Mover's Guide" to welcome recent movers to their new neighborhoods. To quote Susie Walker, VP of Awards & Insight at Cannes Lions, "Whether online or offline, bound by location, interest, or situation, loyalty and value are unlocked when brands engage in local communities and culture."

In-person gatherings are changing.
While 71% of neighbors are still uncomfortable attending large indoor events, they're filling the void by organizing smaller social gatherings close to home. The majority (60%) have attended a social gathering in someone's home or yard this year, and 39% have hosted one. Mentions of "block party" on Nextdoor are up 141% year-over-year, and terms like "yard wedding" and "yard birthday" are also soaring.

People are on the move—and making big purchases.
In the past 18 months, 2 out of 3 neighbors on Nextdoor who moved have purchased a home. 47% say they moved to be in a more relaxing environment, while 37% moved for cost savings.
Also, 23% of neighbors have bought or leased a car in the past 18 months, with travel to recreational and outdoor activities being a top reason for purchase.

Neighbors want to help local businesses.
Support of local businesses remains high, with 72% of U.S. adults saying they have made it more of a priority to support them compared to before the pandemic.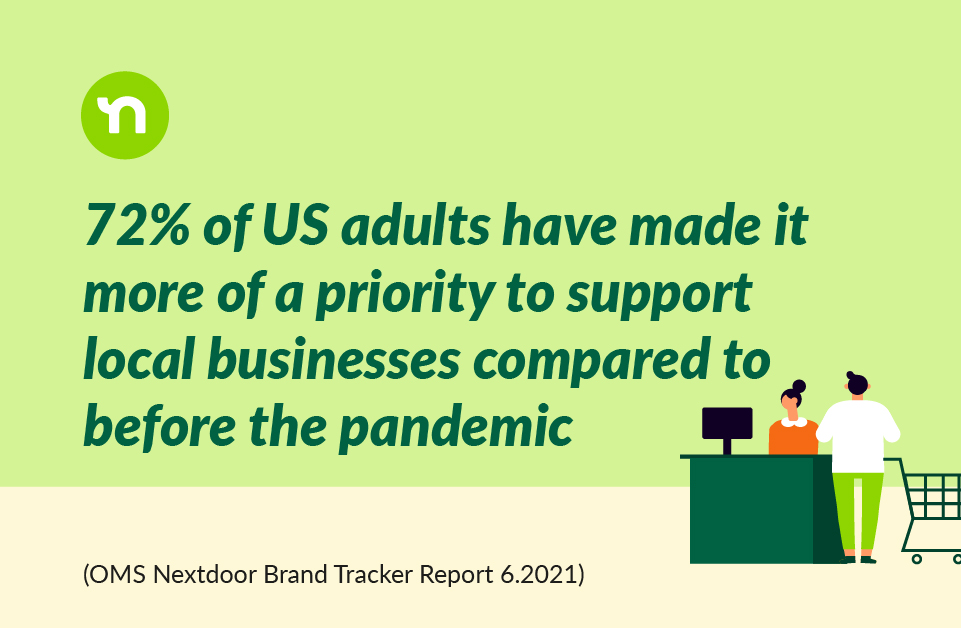 Interestingly, 17% of Nextdoor neighbors say they have switched to a new brand in an effort to support local businesses. And while they're shopping at all types of places, Gen Z shoppers are more likely to support local home and garden stores and boutiques, and parents with younger children are more likely to look for local grocers.
As a recent GWI survey noted, "Marketing to various city clusters will be a challenge and the need for locally themed messaging will grow in importance. … The granularity could go even further—marketing to neighborhoods, not just cities."
Localism is here to stay, and neighborhood data can help guide brands as they rethink their messaging. Read Nextdoor Insights #6 for more insights into emerging neighborhood patterns and trends, and catch up with previous Insights here.
---
About Nextdoor, Inc.
Nextdoor is where you connect to the neighborhoods that matter to you so you can belong. Our purpose is to cultivate a kinder world where everyone has a neighborhood they can rely on. Neighbors around the world turn to Nextdoor daily to receive trusted information, give and get help, get things done, and build real-world connections with those nearby — neighbors, businesses, and public services. Today, neighbors rely on Nextdoor in more than 280,000 neighborhoods across 11 countries. In the U.S., nearly 1 in 3 households uses the network. Nextdoor is based in San Francisco. For additional information and images: nextdoor.com/newsroom.